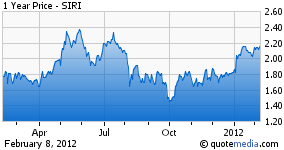 Nearly half a century ago John Kennedy visited the divided city of Berlin and said "Ich bin ein Berliner," or "I am a Berliner," declaring his solidarity with the people of Berlin. Nearly a quarter century ago, Ronald Reagan stood in the same city near the Brandenburg Gate and issued the challenge, "Mr. Gorbachev, tear down this wall!" Earlier this week in a comment on an article about what to do with the rising cash balances at SiriusXM (NASDAQ:SIRI), SIRI Dog Millionaire issued the challenge, "Mr. Karmazin, pay down that debt."
I'll go out on a limb and state for the record that SIRI Dog Millionaire's quote won't have the lasting impact of the two US Presidents, but it does echo my sentiments. It also raises issues that will need to be covered on the Sirius conference call later this week, specifically, what to do with the cash. Another commenter, golffromdawntodusk, wrote:
If you pay down debt or leave the money in the bank the debt ratio will go below the 3x ratio that Mel gave guidance on as a target in previous investor calls. How can they pay down debt and live up to the guidance they gave?
It is really an interesting question, and I should have considered the consequences sooner. The simple answer is that Sirius can't pay down the debt and live up to the guidance. But it isn't just about whether or not Sirius pays down the debt.
I am basically a long term investor in Sirius. I also have entered into shorter term positions where I simultaneously bought shares and sold $2 January 2013 calls "locking in" gains of close to 20%. I enter these trades and hold positions because I believe that Sirius will continue to increase earnings. The company has guided 2012 EBITDA of $860 million, a growth of 20% over the 2011 projected EBITDA figure of $715 million. I expect 2013 and beyond to be no different. I see increasing earnings as the price hike applies to more subscribers, and benefits from 2.0 and used car initiatives begin to take hold.
So, back to the question of leverage and guidance. Mel Karmazin, Sirius CEO, last year said:
Long term, we expect to maintain some debt leverage at SiriusXM. As a subscription based business, we can probably tolerate a significant amount of leverage but just assume we keep leverage at a modest level like 3x adjusted EBITDA. In that case, we clearly would not be diverting much of the future cash generation toward reducing debt. In fact, we might more likely increase gross indebtedness overtime as we continue to grow the business.
Net debt to EBITDA will continue to decline sharply as earnings, cash and free cash flow continue to grow. On December 5, 2011 Sirius CFO David Frear said:
Based on the guidance that we've provided to the market, that we will be about 2x leverage in terms of net debt to adjusted EBITDA by the end of next year.
The "next year" Frear referenced is 2012. 2x leverage is well below Karmazin's "modest level like 3x." Was Karmazin serious when he said, "In fact, we might more likely increase gross indebtedness over time as we continue to grow the business"?
What kind of investing would grow the business? On more than one occasion Karmazin has said that the company sees no accretive acquisitions out there. And even if accretive acquisitions - or any acquisitions - were available, Sirius would need permission from Liberty Media (NASDAQ:LMCA) to pursue them. That same approval from Liberty is needed to repurchase shares or reduce debt. This control was one of the provisions in the agreement that gave Liberty its 40% stake in Sirius.
As an investor that held shares in Sirius as the company faced bankruptcy three years ago, I am glad Karmazin struck that deal with Liberty and gave me the opportunity to turn a profit on my position. Karmazin also stands to become very wealthy as a result of the rescue plan since he now has an option to purchase 120 million shares at $0.43. Karmazin is probably much less thrilled about having had to cede so much control to Liberty.
Will Liberty permit Sirius to increase indebtedness to keep leverage at a modest 3x? Will Liberty permit an acquisition or a share buyback? Will Liberty listen to SIRI Dog Millionaire and permit Mr. Karmazin to pay down that debt? I don't see any of these as likely occurrences.
Summary
I believe that Karmazin went a bit too far out on a limb when he spoke about share buybacks and keeping net leverage at 3x even if it meant taking on new debt. And in answer to the question by golffromdawntodusk, "How can they pay down debt and live up to the guidance they gave?" - They can't, not without permission from Liberty. In fact, without massive spending, net leverage will drop below the 3x guidance very soon. What should be a victory lap for a management team that delivered more than 1.7 million net new subscribers in 2011 could have some uncomfortable moments during the February 9th conference call when the use of cash questions are raised by the analysts.
Disclosure: I am long SIRI. I also have covered calls against some of my Sirius position. I may open new covered calls or initiate (or close) a buy stock/sell option position in Sirius, discussed in a prior article, at any time. I have no positions or plans to trade any other stock mentioned in this article in the next 72 hours.