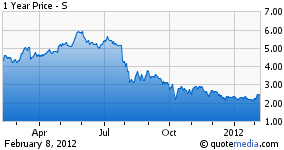 I've said it before. Sprint (S) lacks a viable business model. Sprint has a negative return on capital.
Sprint reported yet-another net loss this week but notice how the press release glossed this over:
Largest sequential increase in net operating revenues in more than five years.

Sprint serves more than 55 million customers -- highest level ever 1.6 million total net subscriber additions in the quarter -- best since 2005.

539,000 postpaid net additions on the Sprint platform in the quarter.

Strong iPhone sales -- 40 percent to new customers.

Network Vision on schedule and on budget; six major cities to launch 4G LTE by mid-year with the addition of Kansas City and Baltimore.

Adjusted OIBDA of $842 million and the first year of Operating Income since 2006.
This last one is the punch line.
OIBDA is Operating Income Before Depreciation and Amortization. It's an excuse number. Hey, mom, I know I got an F on my test, but this 42 is my best score in five tests and, if you take out the time I spent watching TV and playing video games, it would have been a 75.
Put simply, Sprint is Greece. It's piling up debts, but it is not making profits with which to pay those debts. It hasn't been making money to pay down debt for years. Look at the balance sheet. Accumulated depreciation keeps going up, the accumulated deficit keeps going up, the cash flow statement is a sea of red.
The problem is not unique to Sprint. It's true for every other telco. It's Moore's Law in action. Equipment becomes functionally obsolete before its costs are recouped.
Once upon a time computers were depreciated over five years. Now they're expensed. Even though they could work for 10 years, if you don't expense them you're crazy, because they're going to be obsolete long before the cost is recouped. Computers in a warehouse are like fruit on a hot loading dock - their value disappears before your eyes.
There is a solution in the utility model. WiFi works this way. Roads work this way. The equipment is an expense to each user, the cost of the depreciation is shared through a single authority. If that infrastructure is privately-owned, it's regulated. Or it can be publicly-owned - paid for through taxes.
It's not communism, and it's not socialism. It's how people in the late 19th century learned to deliver electricity, natural gas, how they created ports and telephone service and, eventually, our Interstate Highway system. It's how the Internet works. It's J.P. Morgan, but it's also Teddy Roosevelt. It works.
This doesn't work. This idea of separate proprietary networks, with obligations to serve everyone but no assurance everyone will use the network, results in a lot of wasted bandwidth. You're building three infrastructures, or four, where there should be one, and you're constrained for capacity where there is high demand.
Sprint shareholders are learning that the electromagnetic spectrum is an ocean, not a set of railroad tracks. Eventually, as with Greece, the game has to end. In tears, in bankruptcy, but also in wiped-out shareholders and bondholders with haircuts.
Do we have to see a Chapter 11 filing before we get the message?