The days of Symbian smart phones could be over. When Nokia (NYSE:NOK) published their Q4 results they already mentioned something that could point to something disturbing.
"As a result of the changing market conditions, combined with our increased focus on Lumia, we now believe that we will sell fewer Symbian devices than we previously anticipated."
Nokia didn't quantify what "fewer Symbian devices" actually means. It could be 1 million fewer, it could be 50 million fewer. Here's where Andrew Orlowski from The Register comes in. He's been covering the tech industry for more than a decade, and his sources are generally bulletproof. They're telling him that Nokia cancelled all their upcoming Symbian devices except for one, the successor to the Nokia N8.
It's no secret that, even before Nokia announced its strategic partnership with Microsoft, the most popular mobile Operating System (OS) on the planet, Symbian, was in the midst of a slow death.
Last year Nokia's VP Purnima Kochikar, confirmed that Symbian will likely just fade away in an open letter to developers.
In many markets, including markets where Symbian is currently the lead smartphone platform with significant market share such as China, India, Russia and Turkey, we will continue to make our Symbian portfolio as competitive as possible while we work with Microsoft (NASDAQ:MSFT) to introduce Windows Phone 7.
the letter says. But when pressed to give a cut-off for the OS, Kochikar answers:
We cannot give you the date when Symbian will no longer be supported. Our intention is that when users come to the end of the natural lifecycle of their Symbian device they will make the change to a Nokia Windows Phone 7 device and so it would not be in our interests to undermine their Nokia smartphone experience.
Lumia is the buzz word
The latest news regarding Lumia came from Microsoft. The company begun taking orders for the Lumia 900, which it hopes will give its mobile franchise a much needed lift. The Nokia Lumia 900, which features dual cameras in an ultra-slim case, can be pre-ordered for $25 at Microsoft's brick-and-mortar stores in the U.S.
The company has not officially announced a release date for the device, but there's widespread speculation that the phone will ship on March 18.
Many observers feel the Lumia 900 could be the breakthrough device that the Windows Phone platform needs to boost its anemic share of the U.S. mobile operating system market. Microsoft's mobile share in the U.S. fell to 4.6% in the Q4 2011.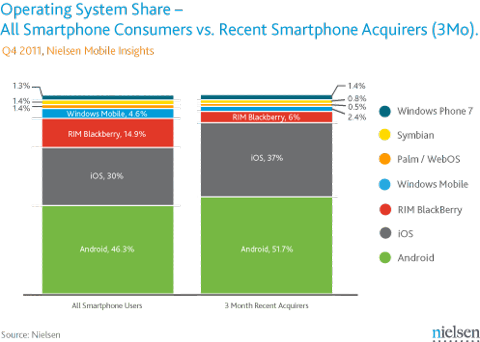 (Click to enlarge)
On the upside Microsoft is really depending on Nokia when it comes to the success of Windows Phone. The other big Windows Phone manufacturers are knee deep in Android. Nokia is the only major Windows Phone player that doesn't do Android as well. It's in Microsoft's best interest to see Nokia do well. As mentioned in my Nokia article of January 30 there is already a financial relationship between the two companies, which could enhance further with Microsoft taking an equity stake in Nokia. But this is pure speculation right now.
Peter Wissinger, director for Microsoft's Mobile Business Group in the Nordic countries posted on his Facebook page on February 2 an unofficial Nokia Lumia (sales) report. He notes that now that the Nokia Lumia 800 has become available in all Nordic countries sales have been far above expectations and forecasts.
We can conclude that the user acceptance from Symbian to Windows Phones may be much higher than expected and could fuel growth the coming years.
Based on a study by analyst firm Morgan Stanley, Nokia will have a successful run this year with its Windows Phone smartphones selling over 37 million units and 64 million units the following year.
Morgan Stanley expects that in 2012, Nokia's Windows Phone shipments will arrive at the 37 million units mark and double to 64 million next year, which means that in two years Nokia Windows Phone devices will cross over Nokia Symbian sales.
Microsoft and Nokia will cooperate to make the Windows Phone a success and I am sure Lumia will conquer the world bit by bit
Disclosure: I am long NOK.