There's apparently an old saying in the northern part of England: "Where there's muck, there's money." Fast forward to the 21st century and they could have been talking about US company Clorox (NYSE:CLX), which certainly knows a thing or two about making a profit from dirt, or, more accurately, its removal.
In its most recent Q2 2012 conference call, the company indicated they are raising sales outlook to 2% to 4% for the coming fiscal year. Additionally, eight of the eleven strategic business units delivered year-over-year growth. The company was hampered internationally with volume down 1% and flat sales.
A contributor to the poor international sales was related to pending price regulations from the Venezuelan government, which as led to retailers delaying orders and consumers holding back on spending. Venezuela represents 2% of Clorox's total sales.
The company indicated the acquisition of Aplicare provides the company with expertise associated with developing FDA-regulated products. Aplicare specializes in development and manufacture of products related to preventing skin infection from needles used in surgery. The company's acquisition of HealthLink provides entry into small clinical sites, such as physician and doctor's offices. HealthLink provides a broad portfolio of infection prevention products.
The company anticipates that Aplicare and HealthLInk will add 1 point of annual sales growth on an annual basis. Additionally, the company considers the infection control market a good segment to target, as no company in the space has larger than a 5 to 7 percent market share.
After existing from 1913 to 1969 as a single-product liquid bleach business, Clorox spent the next forty years developing its global brands. These now include not just the flagship Clorox cleaning products, but also Pine-Sol cleaners, Green Works home care range, Brita water filtration, the joint venture Glad bags and wraps, Kingsford and Match Light charcoal products, Hidden Valley and KC Masterpiece dressings and sauces, and many more. Close to 90% percent of the company's brands hold No. 1 or No. 2 market share positions. Clorox employs 8,100 people worldwide, manufactures its products in around 25 countries and sells them in more than 100.
The company prides itself on its culture of innovation, and makes a point of tapping into ideas and suggestions through consumer forums, customer contests and inventor challenges. Innovation It believes it derives a competitive edge through this, and through the leading market position of its brands, its solid long-term earnings growth and its strong cost savings programs over the last ten years. Pre-tax earnings have grown steadily through the thick of the recession, from 2008 onwards. Company strategy is centered on what are defined as four "consumer mega-trends": healthy home, sustainable environment, cultural and ethnic diversity and affordability.
The company's net sales have been remarkably stable, reaching $5.2 billion in each of the last three years, leading to similarly steady earnings before interest and taxes at around 18% of sales. US sales of cleaning and laundry products represent 31% of annual sales. International sales, occurring primarily in Latin America and Canada, account for a further 21% of the total. Clorox aims to earn at least 2% of annual sales from new products, and has achieved this target for each of the last eight years. The auto care business segment was sold during 2011, so this may have the effect of reducing revenue and earnings in 2012.
Clorox is exposed to fluctuations in the supply and prices of its manufacturing raw materials, including resin, chlor-alkali and sodium hypochlorite, which it mitigates where possible using commodity futures contracts and swap agreements.
In its most recent 2012 Q2 conference call, the company indicated, that even though natural gas prices are low, they are seeing the price of resin firm due to overseas demand. Clorox purchases a significant quantity of resin of which natural gas is one of several inputs needed for making resin.
Additionally, the company faces transportation risks involved in the movement of hazardous substances, such as chlorine, over long distances.
Also, three single product lines - liquid bleach, trash bags and charcoal - together amount to around 38% of sales, so despite its brand and product diversity the company's results are heavily dependent on the continuing success of a small number of items. A similar situation occurs in the customer mix, where Wal-Mart (NYSE:WMT) accounts for around 26% of sales, and the five largest customers combined account for 44%.
Clorox and all of its brand-focused competitors must outlay large sums on advertising to fight competition from lower-priced unbranded and private label products, especially during times of financial downturn when discretionary spending contracts. The high-end branded label competitors include Colgate Palmolive (NYSE:CL), Procter & Gamble (NYSE:PG), privately-held S.C. Johnson, the British-based company Reckitt Benckiser, and Dial, owned by German company Henkel. (See Clorox Form 10-K.)
During the Q1 2012 earnings call, Clorox Chief Operating Officer Larry Peiros confirmed that the company's retail outlet market share remains at an all-time high of 27.9%. The company plans to focus on improving its laundry business in the near future, partly based on its entertaining advertising campaign "Bleachable Moments." Clorox also has high hopes for another innovation, the Brita water filter on-the-go bottle. Recent product price increases have largely been followed by competitors, reducing the potential downward impact on volumes.
Clorox's stock price has been in a trading range between $63 and $73 over the last year. The stock price is currently near the upper portion of the trading range as shown below: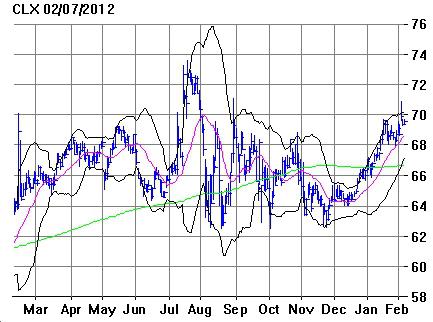 With its stock in upper trading range and international issues related to European sovereign debt and Venezuelan government price controls the near-term outlook for the company's stock price is bearish. With this outlook, an investor with a significant portion of bullish position might consider entering a bearish position for Clorox in order to hedge the other bullish positions.
In general, this type of position should only be considered for a portion of a portfolio, as it is highly leveraged. A bear-call credit spread will be considered for Clorox. A bear-call credit spread may be entered by selling one call option and purchasing a second further out-of-the-money call option against the same underlying.
Using PowerOptions tools, a bear-call credit spread was found for Clorox with a potential return of 4.8% (46.3% annualized return) over a timeframe of 38 days as shown in the table below: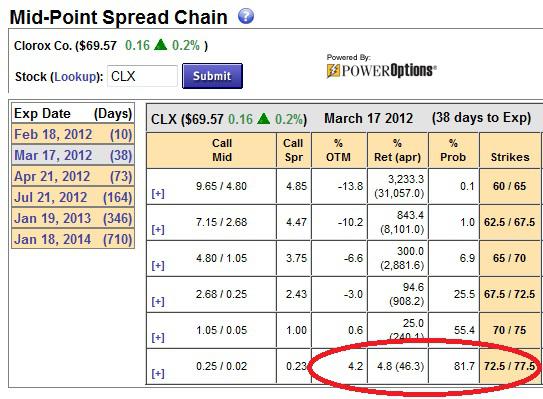 The potential return assumes receiving trade execution at the mid-point between the bid/ask prices. The specific call option to sell is the 2012 March 72.50 at a midpoint price of $0.25 and the call option to purchase is the 2012 March 77.50 at a midpoint price of $0.03. The profit/loss graph for one contract of the position is shown below: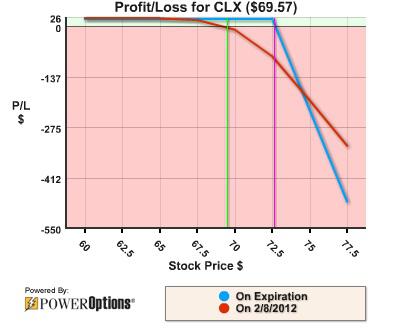 If the price of the stock is below the $72.50 strike price of the sold call option at expiration in March, the position will return 4.8%. The strike price for the sold call option is currently 4.2% out-of-the-money. If the price of Clorox transitions to greater than about $71, then consideration for exiting or rolling the position should be given.
Disclosure: I have no positions in any stocks mentioned, and no plans to initiate any positions within the next 72 hours.