By The ETF Professor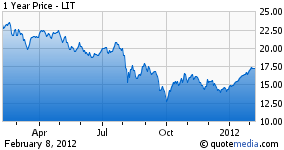 When the Global X Lithium ETF (NYSEARCA:LIT) debuted in July 2010, the fund was not met with the usual consternation and criticism reserved for niche ETFs.
Rather, the timing seemed right as everyone and his (or her) sister was talking about lithium as a valid investment thesis due to increased demand from the automotive and technology industries.
That helped the Global X Lithium ETF got off to a fine start, but things changed last year. A sagging global economy didn't help matters, nor did the fact that lithium supplies aren't exactly rare. Last year was so rough for LIT, some had to wonder whatever happened to the ETF.
There's no need to send out a search party because LIT is experiencing a renaissance of sorts in 2012. Quiet as it may kept, the ETF was up 20% year-to-date at the start of trading today.
There are some issues to consider before backing up the bus on LIT. Trading around $17.39 today means the ETF is merely back to an area it resided in August 2010 following last year's nasty fall from grace. So some may argue it has been a lost 18 months for the fund.
Second, there has been speculation that Apple (NASDAQ:AAPL) will eventually produce iPhones, iPads and laptops without lithium. That would certainly skew the supply/demand dynamic out of LIT's favor.
The good news is lithium is an integral ingredient in the production of electric cars like the plug-in Toyota (NYSE:TM) Prius and GM's (NYSE:GM) new Chevy Volt. In other words, if oil prices stay elevated, forcing gas prices higher, penny-pinching consumers may embrace smaller, eco-friendly cars. That could be a catalyst for more upside for LIT this year.
Even with all of its trials and tribulations last year, LIT is still home to over $103 million in assets under management, making it one of the larger ETFs issued by Global X. The technicals look appealing as the fund has just cleared its 200-day moving average and the chart indicates LIT could run another $2-$3 without encountering much material resistance.
Arguably, a lot of investors have heard of the Chemical and Mining Co. of Chile (NYSE:SQM). That's LIT's top holding at over 18% of the fund's weight, and probably the lithium stock investors are most familiar with. Think twice before making SQM your lithium play because LIT has doubled the returns of SQM on a year-to-date basis.
For now, the medium outlook for lithium demand and LIT appears favorable, but how much longer LIT's bull run goes unnoticed is anyone's guess.
Disclosure: I have no positions in any stocks mentioned, and no plans to initiate any positions within the next 72 hours.
Disclaimer: Neither Benzinga nor its staff recommend that you buy, sell, or hold any security. We do not offer investment advice, personalized or otherwise. Benzinga recommends that you conduct your own due diligence and consult a certified financial professional for personalized advice about your financial situation.