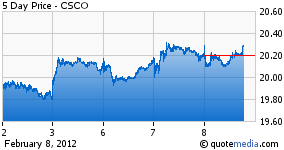 Cisco Systems (NASDAQ:CSCO) is expected to report Q2 earnings after the market close on Wednesday, February 8, with a conference call scheduled for 4:30 pm ET.
Guidance
The consensus estimate is 43c for EPS and $11.23B for revenue, according to First Call. Cisco underwent a massive corporate overhaul last year, which involved layoffs and widespread restructuring, in an attempt to get back on track. Now leaner, Cisco says all the upheaval is paying off. Optimists await what they expect will be further signs of recovery from the networking giant. Wall Street expects Cisco to report a stable quarter, buoyed in part by improving enterprise demand in the U.S. Options activity also hints at high expectations for Cisco's quarterly report. But, in five of the past six quarters, Cisco stock has been hit hard after not living up to expectations. The whisper number is set a bit higher, arriving at earnings of 46c per share. Investors will be closely monitoring Cisco's results for evidence that the switch maker is fighting off rivals such as Juniper Networks (NYSE:JNPR), which cut its Q4 forecast last month on weakness in the U.S. service provider market, and from Hewlett-Packard (NYSE:HPQ). Guidance from its last earning calls is for Q2 revenue of approximately $11.14B-$11.24B, or 7%-8% growth year-over-year. Cisco also sees Q2 GAAP pre-tax charges of up to $100M, adjusted operating margin 26%-27%, and a non-GAAP tax provision rate of approximately 22%.
Analyst Views
Sterne Agee's Shaw Wu also expects good Q2 numbers as, "Checks indicate stable demand trends -- in terms of product segments." Wu explained that product refreshes, such as the new versions of Cisco's Catalyst and Nexus switches, are helping boost sales. Consensus for Q3: 45c on $11.46B in revenue. Consensus for FY12: $1.677/$45.83B. Consensus for FY13: $1.94/$48.65B. Expectations are for a post-earnings move of about 6% for Cisco shares, up or down, based on Tuesday's activity of weekly options that expire on Friday. This is below the average 10% move for the past four quarters. Some speculate, that even if Cisco posts a strong profit, we could see a "sell on the news" -- as the stock closed Tuesday just 10% shy of the consensus' 12-month price target of $22.