Do you like to follow stock momentum trends? For ideas, we ran a screen you may be interested in. We screened the stocks of the S&P 500 for those exhibiting the "golden cross," in which the stocks' 50-day moving average has crossed above its 200-day MA. This indicates momentum to the upside that may persist. We then ran DuPont analysis on these names.
DuPont analyzes return on equity (ROE, or net income/equity) profitability by breaking ROE up into three components:
ROE
= (Net Profit/Equity)
= (Net profit/Sales)*(Sales/Assets)*(Assets/Equity)
= (Net Profit margin)*(Asset turnover)*(Leverage ratio)
We therefore focus on companies with the following positive characteristics: Increasing ROE along with,
Decreasing leverage, i.e. decreasing Asset/Equity ratio
Improving asset use efficiency (i.e. increasing Sales/Assets ratio) and improving net profit margin (i.e. increasing Net Income/Sales ratio)
Companies with all of these characteristics are experiencing increasing profits due to operations, and not to increased use of financial leverage.
‪Interactive Chart: Press Play to compare changes in analyst ratings over the last two years for the stocks mentioned below. Analyst ratings sourced from Zacks Investment Research.‬
We also created a price-weighted index of the stocks mentioned below, and monitored the performance of the list relative to the S&P 500 index over the last month. (To access a complete analysis of this list's recent performance, click here.)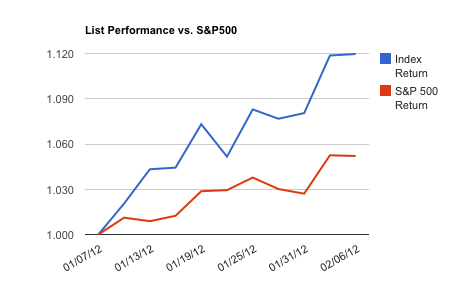 Do you think these stocks will see continued upside momentum? Use this list as a starting point for your own analysis.
List sorted alphabetically.
1. American Express Company (NYSE:AXP): Provides charge and credit payment card products, and travel-related services worldwide. SMA50 at $48.42 and SMA200 at $48.39 (current price at $52.26). MRQ net profit margin at 14.33% vs. 13.53% y/y. MRQ sales/assets at 0.054 vs. 0.054 y/y. MRQ assets/equity at 8.053 vs. 9.038 y/y.
2. CA Technologies (NASDAQ:CA): Designs, develops, markets, delivers, licenses, and supports information technology management software products that operate on a range of hardware platforms and operating systems. SMA50 at $21.77 and SMA200 at $21.68 (current price at $26.68). MRQ net profit margin at 20.82% vs. 17.48% y/y. MRQ sales/assets at 0.107 vs. 0.096 y/y. MRQ assets/equity at 2.058 vs. 2.176 y/y.
3. FedEx Corporation (NYSE:FDX): Provides transportation, e-commerce, and business services in the United States and internationally. SMA50 at $86.05 and SMA200 at $84.31 (current price at $94.60). MRQ net profit margin at 4.69% vs. 2.94% y/y. MRQ sales/assets at 0.372 vs. 0.369 y/y. MRQ assets/equity at 1.788 vs. 1.792 y/y.
Accounting data sourced from Google Finance; all other data sourced from Finviz.
Disclosure: I have no positions in any stocks mentioned, and no plans to initiate any positions within the next 72 hours.