By G C Mays
Scotts Miracle-Gro (NYSE:SMG) reported a first quarter loss of -$73.9 million or $1.21 per share on revenue of $211.2 million. The company's business is seasonal and it has historically reported losses in its fiscal year first and fourth quarters. However, for the second consecutive year management has estimated sales growth of 6%. After reporting an anticipated larger loss in the first quarter of fiscal year 2012, can the company meet its own lofty revenue forecasts or will it again miss the target as it did last year when sales declined by -2%, an 8% miss.
We'll also take another look at that revenue number of $211 million, which includes $24.5 million in revenue that's mostly from discontinued operations and related to an ongoing supply agreement with Israel Chemical LTD (NYSE:ICL). It's worth noting that Potash Corp (NYSE:POT) now owns 13.9 percent of Israel Chemical LTD and recently sought permission from Israeli authorities to raise its stake to 25 percent.
Global Consumer
Sales in the global consumer segment tumbled by 21 percent to $149.1 million during the quarter. The company says it expected this decline based on a planned shift to move these sales out of the first quarter. The company mentioned that its customers wanted leaner inventories to end their fiscal years as well as to move shipments closer to the start of the lawn and garden season. Home Depot (NYSE:HD), Lowes (NYSE:LOW), and Wal-Mart (NYSE:WMT) represent about 61% of the company's sales.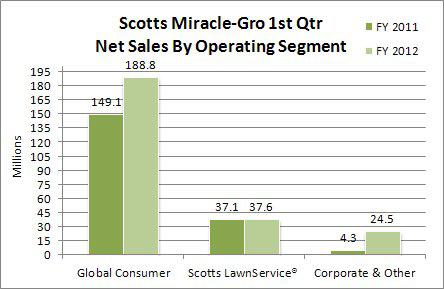 Source: The Mays Report
Home Depot, which accounts for roughly 30 percent of company sales, cited sluggish sales in its indoor and outdoor garden categories during the first and third quarters of its 2011 fiscal year. Lowes mentioned poor sales in its lawn and landscape business in the first quarter of its 2011 fiscal year, citing weather as the cause. Lowes reported mixed sales in its second quarter and strong sales in the third quarter of its 2011 fiscal year. Lowes accounts for about 18% of sales. Wal-mart represents about 13% of Scotts Miracle-Gro sales but does not break out these numbers or its outdoor or lawn & garden business in its filings.
The company also shared some early second-quarter results. In Florida, sales of products like Bug-B-Gon, Weed-B-Gon, Fire Ant Killer, combination fertilizers and Roundup® are doing very well. Scotts Miracle-Gro is Monsanto's (NYSE:MON) exclusive agent for marketing and distribution of Roundup® consumer products in the U.S. and select countries.
LawnService®
Sales in the company's LawnService® segment were 1 percent higher at 37.6 million, continuing last year's strong performance when sales grew by 5 percent. However, the segment accounted for only 8.5 percent of total sales in fiscal year 2011.
Corporate and Other
Corporate and Other income of 24.5 million is essentially revenue from discontinued operations and when removed from the top line sales number, results in revenue of roughly $186.7 million from continuing operations, a 17% percent decline when compared with the same quarter last year. When it's released, perhaps the 10-Q will offer a bit more clarity on an estimate of a more accurate GAAP net loss for the quarter.
Gross Margins plunged to 11.7 percent. The company cited higher commodity costs, lower-sales being spread over fixed warehousing and manufacturing costs, which results in higher per unit costs and lower margins. In the company's fourth-quarter and full year conference call, the company stated that it expects lower full-year margins as most price increases would not match increases in the company's input costs. The company has stated that it will not increase fertilizer prices in 2012.
In January of 2011, the company estimated a 4%-6% increase in sales before citing weather as a primary reason for what ended up being a two percent decline in sales. Adverse weather such as drought, persistent cold and rainy conditions can negatively impact sales. If weather had such a huge impact on sales in FY 2011, persistent La Niña conditions could stunt sales in FY 2012 as well.
The National Oceanic and Atmospheric Administration recently issued an updated seasonal drought report, which is valid through April 30, and it shows persistent drought in many places around the country.
(Click chart to expand)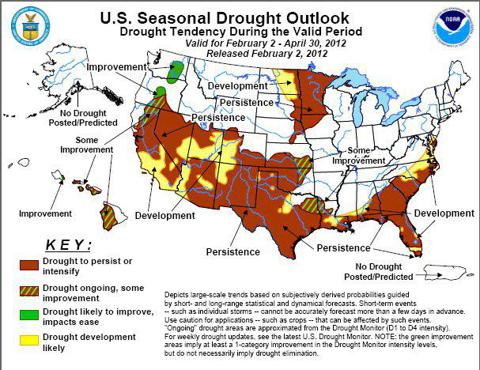 Source: NOAA
As the graph illustrates, the NOAA expects drought to persist or intensify through April 30, in both Texas, and Florida, two states that the company mentions that are showing strong early sales.
In addition to hoping for suitable weather, the company's plans to boost ad spending to increase brand awareness. That's a great idea because a check of its three largest customers' most recent annual filings revealed that when those companies listed the national brands they sell, the Scotts brand was not among those listed.
Corporate governance is another aspect of Scotts Miracle-Gro an investor should take note of as this company has a few issues that are not in the best interest of all shareholders. There is nothing verboten about the following issues, however, they do not represent the best practices of corporate governance.
First, CEO James Hagedorn is also Chairman of the Board. A chairman of the board that is not independent can lead to the company effectively controlling its board of directors. In fact, the Hagedorn Family Partnership controls 30% of the voting shares and effectively exercises significant influence over board member selection and other strategic decisions that may not have the best interest of all shareholders in mind. In addition, the Chairman of the Hagedorn Partnership is also a member of the Scotts Miracle-Gro board of directors.
Second, staggered director elections mean that only a part of the board is up for re-election each year. Staggered elections can make boards less responsive to the needs of shareholders while being more responsive to company managers. They are also more likely to resist outside overtures that would benefit shareholders. Directors will likely be mindful of all shareholder interests when shareholders can vote to remove them all annually.
At a recent price of $52.96, these shares are fairly valued to slightly overvalued. I don't see any reason to own these shares at this level aside from the 2.25% dividend yield. In addition to weather patterns the fortunes of this company are closely tied to macro economic factors such as consumer and business confidence & spending, employment levels, housing starts and home ownership levels. The company has begun to miss its own forecasts. The company's board structure may also be affecting its willingness and ability to make the strategic changes necessary to make its growth targets. Rebuilding the Scotts brand that was once synonymous with lawn care through increased advertising is a great start, but most likely won't enable the company to hit the bullseye this year.
Disclosure: I have no positions in any stocks mentioned, and no plans to initiate any positions within the next 72 hours.