As my day of work ends, like so many other working stiffs around the globe, I retire to my home to try to relax from the hustle and bustle. Part of my ritual eventually involves me turning on the mindless television to lull myself to sleep. At this point I select basic reality shows to keep it somewhat interesting. Popular reality shows dealing with pawn stores and the buying and selling of storage lockers fill the screen. In one of the latest episodes there appeared an old steam trunk with the iconic travel stickers stuck to it, identifying all the nations it had been to. As the haggling began over the trunk's value on the show, my mind wandered to my income investments dealing with closed end funds (CEFs). I then began to wonder what stickers would be interesting to slap on my portfolio as a world traveler, as well as an income investor.
Aberdeen Chile Fund (NYSEMKT:CH)
When it comes to funds that are dedicated to specific countries, one of the most popular is the Aberdeen Chile Fund. This CEF was launched by Aberdeen Asset Management, and is co-managed by Celfin Capital Servicios Financieros. The fund invests in the public equity and fixed income markets in Chile. The fund also looks to invest in companies operating across diversified industries. It employs a fundamental analysis with a bottom-up approach to make its investments. The fund benchmarks the performance of its portfolio against the MSCI Chile Index. It conducts in-house research to create its portfolio.
In 2011 the fund was paying a distribution of $0.51 per share on a quarterly basis. With today's share price that makes for 10.8% distribution. If that was not enough, on September 7, 2011 the fund announced that the Board of Directors had declared a special capital gain distribution in the amount of $0.80345 per share. This works out to another 39% on top of the basic distribution.

If there is a drawback to CH, then it involves the pricing of the shares. Currently the price is at a premium of around 11% when compared to the net asset value. Needless to say, having to pay 11% more than something is worth is a hard thing to swallow. In the past the fund sought to address the discount to net asset value at which shares have traded. On June 26, 2009, the Board of Directors announced that the CH intended to commence a tender offer for 25% of the outstanding shares at a price equal to 99% of the net asset value. This action obviously has helped hold the price more stable, but running at a 1% premium is hard to stomach. Basically I want this sticker from Chile on my trunk as a world traveler, but might have to wait just a bit for the income investing part.
Thai Fund (NYSE:TTF)
Often times when one thinks of exotic locations their mind turns to Southeast Asia and the country of Thailand. That being the case, we turn our attention to the Thai Fund. This is a closed-ended equity mutual fund launched and managed by Morgan Stanley Investment Management Inc. TFF invests in the public equity markets of Thailand. The fund invests in stocks of companies operating across diversified sectors, and seeks to acquire stocks in companies operating in different market capitalizations. The fund benchmarks the performance of its portfolio against the Securities Exchange of Thailand Index. The fund was formed on February 16, 1988 and is domiciled in the United States.
Now this fund has had a very interesting record. It contains around 34 different holdings, but a good portion of them are involved in the commercial banking and real estate management sectors. Unlike the Chile fund above, the Thai fund sells at a hefty discount of 13%. It also pays out a semiannual distribution that can greatly vary. The latest distribution amount was payable on 1/31/2012 and was in the amount of $0.42 per share. If the fund can continue to generate that kind of distribution for the next cycle, it would make for a 6.1% yield. Unfortunately, one should not count on that amount as this seems to be an outlier when compared to the historical amounts that date back to late 2008 as shown below.
Taking it all into consideration, one finds that the TTF is probably not the best fund for the income investor. Its semiannual distributions will greatly vary depending on a host of factors. For those investors willing to take a chance, the fund does give very focused exposure to Thailand and its economy. The income component is present, but there are more reliable places to invest for the income investor. Taking all of this into account, it would be cool to have a Thailand sticker on our trunk for nothing more than the exotic locale that it represents.
China Fund (NYSE:CHN)
Obviously no trunk would be complete without a sticker from the far off land of China. Investing in China lends itself to a portfolio that is more growth-orientated. That being the case, there still must be a CEF that has the exposure to China yet pays something to its investors. As a result I picked CHN. The China Fund, or CHN, is a close ended equity mutual fund launched and managed by Martin Currie Inc. It invests in the public equity markets of China which includes the People's Republic of China and Hong Kong. The fund primarily invests in stocks of companies across all capitalization thresholds. The fund benchmarks the performance of its portfolio against the MSCI Golden Dragon Index, Hang Seng China Enterprise Index, and the Shanghai Stock Exchange 180 Index. The China Fund was formed on April 28, 1992 and is domiciled in Maryland, United States.
The fund has around 64 holdings, and all of those are not truly Chinese, as the name of the fund might imply. Direct investment in China is not an easy thing to do. Often times CEFs will deploy their investment capital in countries that are closely related to China and its economy to gain exposure. A current breakout by country allocations is as follows: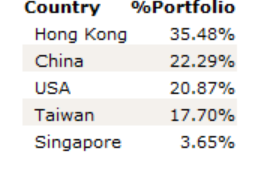 Nevertheless, the fund does have some positive aspects going for it. The current price per share is selling at a discount of close to 7.6% when compared to its net asset value. The distribution frequency for the fund is done on an annual basis, but when it is announced it has produced some very interesting results as shown below.

What one finds is that the distributed amounts are mostly made up of capital gains. It seems that very little of the distribution is derived from the income side of the house. As a result, income investors would need to be aware of this fact if they decide to put this sticker on their trunk.
Morgan Stanley India Investment (NYSE:IIF)
If one is going to look at China for an investment, then they must also turn their attention to India. We won't be any different here, so let's take a look at IIF. This fund seeks capital appreciation through investments in Indian equity securities. The fund has roughly 45 different holdings that make up the portfolio. As is common in most country-specific CEFs, the largest type of holding are the commercial banks which made up to 18% of the portfolio. After factoring in the financial bank holdings, the fund also have positions in several other diverse sectors of the Indian economy. Needless to say, an investment in IIF is a investment in the country of India as a whole.
The fund currently is selling at a 9.5% discount to net asset value, which should make potential new investor happy. Much like the other funds, IIF usually makes it distribution to investors on an annual basis. This has not always been the case as shown in 2009 there was no distribution made, and that left investors high and dry for the year. Something else to consider is that when distributions are made, they tend to be derived from both short or long term capital gains and are not income related. That being the case, here are the most recent distributions for the fund over the last few years.

In short, IIF is like most of our other funds that are mentioned above. The investment is really a play on the economy of India and how it relates to the global economic conditions.
The Mexico Fund (NYSE:MXF)
The last fund, in our search for exotic locations, takes us back to the North American continent and places us in Mexico. The Mexico Fund is a non-diversified closed end management investment company with the objective of long term capital appreciation through investments in securities listed on the Mexican Stock Exchange.
MXF's investment objective is long term capital appreciation through investment in securities listed on the Bolsa Mexicana deValores, S.A. de C.V. (the "Mexican Stock Exchange"). The Fund may invest in Mexican fixed income securities and bank time deposits of Mexican banks, all of which are peso-denominated and may be dollar linked, in order to provide appropriate liquidity to take advantage of market opportunities and meet cash requirements. The fund may also invest in dollar denominated deposits and floating rate notes of Mexican banks.
With all the social issues and a challenging economic environment, many investors are very reluctant to even take a look at Mexico. I don't blame them, but since we need another sticker for our trunk this give us an excellent opportunity to take a peek.
The fund holds about 28 holdings and sells for a 9% discount to net asset value. Distributions are made quarterly, and recently have been made up of capital gains instead of income. The most current distributions are listed below.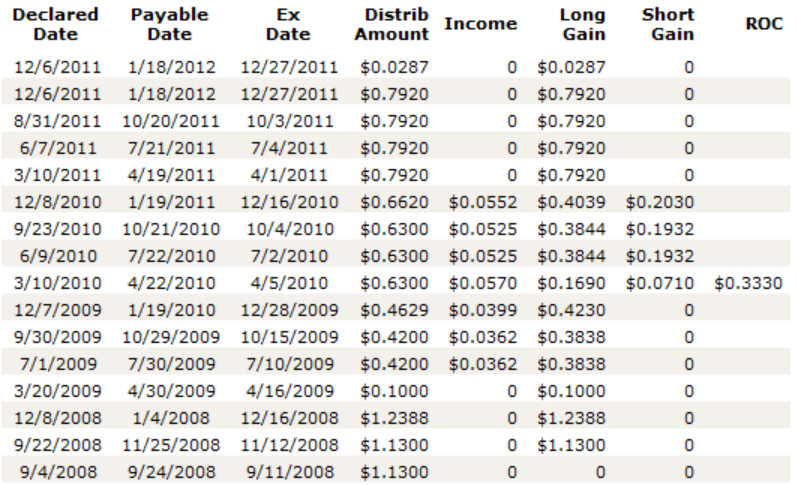 In conclusion, please remember that this article was written with the intent of examining exotic locations and seeing if there is any potential for the income investor. As shown many of the funds had the potential to pay some outsized distributions, but those often times were based upon capital gains. Basically, when economic times are good these funds can really perform well for the income investor. When in an economic downturn, the funds will suffer, as will their distributions. For those who feel that the global economy is on the mend, then these funds might provide an attractive entry price for investment dollars looking to travel abroad.
Disclosure: I have no positions in any stocks mentioned, and no plans to initiate any positions within the next 72 hours.