The phrase "Big Oil" in the title refers to both large multi-national oil firms and to elephant-sized petroleum prospects. The largest oil conglomerates in the world are awakening to the fact that there are billions of barrels potentially in this last remaining oil patch of the Earth that still has not been adequately explored -- the Kurdistan semi-autonomous province in the new Republic of Iraq. Note that as of 2004, Iraq itself contained 14 giant and super-giant oil fields, each with over 1 billion barrels of reserves. Iraq is rated as having the fourth largest reserves on the planet with over 140 billion barrels, while Kurdistan is credited with having 40 billion barrels of this.
Kurdistan's Oil Geology
Kurdistan is home to the western foothills of the Zagros mountain range, which forms the north-eastern border between it and Turkey to the North and Iran to the east. This structure was made from the collision of the three major land forms of Africa, Asia and Asia Minor. Specifically, the Arabian plate is colliding and subducting under and rotating with the Anatolian and Iranian microplates. This geologic province in Kurdistan, is an extension of the ancient Tethys Sea, further south which hosts the rich petroleum resources of the Persian Gulf. The oil and gas potential in Kurdistan is definitely of elephant size, similar to the southern neighbors.
Drilling for oil in this area is a major challenge, as the ground is a deep, complex, folding structure of fractured carbonates under extreme pressure. Almost every operator in the area has encountered delays, problems and drilling issues and have had to sidetrack around lost drilling assemblies down the hole. The costs for each appraisal well have over-run from $60 million to more than $100 million. The times required, forecast at 5 to 6 months, has taken over a year. Kurdistan is not an easy region to operate in oil exploration.
Following is a map of Kurdistan and the oil operators there (click to enlarge):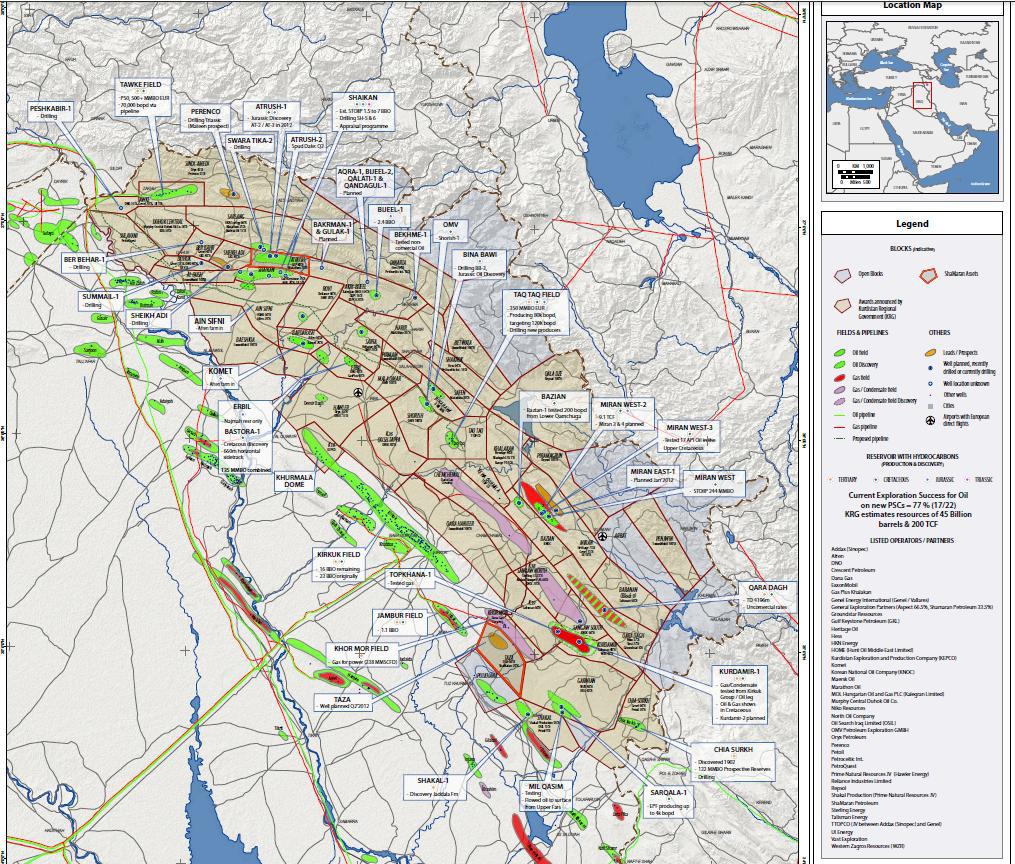 Catalysts for the Change in Sentiment
The US invasion of Iraq paved the way for western oil companies to re-enter this part of the world. The fascinating story with Kurdistan starts last fall, in September 2011, when Tony Hayward, former CEO of British Petroleum (BP) used their Vallares cash shell and concluded a $2.1 deal with Genel Energi, a Turkish oil firm with oil & gas production projects in Kurdistan.
Hayward with his Vallares company had previously raised $2 billion in a London stock listing after leaving BP in ignominy with the controversy in the Gulf of Mexico oil spill. Hayward is aggressive and confident and this is his comeback move into the big oil picture. This deal creates a new Genel with Hayward at top and in control of two world-class Kurdistan oil fields and a major gas discovery.
Next, in November, 2011, the world's largest super-major oil company, Exxon Mobil (XOM), in a move that was seen as a snub to the central Iraqi government in Baghdad, separately concluded some oil deals with the Kurdistan Regional Government. Prior to this event, the larger oil companies had stayed away from Kurdistan, leaving only the smaller companies such as Talisman Energy (TLM), Niko Resources (NKRSF.PK), Marathon Oil (MRO), and Hunt Oil (private) entering the contested Kurdistan region. There was as yet no agreement between the central Iraqi government and the regional Kurdistan government as to how to license exploration and share the potential oil revenues. Exxon is deeply involved in southern Iraq's oil production and this move into Kurdistan was either a risky gambit to secure first rights or a move that anticipates future agreement between the two governments.
Next in line is Chevron (CVX), among three other major firms, who are rumoured to be in negotiations with the KRG on acquiring oil exploration rights. Further speculation is about Chevron eyeing the Shaikan block holding 10 billion barrels of oil that Gulf Keystone Petroleum has discovered. Exxon is also reportedly readying a bid for the same GKP. Meanwhile to date, GKP shares have soared 100% to 327 on this high competitive interest.
On January 16th, 2012, Longford Energy (LFDEF.PK) announced that Genel was purchasing their rights to the Chia Surkh block in Kurdistan which contains historical wells that have encountered oil.
Finally, on January 30, 2012, it has been reported that Total SA (TOT) of France is close to announcing a Kurdistan oil agreement. Though negotiations between the Iraqi central government and the KRG are still not concluded, the world's major oil players are making their moves quickly into this last great oil frontier of Kurdistan.
Companies of Interest in The Region
Following are a few of the oil companies working in the Kurdistan area, and their stock charts, with comments.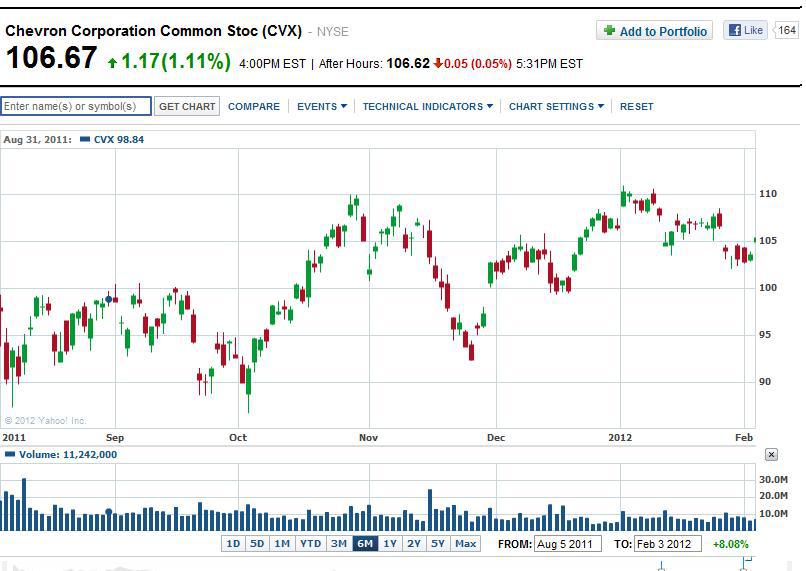 Chevron's recent moves in Kurdistan is causing speculation among the existing smaller operators.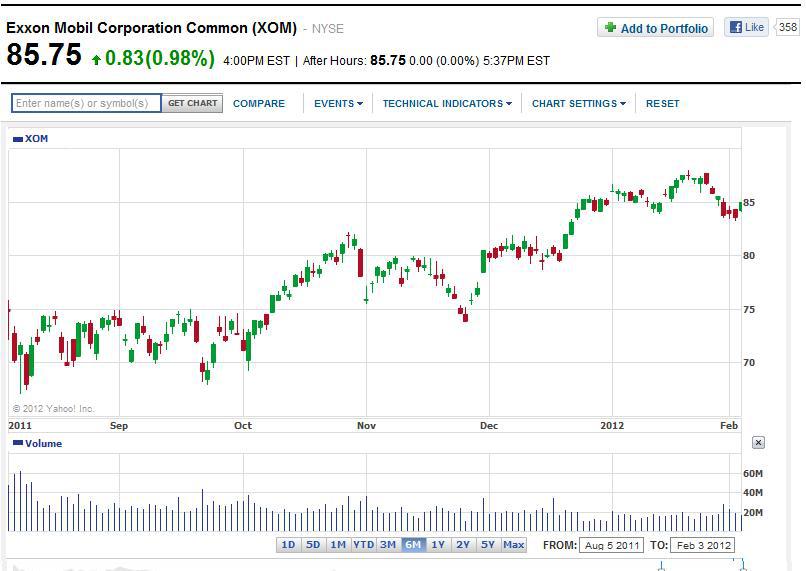 Exxon's movement into Kurdistan was seen as a positive by the market. Here is a view on XOM, should there be a Middle-Eastern crisis.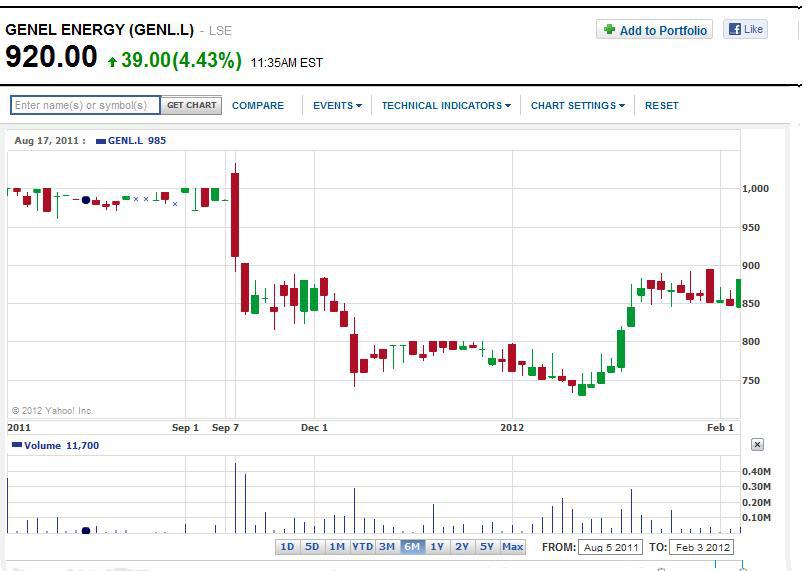 Vallares merger with Genel (GEGYF.PK) was completed in November 2011. The new company holds six exploration licenses in Kurdistan with 41,000 barrels of production per day. These hold an estimated 1.4 billion barrels of oil equivalent.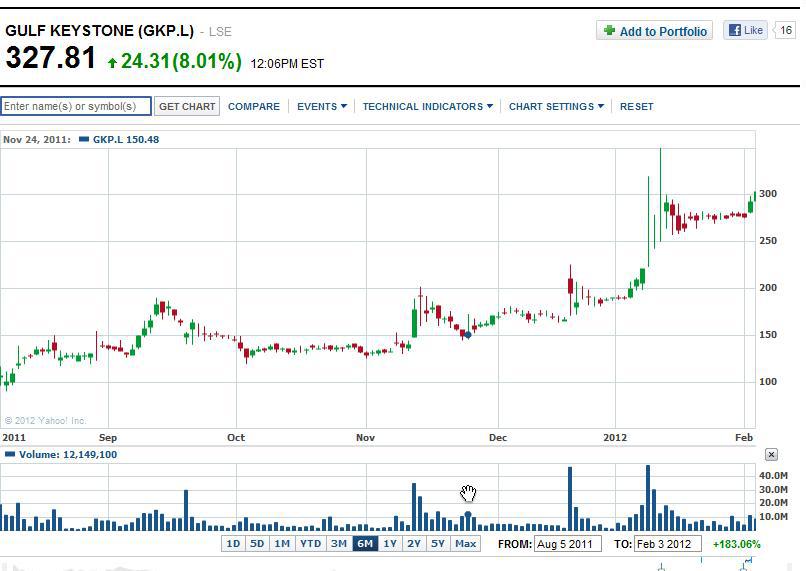 Gulf-Keystone (GFKSY.PK) owns the following stakes in Kurdish oil fields: Shaikan - 51%, Sheikh Adi - 80%, Ber Bahr - 40% and Akri-Bijeel -20%. The Shaikan field is especially prospective with an estimated 8-13 billion barrels of oil. Gulf-Keystone have opened a data room to sell their Akri-Bijeel stake, which is estimated to hold 2.4 billion barrels of oil. Akri-Bijeel is operated by MOL of Hungary. GKP announced about 10-12 interested parties and a possible $350-$500 million price on January 16, 2012.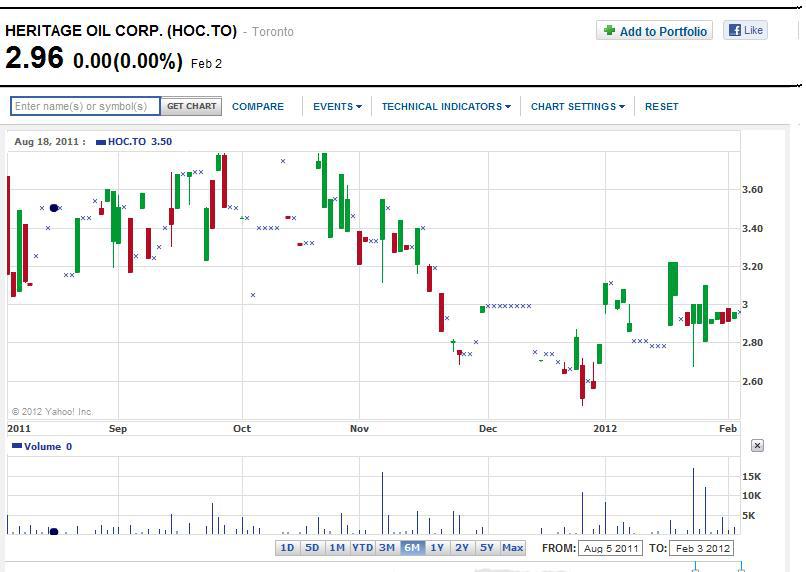 Heritage Oil (HTGLF.PK) announced a major gas find at their Miran West well in January 2011 and the market sold off the stock. Gas is not valued in Kurdistan presently.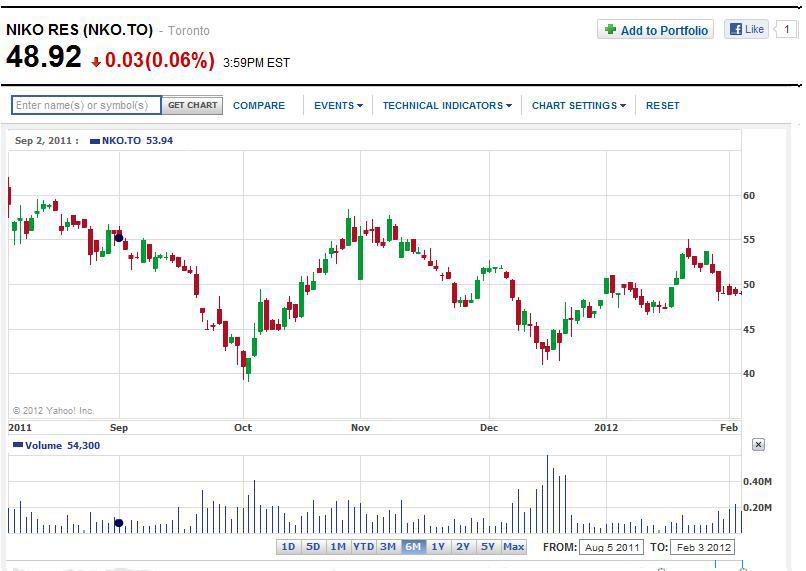 Niko Resources (NKRSF.PK) has operations in Southeast Asia, Madagascar and Trinidad. Niko is presently looking for a buyer for their Kurdistan stake in the Qara Dagh block, jointly owned by Vast Explorations. The Qara Dagh 1 well has been presently deemed un-commercial.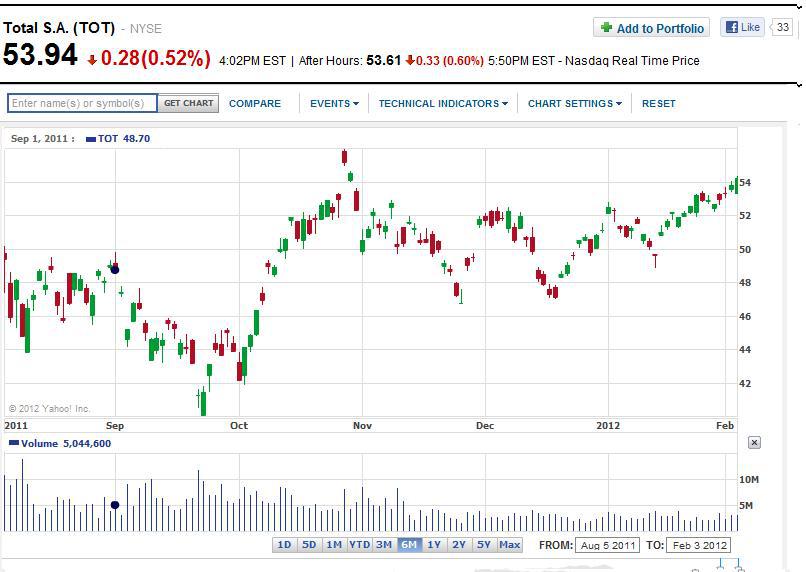 Total has staff in Kurdistan exploring the acquisition of oil and gas blocks, and in doing so is driving speculation in this sector.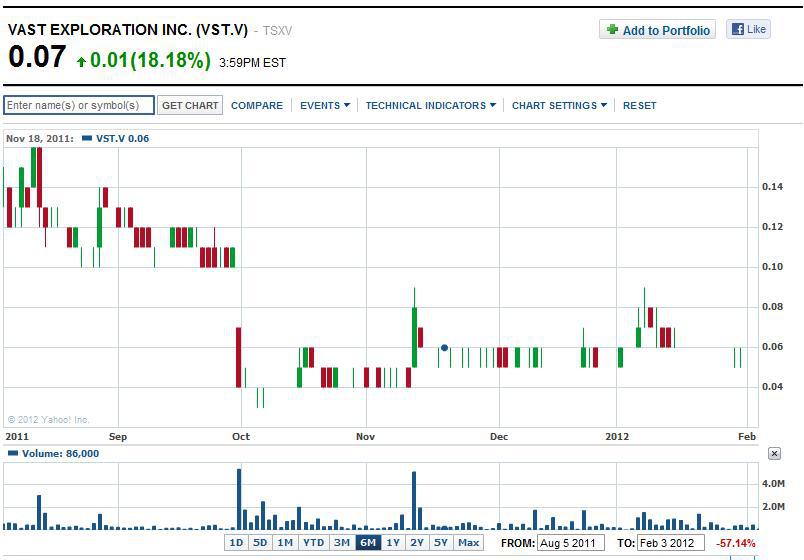 Vast Exploration (VSTFF.PK) is partnered with Niko in the Qara Dagh block. With the Qara Dagh 1 well deemed un-commercial, the share price has crashed.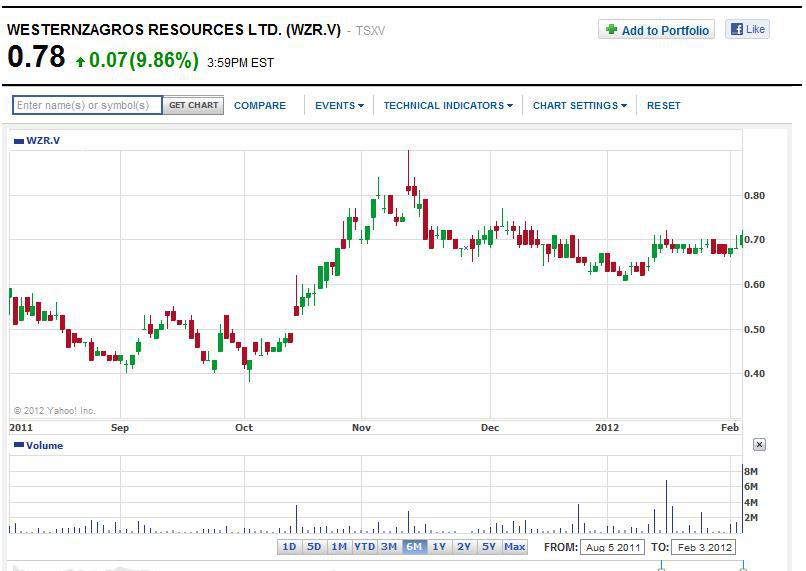 Westernzagros (WZGRF.PK) is a personal favourite and is nearing testing news about their drilling of the Mil Qasim well. Westernzagros is producing 4000 barrels a day at their Sarqala 1 well. There was a gas condensate discovery at Kudamir 1 which may have downflank oil. Their partner Talisman Energy is drilling Kudamir 2. Here are links to its latest corporate presentation and interview of CEO Simon Hatfield.
Current Kurdistan Status
The US withdrawal of military forces from Iraq is precipitating a change in perception of the political risk of Iraq. The high oil prices and the prospective resources in Kurdistan are causing the oil majors to now take another look towards entering this market.
Exxon, Chevron and Total together with other oil majors are making their moves in Kurdistan, home to elephant oil fields. This is fuelling speculation in all the smaller operators there. Discerning oil speculators may find the reward/risk of this area attractive, ahead of the rush of following investors.
Disclosure: I am long VSTFF.PK, WZGRF.PK.
Disclaimer: The information and opinions contained within this document reflect the personal views of the author and should be viewed as food for thought and amusement only. The author may from time to time have a position in any of the securities mentioned. There are no guarantees of the accuracy, reliability or completeness of the information contained herein. Independent due diligence and discussions with one's own investment and business advisor is strongly recommended. These writings are not to be construed as an offer or solicitation with respect to the purchase or sale of any security or as an endorsement of any product or service. We do not request or receive compensation in any form in order to feature companies in this publication. It is prohibited to copy or redistribute this document to any type of third party without the express permission of the author. This document may be quoted, in context, provided proper credit is given.