Finding value in this market is getting more challenging. One sector I still think has good value, especially with the continuing strong price for gold and silver, are the miners. I have quite a few of the large precious metal miners in my portfolio, as I believe they represent real value in this overbought market. My most recent purchases include Randgold (NASDAQ:GOLD) and AngloGold Ashanti (NYSE:AU). Recently I have been picking through the smaller capitalization miners to find value. Two fast growing small cap Canadian gold miners I like at current price levels are below:
Aurizon Mines (AZK) - Aurizon Mines Ltd. engages in the acquisition, exploration, development, and operation of gold properties in North America. The company focuses on developing its existing projects in the Abitibi region of north-western Quebec, Canada. It owns a 100% interest in the Casa Berardi gold mine, a production-stage gold property located near La Sarre, Quebec; and a 100% interest in the Joanna gold project, a development-stage gold property located in the Abitibi region of Quebec". (Business Description from Yahoo Finance)
4 reasons Aurizon Mines is worth a gamble at $5 a share:
It has a solid balance sheet with $180mm in net cash (over 20% of current market capitalization)
The median analysts' price target is at $7.64 a share, which is approximately 40% above AZQ's current price.
AZQ more than tripled its EPS in FY2011, and consensus analysts' estimates are for another 70% gain in FY2012.
Its forward PE is under 11, its assets are in geopolitically stable Canada and its production is unhedged

AuRico Gold (NYSE:AUQ) - "AuRico Gold Inc. engages in the exploration, development, and production of gold and silver mines and projects in Mexico. The company was formerly known as Gammon Gold, Inc. and changed its name to AuRico Gold Inc. in June, 2011". (Business Description from Yahoo Finance)
4 reasons AuRico Gold is worth a flyer at $9 a share:
The stock appears to have bottomed and just recently crossed its 50 day moving average (See Chart)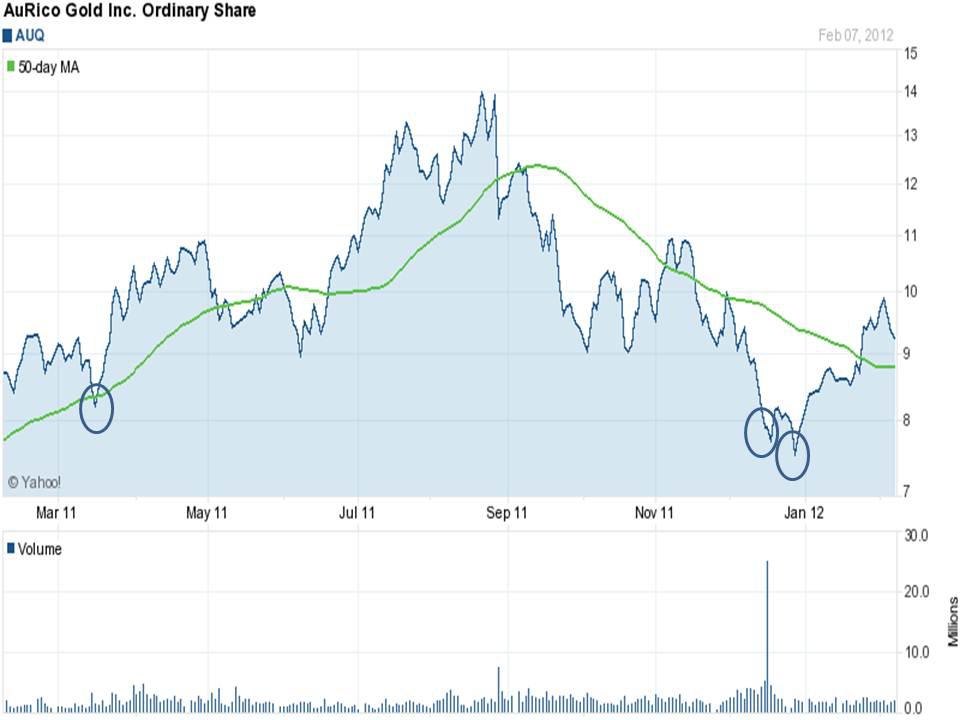 Click to enlarge
AUQ is showing stellar growth. The company grew revenues by approximately 90% in FY2011. Analysts expect over 120% sales growth in FY2012.
The stock sells for just 8 times forward earnings and has over $100mm in net cash on its balance sheet.
The median analysts' price target on AuRico Gold is $13.73. Credit Suisse projects it will earn $1.49 a share in FY2013.
Disclosure: I am long (AU), (GOLD). May also go long AZQ in next 72 hours