This is the second of two articles following from my original post entitled Stock Outlook: Capturing Upside While Bracing For Crisis. The first post was entitled 5 Crisis-Proof Stocks That Outperform The Market.
Utilities (NYSEARCA:XLU) as a group are the most stable performing stocks within the entire equity market. While they tend to lag during rising markets, they typically hold up much better during pullbacks. And the net result for investors amid the recent market volatility in recent years has been positive from a risk-adjusted returns perspective. For example, during the sharp post QE1 market pullback from April to August 2010, utilities were the only major market sector that posted a gain during this time period.
And since the post QE2 correction in late July 2011, Utilities continue to rank as the best performing sector even after the strong rally for most other sectors since the beginning of the year. Thus, it is no surprise that the utilities sector offers some of the best crisis resistant stocks in the market universe.
The following is a select list of utilities stocks that boast the following characteristic: they are participating in the upside stock market movement and have demonstrated the repeated ability to fall by much less, if not even rise, during past periods of economic stress.
This utilities stock list was drawn from the same universe used to construct the previous list from my first post, which were the S&P Composite 1500 Index and the S&P ADR Index. Once again, this list was constructed using the following criteria:
The stock has outperformed the broader market since the beginning of the Lehman crisis in mid September 2008 - the stock needs to demonstrate the ability to participate in market upside.
The stock held up much better than the broader market during each of the three major corrective phases since the beginning of the financial crisis in 2008 with a maximum sustained decline capped at -20% from peak to trough - the stock also needs to show the ability to protect against substantial loss.
A steadily growing dividend - the stock needs the ability to still generate a positive rate of return if the market moves into an extended net sideways pattern like we experienced in 2011.
The following are the 7 crisis resistant utilities stocks that are worth consideration for 2012:
Consolidated Edison (NYSE:ED)
Consolidated Edison is a regulated electric utility serving New York City and the surrounding area. The firm benefits from the stability and growth associated with its well-established coverage region and ongoing infrastructure improvements. It has been an increasingly strong performer during each successive crisis phase, barely dipping into negative territory during the most recent pullback in 2011.
Adding to the appeal is its long track record of steady, albeit modest, dividend growth. From a valuation perspective, ED shares are a bit rich at an 11% premium to its historical fair value, so waiting to add positions following meaningful pullbacks may be a worthwhile strategy.
click to enlarge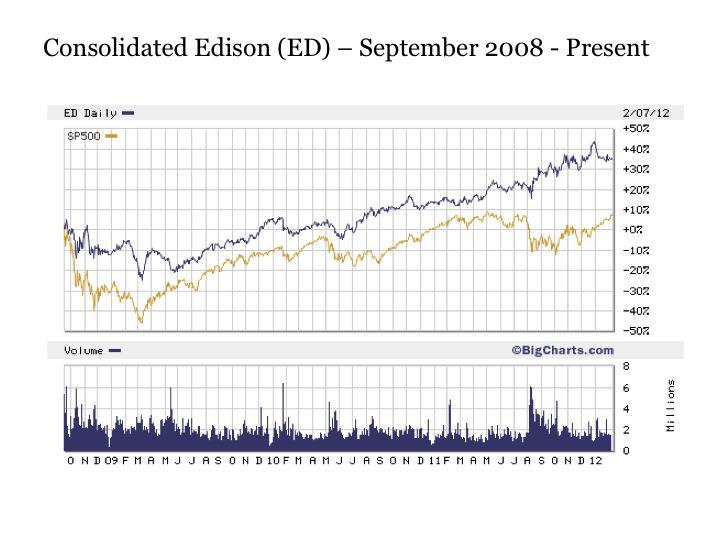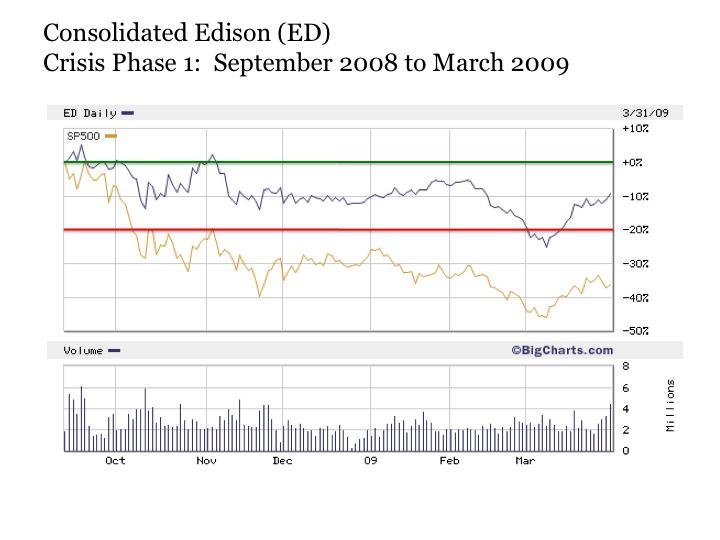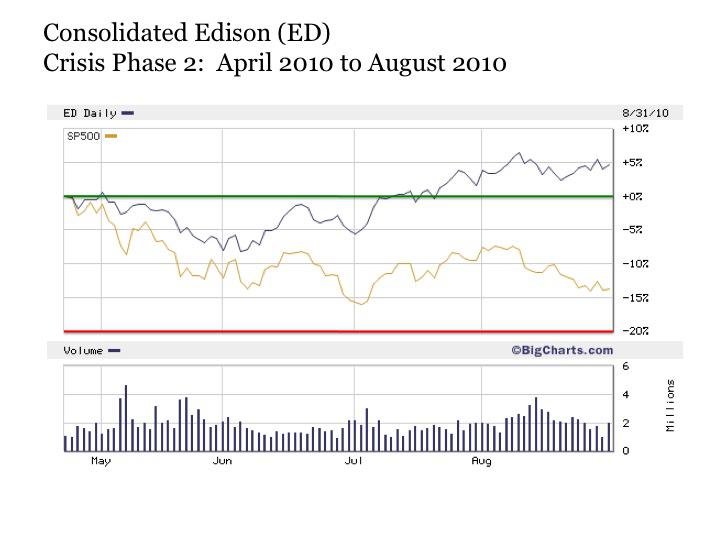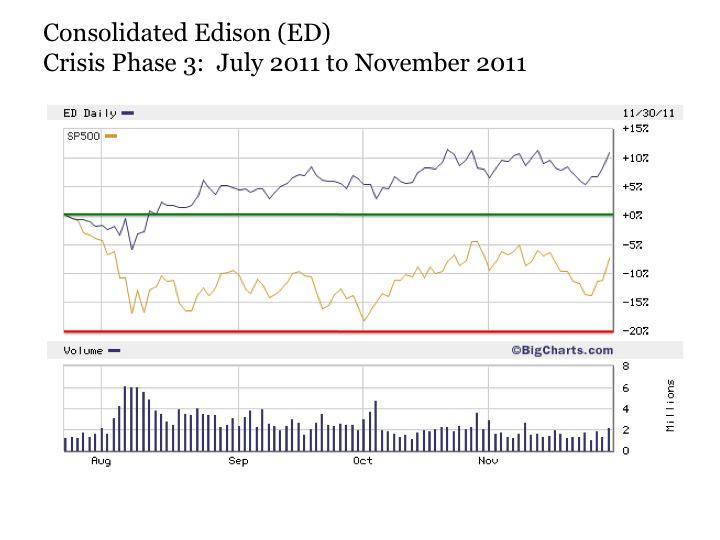 Xcel Energy (NYSE:XEL)
Xcel Energy casts a wide service net across the Midwest from Minnesota to the north, Colorado to the west and Texas to the south. XEL has emerged from some missteps with its nonregulated business at the beginning of last decade to fully return to the stability of its regulated knitting. This has enabled the firm to establish success in generating growth through the effective management of its existing coverage area while emphasizing infrastructure improvements and building solid relationships with its various regulators.
XEL was a relatively stable performer during the early days of the financial crisis and managed to post gains during the second and third crisis phases. It has also produced consistently strong dividend growth in recent years. And from a valuation perspective, it trades at a modest 3% premium to its historical fair value. Thus, it would be reasonable to consider XEL shares on any price pullbacks.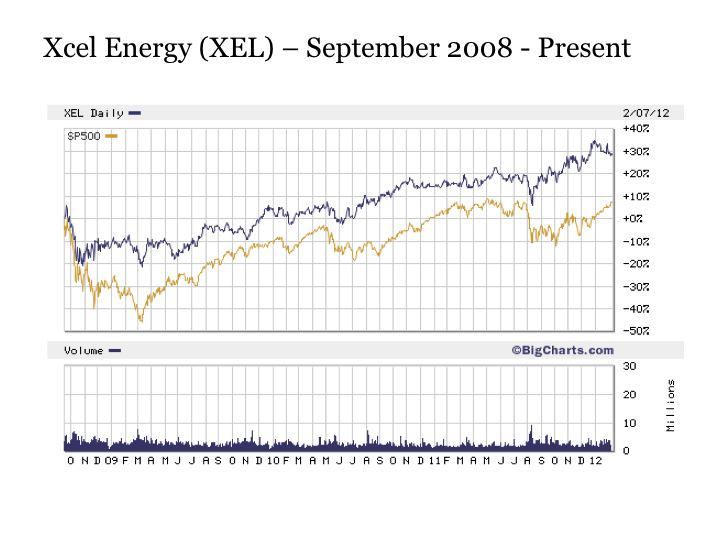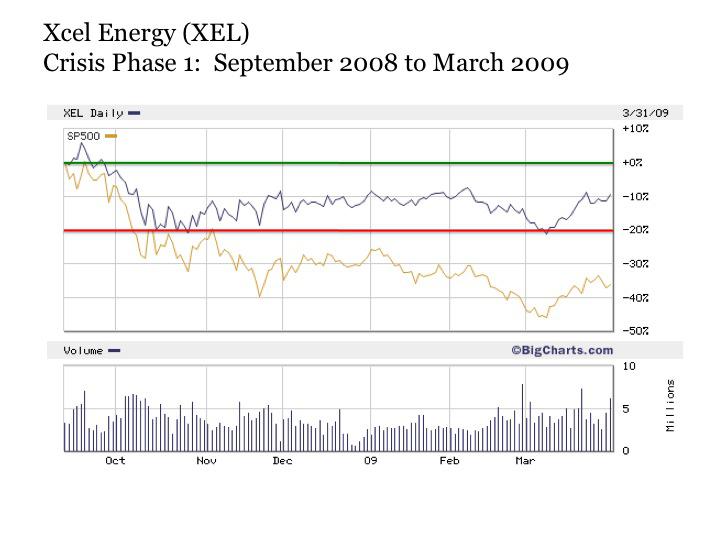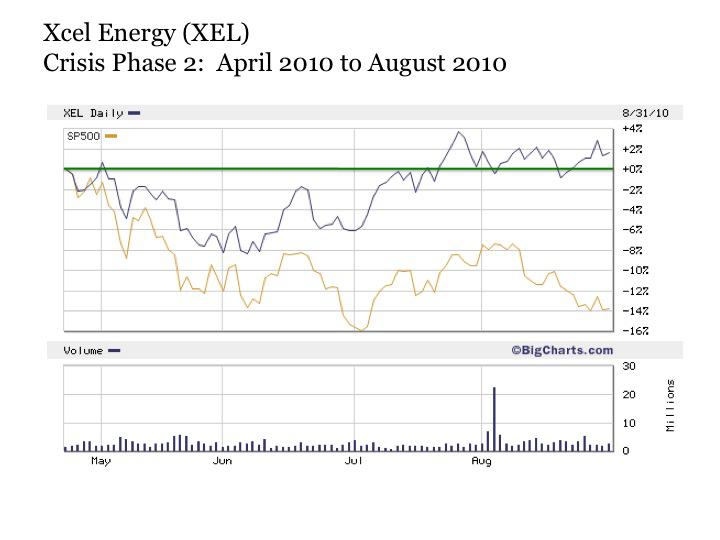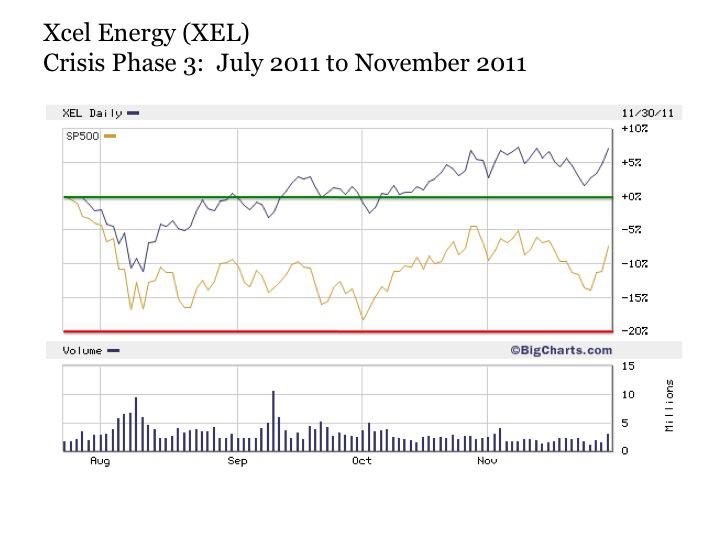 Wisconsin Energy (NYSE:WEC)
Wisconsin Energy is a regulated utility that is a rock solid and consistent performer. Although it does not share the favorable growth prospects enjoyed by other utilities in the sector, it runs a well managed operation and is a consistently strong free cash flow generator. This has enabled WEC to emphasize debt reduction while at the same time producing notably strong dividend growth in recent years. It also benefits from a positive relationship with its regulators.
And from a valuation perspective, it is trading essentially on par with its historical fair value. Moreover, the 50-day moving average has recently provided consistently strong support. The stock price has accelerated meaningfully to the upside in recent months, however, so waiting for a pullback toward the 200-day moving average may be prudent before considering adding positions.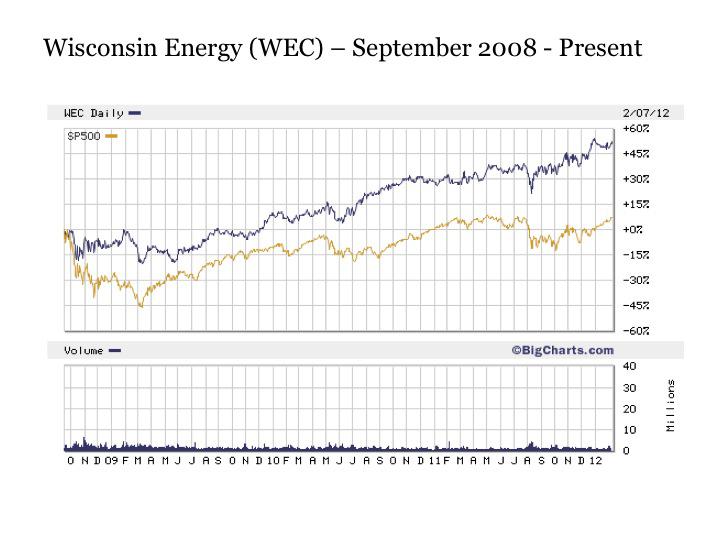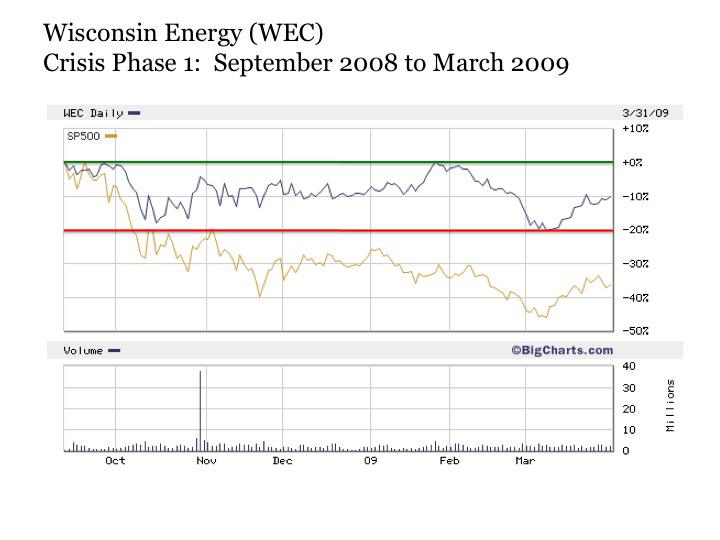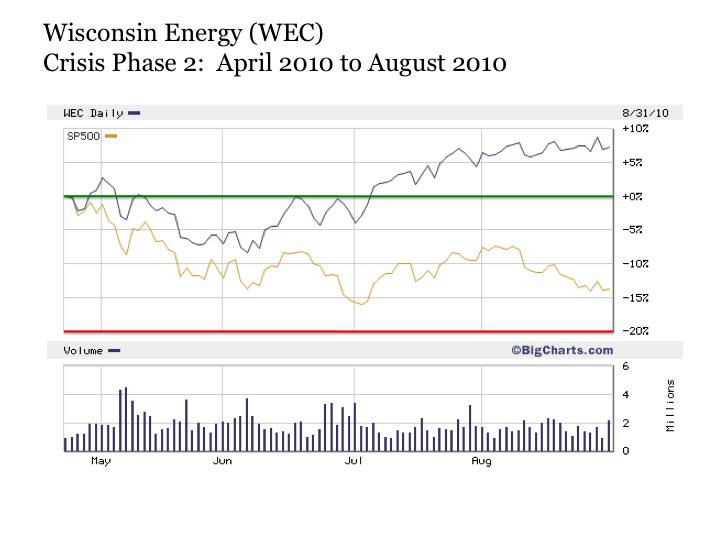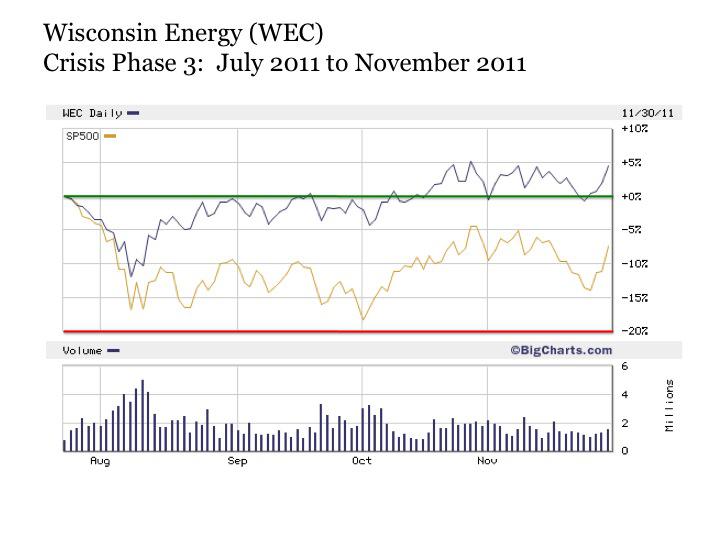 NSTAR (NYSE:NST)
NSTAR is a regulated electric and gas transmission and distribution company based in Massachusetts. Its highly predictable business model has enabled the firm to generate consistent growth and cash flow generation over time. The utility also has a strong track record of getting on well with its regulators. While the stock currently trades essentially at par with its historical valuation, one element of uncertainty that is worth close consideration is NSTAR's pending merger with Northeast Utilities.
The merger will expand its coverage network into Connecticut, but like with all mergers will change its underlying business mix. The stock has been trading in a sideways channel over the last year generally between $43 and $46 per share. It is currently trading at the high end of this range, so watching either for a breakout or waiting for a pullback would be prudent at this juncture.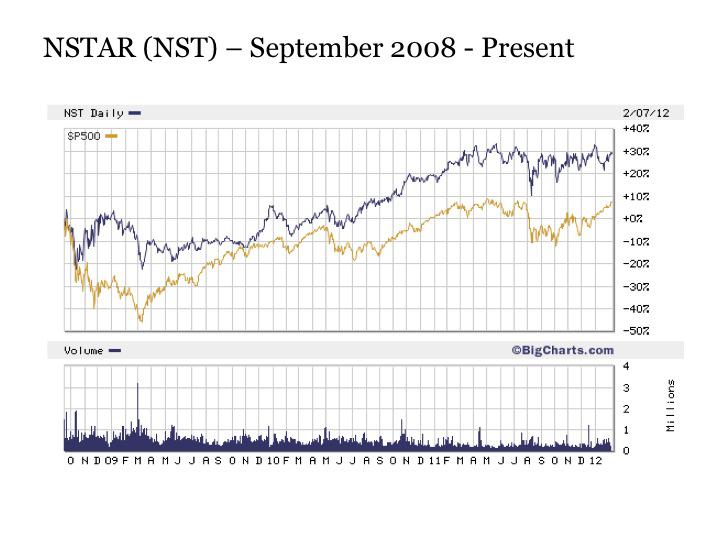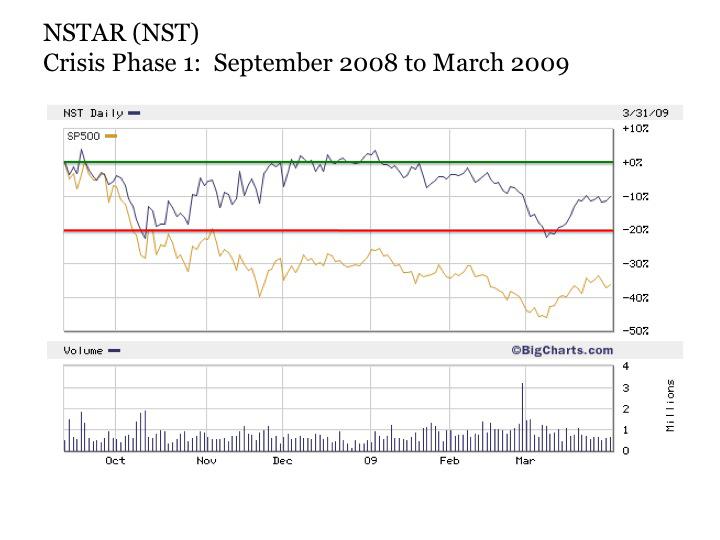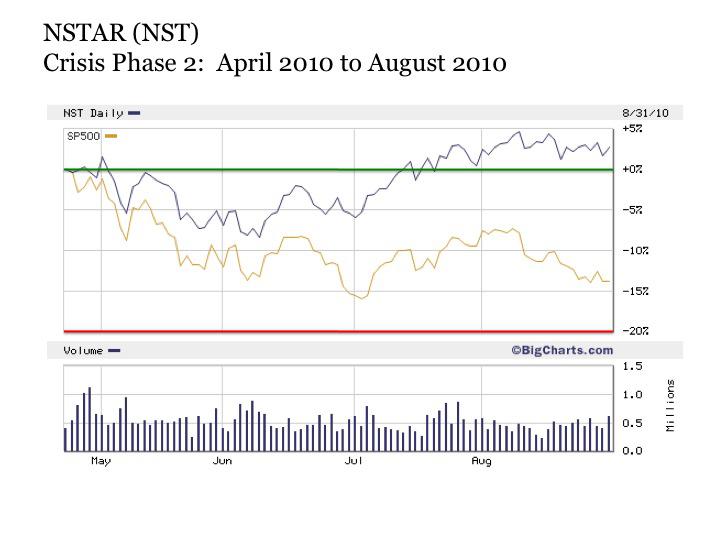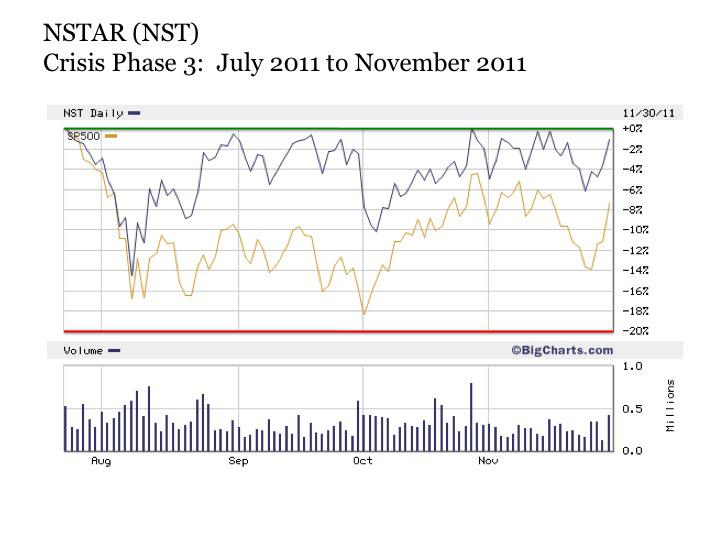 Atmos Energy (NYSE:ATO)
Atmos Energy is the largest stand alone natural gas distribution firm in the United States. It has regulated utility operations stretching across the Southeast United States. It also markets natural gas and operates a major pipeline network it acquired from TXU in the mid 2000s. The company is a low cost producer and generates consistently strong operating growth. It also has a long track record of steady annual dividend increases dating back to the 1980s and has a demonstrated ability to generate growth through targeted acquisitions.
The stock is currently trading on par with its long-term historical valuation and has also been consolidating in a sideways trading channel for much of the last year after a strong advance in 2009 and 2010. From a long-term technical perspective, pressure continues to build to potentially push ATO shares to break out to the upside.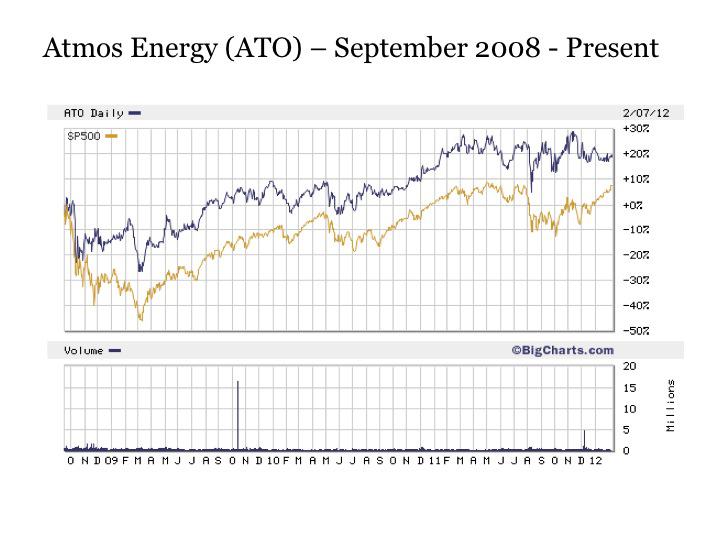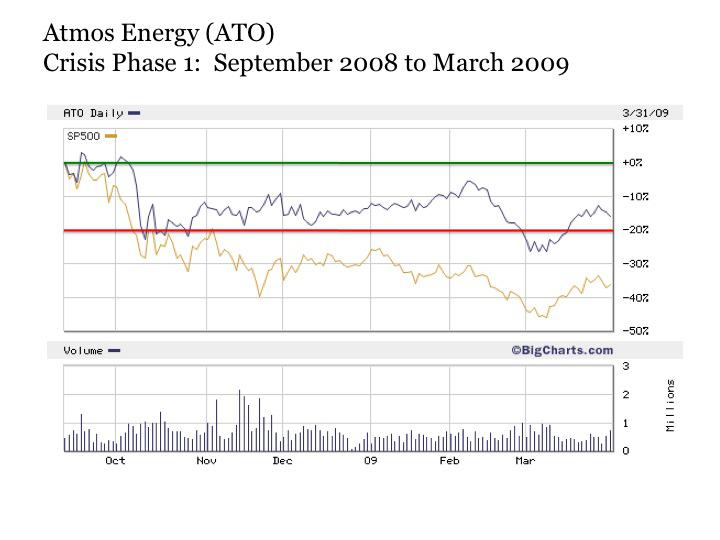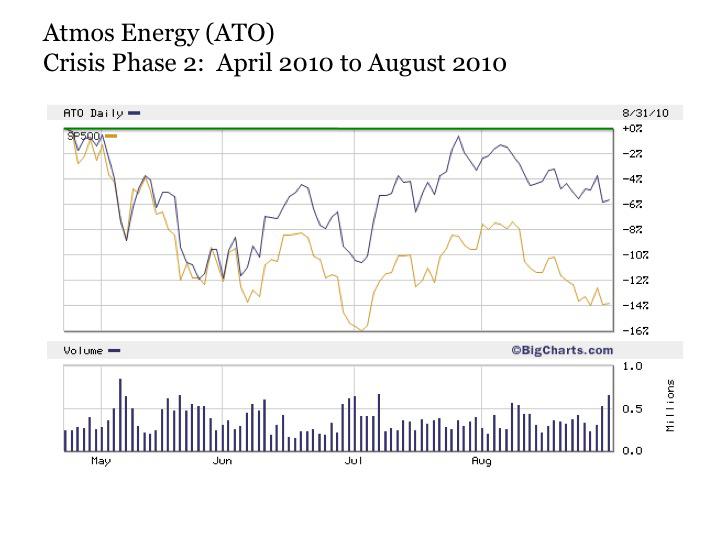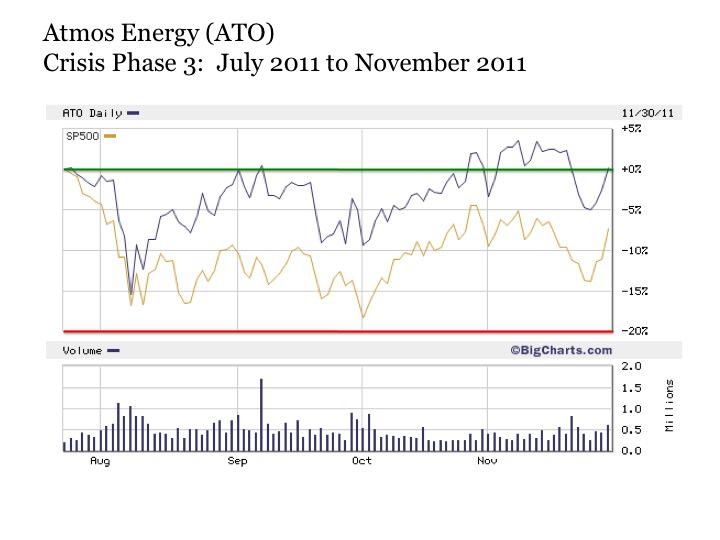 WGL Holdings (NYSE:WGL)
WGL Holdings is a regulated gas utility serving the Washington D.C. metro area including Northern Virginia and Maryland. It offers a number of appealing characteristics in the current environment including steady operating growth from an economically stable and affluent coverage area and favorable relationships with its regulators. This enables WGL to be a consistent cash flow generator that has steadily increased its dividend each year since the late 1970s.
While shares are currently trading at a premium to historical valuations following a strong advance since mid 2011, technical readings for the stock have recently returned to levels that have represented favorable entry points over the last year.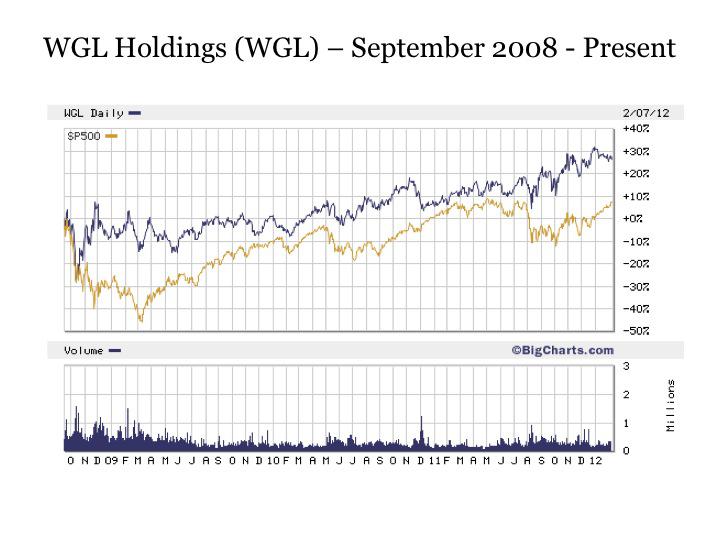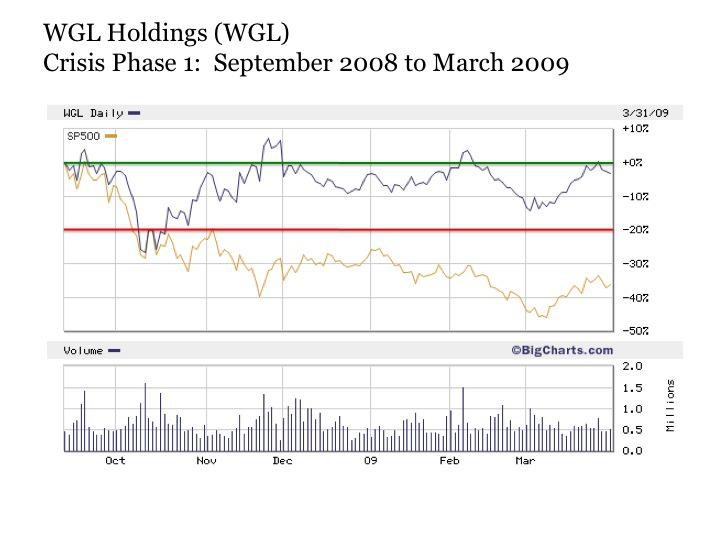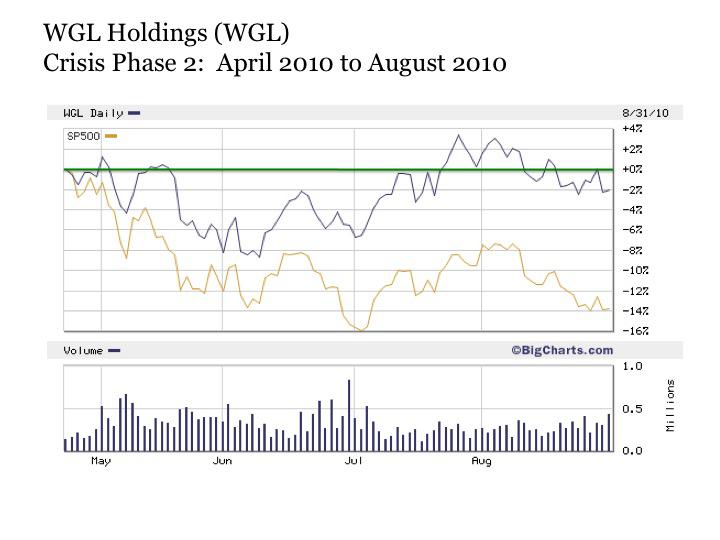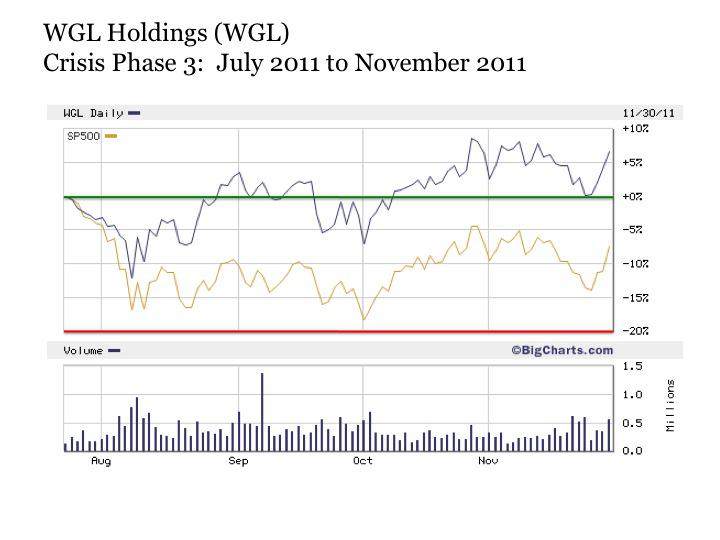 New Jersey Resources (NYSE:NJR)
New Jersey Resources is a rock solid regulated gas distribution company. It benefits from a variety of characteristics including consistent growth through effectively managing cost while expanding its customer base and serving existing customers more efficiently. It also benefits from serving a generally affluent and growing population base in its service region and enjoys a positive relationship with its regulators.
The company has also steadily increased its dividend at a healthy rate. NJR stock currently trades at a premium relative to its historical valuation, so watching for any pullbacks toward its 200-day moving average is a worthwhile approach when considering any positions in the stock.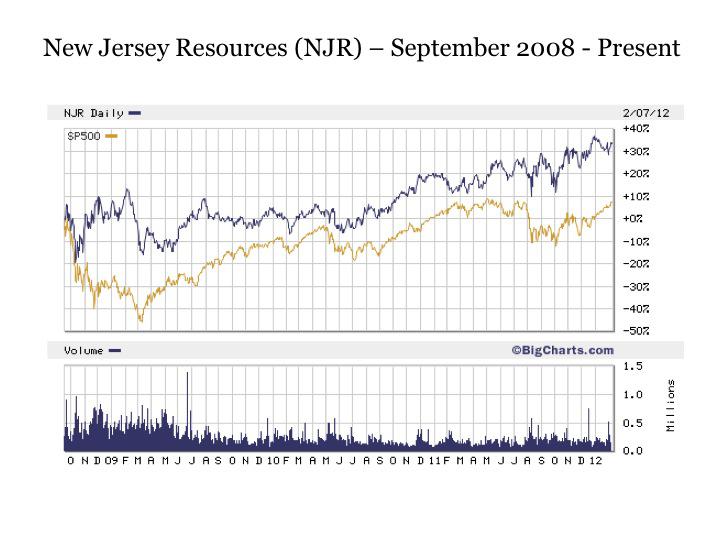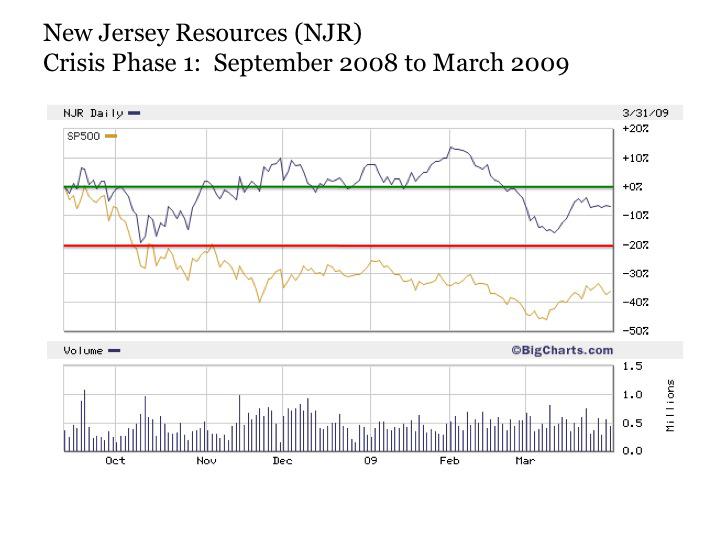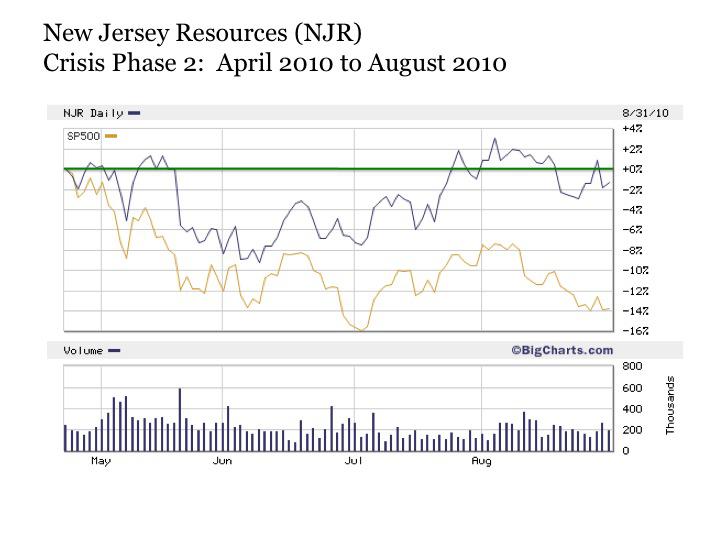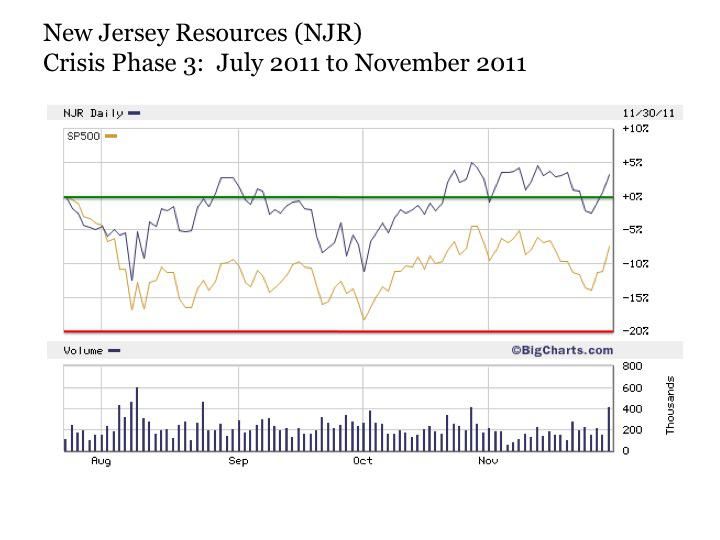 These seven stocks rank among the best utilities since the beginning of the crisis in generating shareholder wealth while at the same time defending against the negative shocks of crisis. Of course, past performance is no guarantee of future results, so it is possible that any of the seven stocks above could break down during any future crisis driven pullbacks. But the fact that each has shown the propensity to hold up during each of the past three episodes is notable and bodes well for what could be expected in the future, particularly since each continues to trade at reasonable valuations.
The final key associated with these seven stocks just like all securities is identifying the right entry point. As a result, some may be attractive to purchase today depending on your approach, while others might warrant a degree of patience before establishing a position.

Disclosure: I am long ATO, WGL, XLU.
Additional disclosure: I am also long Xcel Energy 7.60 (XCJ), which is a preferred stock exchange traded debt offering from Xcel Energy.
Disclaimer: This post is for information purposes only. There are risks involved with investing including loss of principal. Gerring Wealth Management (GWM) makes no explicit or implicit guarantee with respect to performance or the outcome of any investment or projections made by GWM. There is no guarantee that the goals of the strategies discussed by GWM will be met.