When investors think of silver, they tend to view it as a cheaper version of gold. That's a mistake. On one hand, silver is like gold in that it is an investment-worth precious metal. However, there is also a strong industrial demand for its industrial uses. And the industrial uses of this white, lustrous metal only figure to increase. Silver has the highest electrical conductivity of any element and the highest thermal conductivity of any metal. That conductivity makes silver the perfect metal for solar-cell production, meaning the metal figures to be a critical component in the developing alternative energy sector.
The solar ETFs such as Guggenheim Solar ETF (NYSEARCA:TAN) and Market Vectors Solar Energy ETF (NYSEARCA:KWT) both are up nearly 40% year to date. Reports indicate that inventory levels across the supply chain are now at record low levels and demand for solar panels is starting to pickup in the U.S. and Europe. This is great news for silver demand as an industrial use.
The performance comparison of Silver Wheaton Mines (NYSE:SLW) and Silver Standard (NASDAQ:SSRI) show each has increased nearly 24% year to date. This is higher than the iShares Silver Trust ETF (NYSEARCA:SLV) which is up 22.6% year to date. For comparative purposes, the market measured by the S&P 500 (NYSEARCA:SPY) is up 7.7% year to date.
click to enlarge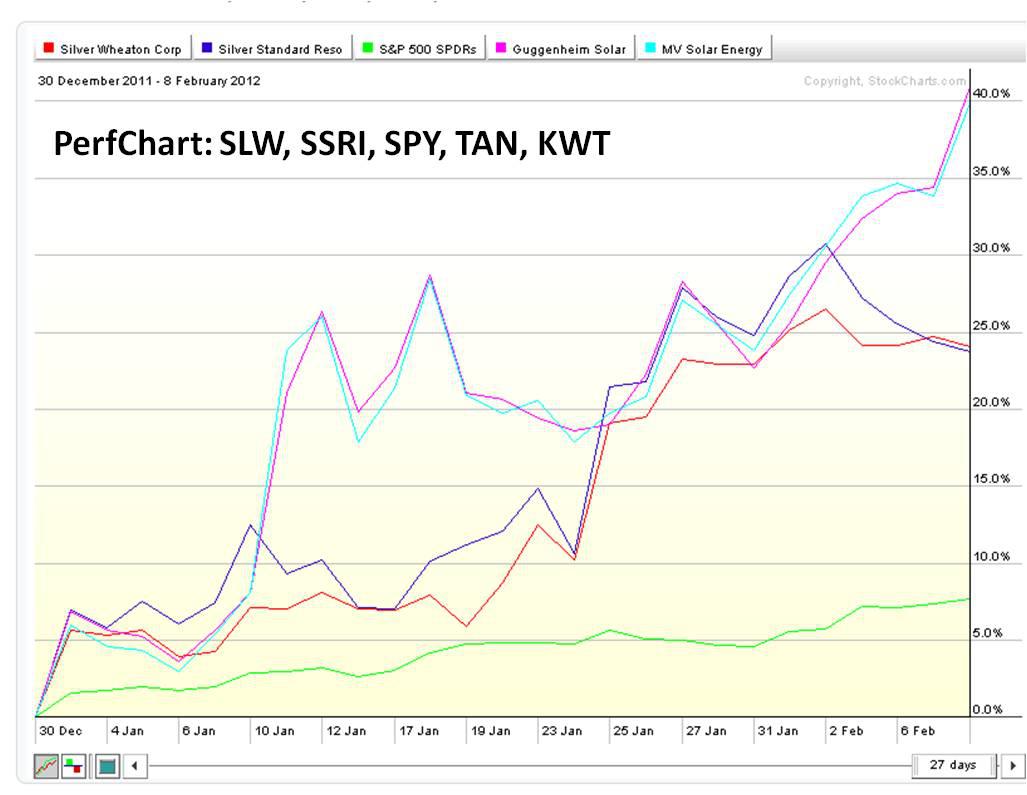 A healthy operating margin is required for a mining company to pay for its fixed costs and generate cash. Silver Wheaton has the highest with an operating margin of 77.9%. Silver Wheaton Corporation purchases and sells by-product silver from operating mines. The company has long term contracts to purchase all or a portion of the silver production from mines in Mexico, Sweden, Peru, Greece and the United States.
Silver Wheaton Mines is trading at $35.93 with a 1% dividend yield. You can see in the two-year chart below that SLW spent 2011 in a volatile, sideways range which continuously frustrated investors. At the start of 2012, SLW has moved from $27 to the nearly $36. This move took SLW through both its 50-day moving average and 200-day moving average.
Soon the 50-day moving average will pass above the 200-day moving average to form the covenant "golden cross." SLW has a solid fundamental picture driving this uptrend with an improving technical picture. It's time to be long SLW ahead of the golden cross breakout.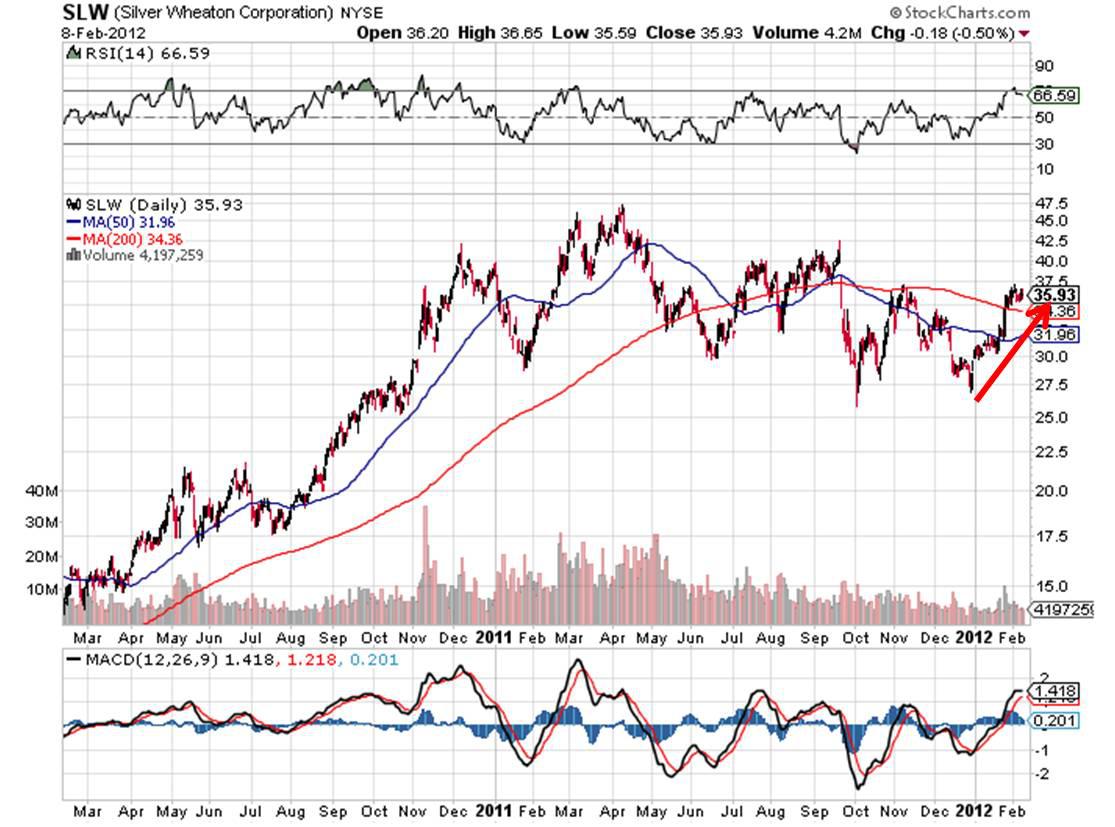 Disclosure: I have no positions in any stocks mentioned, and no plans to initiate any positions within the next 72 hours.