"That ain't workin' that's the way you do it Money for nothin' get your chicks for free" -Dire Straits
You may have asked yourself... "How can I invest in (and profit from) the growing popularity of the music industry today? Who are the players? Who is making the money? Which ones are getting it right? Short of strapping on a guitar and hammering out the next feel good hit of the summer and signing an air-tight 5 record deal with a 7 figure advance, in my estimation, there are a few realistic ways to participate in the money game of music. However, currently there are no real "pure-plays" for investing in the big business of music and for this reason I have broken the industry down into what I feel are its 5 essential components; Production, Promotion, Distribution, Delivery and Performance. I will get to them in a moment, but for now, as it is customary in music, allow me to "set the stage."
"You better start swimmin' or you'll sink like a stone for the times they are a-changin'." - Bob Dylan
18 years after the first internet radio performance on Mbone, 13 years after the introduction of the music file "sharing" concept of Napster, 11 years after the release of the first iPod, 10 years after the first satellite radio subscriber, 6 years after the introduction of the Earth shaking iPhone and 6 months after the American debut of Spotify, the ways in which music had traditionally been produced, promoted, distributed, delivered and performed has forever been turned upon its collective tin-ear.
"You see me in the papers, I've been in the magazines, but if I go cold, I won't get sold, I get put in the back in the discount rack like another can of beans" -Billy Joel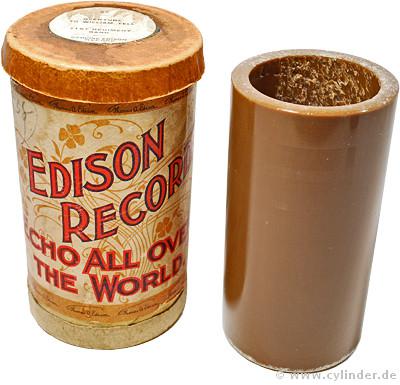 The changes in technology over the last hundred years have played the key role in transforming the format on which recorded music was presented to us, and ultimately influenced the determination of when, where and how we would listen. Anyone over 25 years old has participated in some part of the compulsory "trading-up" with regards to the ownership of music, not to mention the equipment to play it on. We have exchanged our sheet music for piano-rolls, piano-rolls for wax cylinders, wax cylinders for lacquer LP's, lacquer LP's for vinyl LP's, vinyl LP's for 8-tracks, 8-tracks for cassettes, cassettes for CD's and CD's for... well... nothing really, unless you consider virtual access to a nebulous file that has been condensed in a cloud... "ownership."
"These clouds stick to the sky like floating questions, why? And they linger there to die. They don't know where they are going, and, my friend, neither do I." -Simon & Garfunkel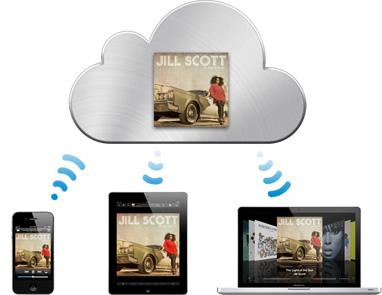 The inefficient and relatively expensive practice of purchasing and re-purchasing the same songs on the newest tangible audio format has finally been replaced by a single "non-verified" purchase followed by the eventual, incremental and unavoidable cost of paying rent to access our music. A lifetime collection of albums and singles that will now and forevermore be warehoused in the ether and summoned to our cilia anytime we want it to be and to anywhere we happen to be. With a few simple gestures on the connected device at our disposal; whether it be in our homes, our cars or in our pockets, the convenience of access, the power of control, as well as the near instant gratification of "music on a whim" has finally been offered and enthusiastically accepted. Even the filthy Pirates will eventually have to pony up for access to their illegitimate booty. Arrrggg!
"Just one guitar, slung way down low, was a one way ticket, only one way to go, so he started rockin', ain't never gonna stop Gotta keep on rockin', someday gonna make it to the top." -Foreigner
1. Production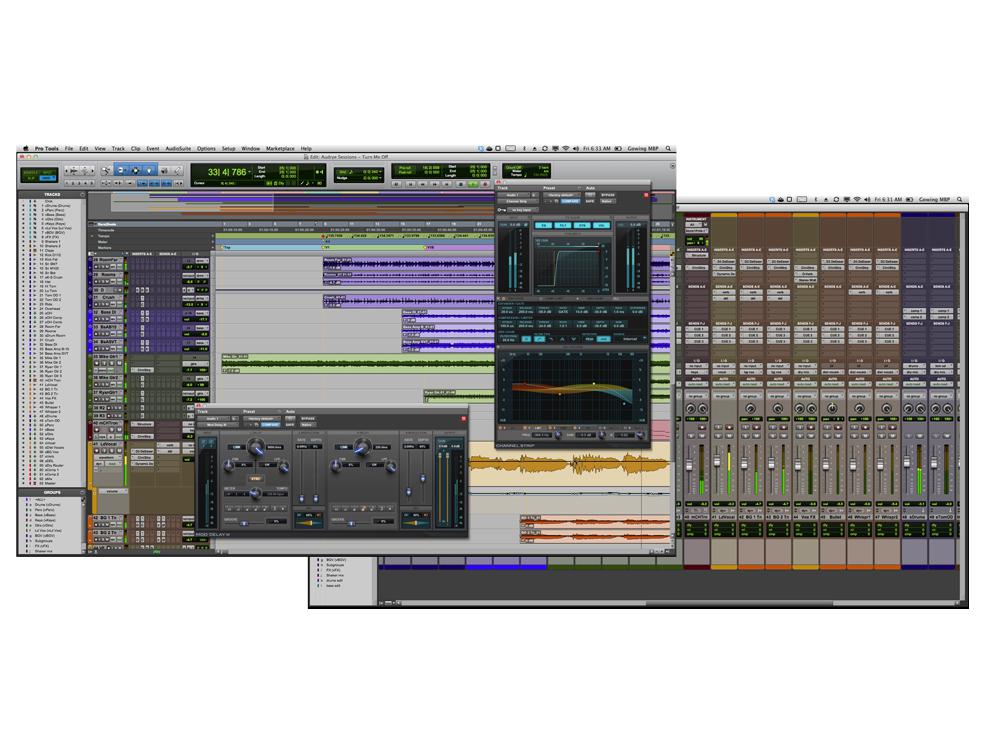 Click to enlargeAll music begins with the inspired artist and in order for him/her to generate some money, the music must first be recorded. In my experience as a 41 year old failed musician, back in the mid 80's this meant shelling out a few thousand dollars to record an album in a professional studio. In order to get the most out of a reserved recording session, you would have to be rehearsed to perfection and healthy enough on the day of recording to lay down a stellar performance so as not to waste any money on multiple takes and re-scheduling.

Click to enlargeI personally spent 10's of thousands of dollars learning audio production at The Art Institute in Ft. Lauderdale, Florida and at M.T.S.U. in Murfreesboro, Tennessee in sound proof "state of the art" studios, and on the professional audio mixing consoles that would stretch across the length of an entire room and could cost in excess of 1 Million dollars to acquire and assemble. Today young musicians can easily purchase the recording hardware and software needed to sound as professional as the most polished pop star with a few months' salary generated from the meager wages of any summer job. These same musicians can incrementally over time purchase the additional software based plug-ins that are on par with the impressive and substantial racks of sound processing hardware once only available to the very lucky and wealthy.
With an improving economy, musicians may find a bit more disposable income this year and willingly spend it on recording equipment and software, essentially carrying around the power of a million dollar studio in their laptop computers. Not to mention, owning your own recording studio allows a musician to spend countless hours perfecting a song without the meter running as a jaded engineer impatiently mutters "sounds great... I wouldn't change a thing." For a few thousand dollars spent on equipment, software and sound proofing, any artist could be empowered to record and re-record a song as many times as they wish.
An estimated 50% of recording studios have failed over the last decade and the trend shows no signs of abating. To this end, an industry standard in audio recording, mixing and mastering for both amateurs and professionals alike is the Pro Tools line of software and hardware. Pro Tools is a powerful recording software and hardware solution made available by AVID Technology, Inc. (AVID). AVID has a solid reputation and a sizable head start as it competes with Apple's (NASDAQ:AAPL) "Garage-band" and Adobe's (NASDAQ:ADBE) "Audition." AVID also offers an impressive line of hardware from headphones and microphones to reference monitors and sound reinforcement speaker arrays.

Avid Technology, Inc. is a provider of digital media content-creation products and solutions for film, video, audio and broadcast professionals, as well as artists and home enthusiasts. The Company provides digital media content-creation products and solutions to customers in the three market segments: creative enthusiasts, professionals and media enterprises. The Company provides a range of software and hardware products and solutions, as well as services offerings, to address the needs, skills and levels found within its customer market segments.
"Playin' for a week in Rhode Island, a man came to the stage one night, he smoked a big cigar, Drove a Cadillac car and said, Boys, I think this band's outtasight." - Boston
2. Promotion
Traditionally, record labels would hire independent contractors to territorially promote their records to radio stations, venues and retailers, armed with a bevy of hookers, bindles of cocaine and a fist full of dollars otherwise known as "payola." An informative read for anyone who is interested in this slimy underbelly of the music industry, I suggest you seek out the 1991 book "Hit Men" by Fredric Dannen.
Today promotion can be summed up pretty well for investing purposes as "social media" and the reigning king of musical promotion for amateurs and professionals alike remains the mighty YouTube. The same person (in my example above), after producing their own music, can easily upload the song they have written and recorded themselves, and begin the worldwide campaign of soliciting "views" and "likes" and "comments" in the place of traditional radio spins, cardboard P.O.P. (Point Of Purchase) displays and heavy rotation on the MTV. Ultimately, re-directing fans to a download purchase.
Gone are the days of hand stapling thousands of copies of album announcements to every available telephone poll and unleashing a hastily orchestrated "propaganda bomb" over the local mall and dive-bar parking lots. There have been many examples of virtual unknowns becoming wildly popular and landing actual recording contracts due to the viral nature of a solid piece of entertainment combined with impressive raw talent as well as the willingness of the public at large to unselfishly share a new discovery with anyone and everyone who will listen.
Not surprisingly, 8 of the top 10 most viewed videos of all time on YouTube are indeed songs, boasting views not only in the millions but in the several hundreds of millions. In fact the number 1 most viewed video of all time is currently by Justin Bieber, an artist who traces his success to a few YouTube uploads in 2008, his song "Baby" garnered an inconceivable 701,833,744 views. Just think how many hookers it would've taken back in the 80's to get that kind of airplay! Gross.
Of course, as with the other music related investments you will have to take an interest in the other parts of the overall business not related to music, I'm not quite sure, but I've heard that Google (NASDAQ:GOOG) has some other things going for it. (where is that sarcasm font when I need it? Somebody get to work on that!) Google has a cloud offering as well with its Google Music service, not to mention being the go-to search engine for all things music. I don't exclude from the realm of possibilities that Google will one day become a record label itself, thereby extending its reach into content creation. It certainly has that kind of cash laying around in its sofa cushions.
Google Inc. (Google) is a global technology company focused on improving the ways people connect with information. The Company generates revenue primarily by delivering online advertising. As of December 31, 2011, the Company's business was focused on areas, such as search, advertising, operating systems and platforms, and enterprise. Businesses use its AdWords program to promote their products and services with targeted advertising. In addition, the third parties that comprise the Google Network use its AdSense program to deliver relevant advertisements that generate revenue. In June 2011, the Company launched Google+, a way to share online. As of January 2012, over 90 million people had joined Google+. In April 2011, the Company acquired PushLife. In September 2011, the Company acquired Zagat.
"Unlimited edition, with an unlimited supply, that was the only reason we all had to say goodbye to E.M.I." -Sex Pistols
3. Distribution
As the Big 5 record labels became the big 4 in 2004 when Sony (NYSE:SNE) acquired BMG and the Big 4 became the Big 3 when Universal Music Group acquired EMI in 2011, the consolidation of the major music labels continues today as they hunker down amidst a tidal wave of piracy and innovation brought on by the technologically savvy. Of the Big 3, Universal Music Group is the undisputed Goliath when it comes to its accumulated content. Universal Music Group is a wholly owned subsidiary of French media conglomerate Vivendi (OTCPK:VIVHY). Universal Music Group is at once, "Game-warden" and "poacher" when it comes to the control and licensing of its content as well as the royalty payments due to its artists.
Slow to recognize the transition from tangible music to digital, Universal's bottom line has suffered from a combination of arrogance and sheer size. The combined value of all music sold between 2008-2010 alone declined 22% (including the positive contribution of downloads). Not the strongest part of the music portfolio, but if you believe Universal can reinvent itself and capitalize on its content it can surely be powerful in the years to come.
Universal has made inroads with the introduction of VEVO (its joint venture with Sony). You can think of VEVO as the HULU of music videos, it is gaining traction and is becoming ubiquitous on YouTube. With its considerable might you can count on Universal Music Group extracting its pound of flesh from every current and future "on demand" music service wishing to exploit its content. Traditionally, our imaginary artist in the example above would have had very little choice but to hitch his wagon to music distributing behemoths like Universal, but more and more he is being afforded independent access to the digital world through innovators like Ditto Music who help smaller artists access the digital distribution channels.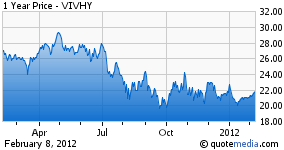 Vivendi creates, publishes, assembles, and distributes digital content for consumers and businesses primarily in France, Europe, the United States, Morocco, and Brazil. Its Activision Blizzard business develops and publishes entertainment software, as well as video games for various consoles, handheld platforms, mobile phone devices, and the PC; and offers online-game related services. The company's Universal Music Group operates as a music company and principally engages in music recording and publishing. This group also identifies and develops recording artists, as well as also markets and promotes their music worldwide; and produces and sells artist and other branded products through various sales points, including fashion retail, concert touring, and the Internet.
"As we celebrate mediocrity all the boys upstairs want to see How much you'll pay for what you used to get for free. There goes the last DJ Who plays what he wants to play And says what he wants to say." -Tom Petty
4. Delivery
Delivery, for the purposes of this article can be summed up in a single word... Radio. Define it in any way you wish, but it encompasses everything from the hundreds of traditional terrestrial stations of Clear Channel (CCMO.PK) and the innovative streaming music discovery services like Pandora (NYSE:P) to the satellite and internet radio Titan SiriusXM (NASDAQ:SIRI). Each one can play our imaginary artist's hit song, and though it may be delivered with varying degrees of compression, it is essentially the identical song.
No single radio provider has exclusive control over any music, and when fans cheer for their favorite radio provider it is the underlying content that ultimately elicits the ovation, not the imaging, logo, advertisement, web page or social integration. You don't read "I'm listening to Pandora" or "I'm listening to Sirius XM" rather you read "I'm listening to Duran Duran on Pandora" and "I'm listening to an exclusive Bruce Springsteen concert on Sirius XM." If you can pay the required royalties for the music you will be granted the compulsory license to broadcast it. Social integration is a powerful tool, but I struggle to understand how proclaiming that you are listening to a specific song on a personalized service like Pandora equates to "socializing" as it it is virtually impossible for a friend or follower to then, in-turn tune into Pandora in order to hear the same song at the same time. In my (not so) humble opinion, it is by far, more of a personal declaration of music snobbery than a gracious social invitation. Color me observant. Cranky and opinionated yes, but observant nevertheless. Don't fault me for subscribing to the fact that "words mean things."
Of all the ways to listen to music whether it be broadcast, simulcast, podcast, cached or streamed, there is one delivery service who has managed to make real money from its offering of music (amongst other things)... Sirius XM. Sirius XM exists and indeed thrives as an imitator rather than an innovator, and this should not be seen as detrimental in any way. We all have our ideas on how Sirius XM "should" evolve, and there have never been (nor will there ever be) a shortage of idle threats or emphatic demands in its over-stuffed suggestion box, as this is the price to be paid for having charged a price in the first place. Sirius XM has slowly and methodically observed the youthful energy of the hyper-growth, ad-based free and freemium services buzzing around its colossal head with a keen yet jaundiced eye, and it incrementally usurps and co-opts the most successful and popular ideas on its own deliberate time schedule.
With notable improvements in the auto industry, where Sirius XM initially seduces its subscribers into addiction and with further improvements promised with regard to functionality, personalization and ultimately an on-demand listening platform slated to be released sometime at the end of this year, Sirius XM is poised to incorporate the ideas of others while it successfully morphs itself into its legitimate competitors' apparent yet fleeting advantages.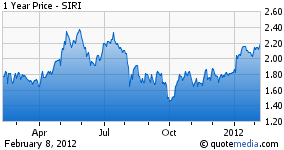 Sirius XM Radio Inc. Provides satellite radio services in the United States and Canada. It broadcasts a programming lineup of approximately 135 channels of commercial-free music, sports, news and information, talk and entertainment, traffic, and weather on subscription fee basis through two satellite radio systems in the United States; and holds an interest in the satellite radio services offered in Canada. The company also simulcasts music and selected non-music channels over the Internet; and offers applications to allow consumers to access its Internet services on mobile devices. As of December 31, 2011, it had 21.9 million subscribers. In addition, the company designs, establishes specifications, sources or specifies parts and components, and manages various aspects of the logistics and production of satellite radios; licenses its technology to various electronics manufacturers to develop, manufacture, and distribute radios under various brands; and imports radios distributed through its Websites.
"The band's on the bus and they're waiting to go, we've got to drive all night and do a show in Chicago, or Detroit, I don't know? We do so many shows in a row." -Jackson Browne
5. Performance
For our imaginary artist, becoming famous will have been an easy accomplishment when compared to the Herculean task of actually getting paid for his creativity. While we have been siphoning his money at every turn in the last 4 investment ideas, he has been presented with the false choice of either being pelted by pennies or pillaged by pirates on the long road to number 1. Realistically, the best chance for an artist to profit from their artistry is to perform their song live, but alas, we are lying in wait there as well, lurking in the shadows of the luxury tour buses and 18 wheelers, endeavoring to scalp a little bit for ourselves outside of the backstage door.
With an almost monopolistic lock on the most popular performance venues along with nationwide ticketing, Live Nation Entertainment, Inc. (NYSE:LYV) is a no-brainer for cashing in on live performances. Chances are if you have attended a concert, you have paid Live Nation. From the Roseland Ballroom to the Hollywood Palladium, Live Nation will have been there to wet its substantial beak at nearly every stop on this nationwide tour. Live Nation Concerts produces over 20,000 shows annually for more than 2,000 artists globally. Though many have decried the practices of Ticket Master, their involvement is nearly unavoidable and therefore a mandatory component for profiting from the final leg of our imaginary artists world tour. TicketMaster.com attracts 26 million unique monthly visitors, an undeniable fact and a real solid reason to hold your nose and invest.
Live Nation Entertainment, Inc. (Live Nation) is a live entertainment company. It is a producer of live music concerts worldwide. The Company operates in five segments: Concerts, Ticketing, Artist Nation, eCommerce and Sponsorship. Live Nation owns, operates, has booking rights for and/or has an interest in 128 venues, including House of Blues music venues and locations, such as The Fillmore in San Francisco, the Hollywood Palladium, the Heineken Music Hall in Amsterdam and the O2 Dublin. Live Nation is also a live entertainment ticketing sales and marketing company. Ticketmaster provides ticket sales, ticket resale services, marketing and distribution globally through ticketmaster.com, retail outlets and worldwide call centers. Front Line Management Group, Inc. (Front Line) and their affiliates manage musical artists and acts primarily in rock, classic rock, pop and country music genres. In December 2011, it acquired BigChampagne Media Measurement.
CONCLUSION:
"Smile and grin at the change all around me, Pick up my guitar and play, Just like yesterday, Then I'll get on my knees and pray We don't get fooled again. Meet the new boss... Same as the old boss" -The Who
Disclosure: I am long SIRI.
Additional disclosure: I am intent on buying into the music portfolio as described above and will have done so in the next 72 hours.