Randgold Resources (NASDAQ:GOLD) is a $10.8 billion large cap gold miner with operations in west and central Africa. Its stock has outperformed GLD year over year, rising from the single digits early in the 21st century to its current price of $118. It has achieved this via extraordinary earnings growth.
The following table displays Randgold Resources' controlling mine interests:
Mine

Controlling

Interest

Reserve

(ounces)

Loulo

80%

7 million

Morila

40%

7.5 million

Tongon

89%

4 million

Massawa

83.25%

3 million

Kibali

45%

10 million

Gounkoto

Exploration

5.5 million

Faraba

Exploration

540,000
Financials
When looking at Randgold's trailing PE ratio of 38.02, the company appears a little rich in value. However, its forward PE ratio of 16.98, PEG of 0.59, and Price to Book ratio of 5.16 show that the company is still fairly valued.
Randgold has some impressive profitability. The following figures were through September 30, 2011: Its profit margin is 29.92% and its operating margin is 40.12%. It has operating cash flow of $415.25 million and earnings per share of $3.10. Management has achieved a nice return on equity of 16.65%.
The balance sheet looks solid as it has total cash of $441.21 million and only $2.79 million in debt. The current ratio stands at a healthy 4.66. Total debt to equity is low at 0.13.
Randgold has reported some great growth numbers in its Q4 2011 report (through December 31, 2011). It increased profits by 259% in 2011 over 2010. It was able to grow cash 33% year over year while making significant investments in capital projects. Ounces produced grew 58% year over year and ounces sold increased 74% over the same period.
Randgold has grown earnings at a vigorous 36.13% annually for the past five years. It is expected to grow earnings annually at an even more vigorous 45.7% for the next five years. This is higher than the industry average of 30.03% and blows away the S&P 500's expected growth of 10.74%. If Randgold can hit these estimates, the stock can reach $650 per share by 2017. The stock did go from around $20 to $100 in the past five years, a 400% total gain. So, with the current estimates higher for the next five years, it is reasonable to surmise that the stock can repeat its 4-bagger performance.
Click to enlarge: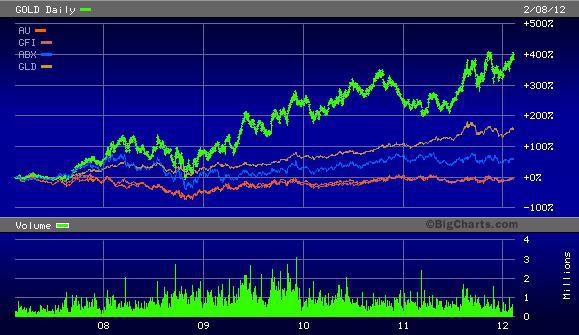 Future Growth
The company is planning to take the throughput at Loulo/Gounkoto up to a 4 million ton rate by the middle of this year. Hauled tons in Gounkoto were 600kt in Q4 2011 compared to 270kt the previous quarter (a 122% increase).
Exploration continues with Randgold's Kibali project. Phase I of the project is to include the first gold production. This Phase will cover the metallurgical facility, the hydropower station, a back-up thermal power facility, relocation of villages, and open pit mining. Phase I is expected to take two years.
Phase II will run simultaneously to Phase I, but will extend out over 4 years. Phase II focuses on the underground development and includes a twin decline and vertical shaft system along with three hydropower stations. The underground first production should begin by the end of 2014. Annual production of 600,000 ounces is expected for the first 12 years.
Faraba is another area that Randgold is pursuing for exploration, which has an estimated 540,000 ounces of gold.
Production Forecast (Click to enlarge)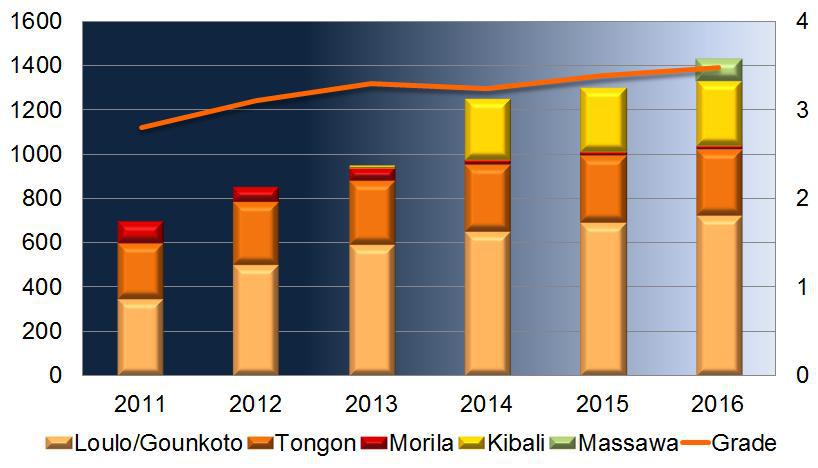 Source: Randgold Resources Q4 Report
Conclusion
Randgold Resources literally pulls money out of the ground. It has outperformed GLD, the gold ETF, and significantly outperformed the other miners. It can be considered as an alternative to owning physical gold.
The company announced that it will double its modest dividend from 0.20% to 0.40%. However, this is nothing compared to the outstanding earnings and stock growth that the company is achieving. The 400% return in the last five years is likely to repeat in the next five years. In the words of Kenny Bania from Seinfeld, "Its gold Jerry, gold!".
Disclosure: I have no positions in any stocks mentioned, and no plans to initiate any positions within the next 72 hours.