Cisco (NASDAQ:CSCO) announced yesterday that it was increasing its quarterly dividend from 6 cents a share to 8 cents a share, an increase of 33%. Cisco CEO John Chambers, in a reply to an analyst who thanked him for the dividend increase, said
We listen, we listen. And we'll continue to listen. We knew that the honeymoon on doing a dividend would be very short lived and that we must look at that on a regular sequence about increasing it. And our goal is clearly to do that.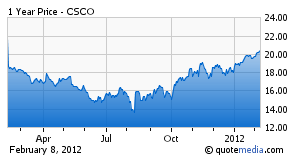 Well, sir, I respectfully disagree. There was never a honeymoon when Cisco first initiated the dividend. All along investors have been asking for a dividend yield closer to 3% similar to that paid by other mature tech companies like Microsoft (NASDAQ:MSFT) and Intel (NASDAQ:INTC). In fact, when Cisco paid its initial dividend in March last year, the yield was 1.4%. The yield today after the dividend increase is 1.5%, I think you would agree that it is not a great increase.
The least I was expecting the firm to do was follow Mr. Ralph Nader's advice and double the dividend to 12 cents a share yielding 2.3%. The company has 5.4 billion shares outstanding. Increasing the dividend to 48 cents a share would have cost the company $2.59 billion. The company finished the quarter with a cash balance of $8.5 billion and $38 billion in investments. Admittedly, the company has a US cash balance of approximately $5 billion. That is more than sufficient to fund the dividend increase.
I am also disappointed by CSCO's continued fascination with stock buybacks as a way to return cash to the shareholders. In the last quarter, CSCO bought back $466 million of common stock or 26 million shares at an average price of $17.84. As Cisco's price has since increased to $20 a share, on paper, this did not turn out to be a bad investment.
However, as I have pointed out in an earlier article, buybacks are not as rosy as they seem. The diluted shares fell from 5.407 billion to 5.401 billion between the first and the second quarter, a decline of 6 million, as opposed to the 26 million shares bought back during the time period. So the effective return to shareholders was only $108 million not the $466 million advertised by CSCO.
The company still has a staggering $8.2 billion authorized as part of its stock repurchase program. Mr. Chambers, may I suggest that you use that cash to pay special dividends to your shareholders instead of the historically unsuccessful stock buyback program (the program will almost always be unsuccessful if the stock price is in decline as was the case with CSCO during the last few years). Please keep the stock buybacks to the minimum…just enough to cover the excessive stock options given out by CSCO (and most other tech firms).
To make matters worse, Cisco, which had reduced its M&A activity over the last few quarters, indicated during the call that it would resume looking for candidates for possible acquisition. Although the company assures the investors that it will be "disciplined and thoughtful in regards to price, value and fit", I am not very comfortable with firms that use acquisitions as a growth driver and I strongly favor firms that grow organically.
It is especially true in an industry where Cisco acknowledges that 80 to 90% of all acquisitions fail. As pointed out by Mr. Chambers to Forbes Magazine, Cisco's success rate is about 66%. While better than the industry averages, it does not justify wastage of shareholder wealth.
Although Cisco is most definitively on a comeback trail taking market share away from its competitors like Juniper (NYSE:JNPR), the capital management at Cisco leaves much to be desired. Based on my initial review of Q2 earnings, growth prospects and revenue guidance, I have slightly raised my price target for Cisco from $22 to $25 by applying a P/E of 14 to my 2012 calendar year EPS estimate of $1.85.
The stock offers an upside of approximately 20%. The stock makes a good short term investment, but I do not plan on holding it for the long term.

Disclosure: I am long CSCO.