The E-Mini S&P 500 has a bullish sentiment and has been advancing to higher highs, but the moves are sedate, lacking confidence in the market. The US economic reports have supported a picture of growth and recovery which has been overshadowed by the Euro debt crisis. The Euro debt crisis has been a continuing saga with stages of one step forward, two steps backward moves.
Wednesday, there were no major US economic reports out except the EIA for the energy complex that reflected increased inventories. CME Group Inc. (NASDAQ:CME) had its credit rating cut by Standard & Poor's credit rating agency. The downgrade was issued primarily on the CME's response to the MF Global default. The increased protection that the CME offered to futures clients increased its financial risk. The CME also has been active in the over-the-counter clearing business, which again increases the risks.
The Intercontinental Exchange Inc. (NYSE:ICE) reported quarterly results increasing 28%, therefore exceeding expectations. Trading volumes escalated in the energy sector boosting shares 5.90% to $130.06. Of the 315 companies reporting in the S&P 500, 61% have exceeded expectations. The E-Mini S&P 500 has moved up, but with reservation as the Greek talks continue.
This shadow over the market may not disappear after a Greek deal is reached. Greece would have to adhere to the stringent fiscal measures within the agreement. Even if they were able to, there may be more bailout money necessary in the future. Portugal is still behind Greece and the fact is that the full weight of the Euro debt crisis may take years to realize. The overflow of the debt crisis into the US economy has yet to fully materialize.
German Chancellor Merkel has grown impatient with the delay in the talks as Germany would absorb most of the bailout costs, yet she has promised not to try to force Greece out of the euro FX. Other nations have made comments that the euro can exist without Greece. Any potential default would have harsh consequences on the global marketplace. The 70% reduction in value of the bonds held by the private creditors may not be enough. They have sought out further aid from the European Central Bank to assume some of the debt.
The ECB has declined the possible assistance yet may be open to renounce profits on bonds purchased below face value. Thursday, Eurozone ministers are to meet and examine a complex fiscal package that includes the $130 billion euros in funding, the details of the bond swap with private creditors and the reforms that will trim the standard of living for most Greeks. Greece is in a dreadful recession as it is and their economy may contract 4 to 5% in 2012. The reforms should total around $13 billion euros through 2015 and the minimum wage may suffer a 22 % cut.
EU officials declare that the full package of both conditions and funds must be agreed upon by February 15th in order to go through the legal channels and obtain parliamentary approval to acquire the bailout money. The bond redemption of $14.5 billion euros is for March 20th and in order not to default, the money must be in place. German Chancellor Merkel and French President Sarkozy have proposed setting up a separate account for Greek debt payments to offer security for creditors. We view the constant vigilance by the Euro officials as positive for the marketplace.
The US and the European Union have imposed sanctions against Iran with a six month window in which to enforce them. This is really a ban on the banks that may grant 'Letters of Credit' or exchange currencies in order to transact oil purchases along with other imports/exports necessary to maintain the country. 74 million Iranians need food, clothing and other products to maintain their standard of living. It was reported that Iran may have already defaulted on a rice shipment from India and may have difficulty purchasing food products to feed its people. Rice is a staple among the Iranian people and the next parliamentary election is to take place on March 2nd.
When a nation is pressured with such sanctions, two things may happen. First, the people may rise up and change the leadership as we have seen in many countries as of late. Secondly, as in the case of Japan prior to World War II, Japan suffered sanctions of the US banning oil and other natural resources and in reprisal launched an attack on Pearl Harbor. There were of course more reasons such as control and ambition to initiate the attack. Israel is in a vulnerable position and US Defense Secretary Leon Panetta has concerns about Israel possibly bombing Iran to prevent the creation of a bomb from Iran. Israel is believed to have the only Middle-East arsenal to date. It is hoped the Iranian leader will continue to be open to talks with NATO representatives for a peaceful resolve.
On the stock side: JP Morgan Chase and Co. (NYSE:JPM) was up 0.86 % to $38.20. Citigroup Inc. (NYSE:C) was up 3.60 % to $34.26. Bank of America (NYSE:BAC) was up 3.44 % to $8.13. Alcoa Inc. (NYSE:AA) was up 0.58 % to $10.73. Boeing Co. (NYSE:BA) was up 0.79 % to $75.35. Caterpillar Inc. (NYSE:CAT) was up 0.05 % to $113.86. General Electric Co. (NYSE:GE) was up 0.15 % to $19.21. Halliburton Co. (NYSE:HAL) was up 0.05 % to $37.02. Hewlett Packard Co. (NYSE:HPQ) was up 2.07 % to $29.55. SPDR Select Sector Fund - Financial (NYSEARCA:XLF) was up 0.75 % to $14.77.
E-Mini S&P 500 Chart.
click to enlarge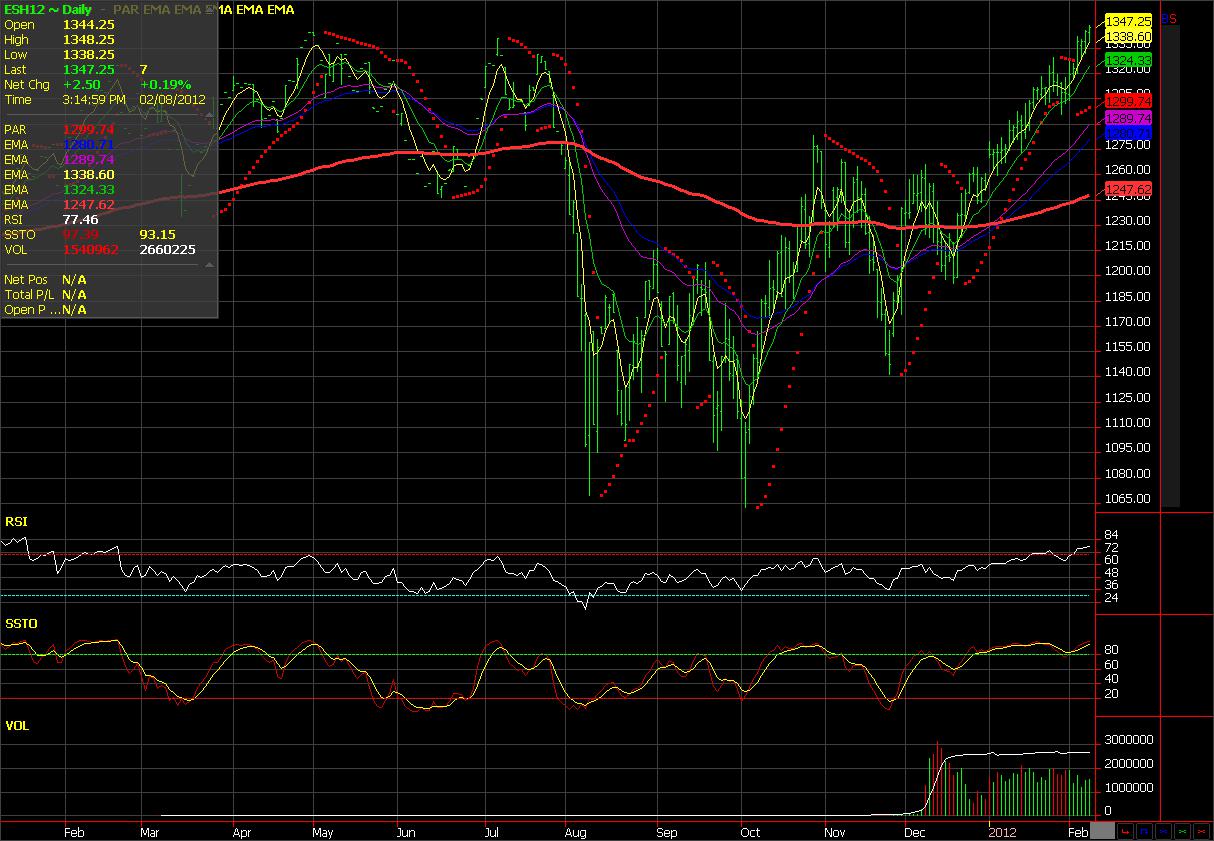 Click to enlarge
Thursday, what to expect: We maintain a bullish bias unless the E-Mini S&P 500 penetrates $1299.75. Today, we anticipate an inside to higher day. Wednesday's range was $1348.25 - $1338.25. The market settled at $1347.25. Our comfort zone or point of control for this market is $1344.50. Our anticipated range for Thursday's trading is $1356.50 - $1338.50.
Disclosure: I have no positions in any stocks mentioned, and no plans to initiate any positions within the next 72 hours.