Gold has been riding a phase 2 bull market since it crossed over $US 1000/ounce since 2010. But silver is still in a phase 1 bull market. Nobody is buying silver. You can't buy silver in a bank. But the interest in silver is slowly arising and coming into a phase 2 bull market. As an anecdote I'll tell you a short story of my silver buying experience.
Last year I went on holiday to Hong Kong and the idea to buy silver crossed my mind. So I went to Hang Seng Bank to do the same. They told me they could only buy gold for me, not silver. I was not interested in gold, because I wanted to be invested in the real 10 bagger, which is silver. I asked if they had silver stocks then? Answer, they had none. They didn't have Silvercorp Metals on their Hong Kong stock exchange, which is the best silver producer in China. I was completely flabbergasted. Then next on, I told the clerk to give me gold. Her advice was: "Why buy gold? It is already so high". After hearing this, I immediately knew that the bull market in precious metals hadn't even begun. But let's get back to the silver story.
Historically, Mexico has been the world's largest silver producing country in the world with an annual production of 100 million ounces per annum. So all the silver is in Mexico. If silver goes up in price, Mexico will benefit the most from that. So you should invest in a company that has its operations primarily in Mexico. Endeavour Silver (NYSE:EXK) is such a company and is recommended by Peter Schiff (as he disclosed last year that he was (and still is) invested in this stock).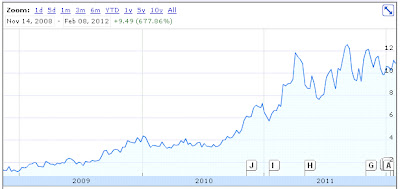 Endeavour Silver
Endeavour Silver is a junior miner that is a 100% precious metals producer: 75% silver and 25% gold. They produced 3.7 million ounces of silver and 21,810 ounces of gold in year ended December 2011. It is essential not to be exposed to industrial metals, as the economy is expected to still be weak in the years to come. Endeavour Silver accomplishes that requirement by not having base metals in its portfolio while other silver miners get silver as a byproduct of base metal production.
Although Endeavour Silver has only recently started up (2004) it has one of the most experienced management teams of all silver producers. Basically, every member of the management board has 25+ years of experience in mining. A notable decision from management is that they kept their mined silver last year because of the drop in silver price, so they could sell their silver at higher prices this year. And they were right on the money.
Endeavour Silver has 2 operating mines: Guanacevi and Guanajuato. They produce 3.7 million ounces silver a year and are going to grow to 4.4 million ounces this year. That's a 20% increase in production on top of the rising silver price. Their success story can be attributed to their unique mining philosophy. They basically buy up old mines (Belen, El Porvenir, La Presidenta (discontinued), Lomas Bayas (discontinued), San Sebastian, Arroyo Seco, San Juanico, Parral, etc...) and develop them with their expertise. All infrastructure is already existing which reduces cost. They can literally get to production in months, not years. This way they achieve impressive growths.
One word of caution though: Endeavour Silver is trading at a price to book value of about 6. So if the silver price drops, Endeavour Silver could drop very fast. On the other hand, its revenues are $US 110 million revenue per annum in 2011 with no debt. With a 40% operating margin it generates $US 50 million per annum. At a market cap of $US 900 million, we could say that it trades at a price to cash flow of 18 which is very inexpensive for a silver producer with such huge margins (cash cost per ounce of silver is $5.5). Net earnings were $US 34 million in 2011 and correspond with a P/E of 26. These earnings are pretty much valued correctly as opposed to other silver miners. But the growth story lies in its expansion of capacity and its resource growth.
Guanajuato will expand capacity by 60%, Guanacevi will expand capacity by 20%. Cash costs will keep going lower as production ramps up. Expansion of resources (like Lucero-Karina vein ) will drive growth and production at these two mines. They are setting goals of 10 million ounces silver a year in the future and I'm sure they will deliver what they set out to deliver.
And last but not least, consider that silver will be depleted in 10 years. So I would definitely buy it now while you can.
Disclosure: I am long EXK.