There are at least five reasons why Apollo Investment Corp. (NASDAQ:AINV) shed nearly 11% Wednesday. First, the company trimmed its dividend from 28 cents per share down to 20 cents per share - not unexpected given that recent dividends have exceeded net income per share. Second, Fitch Ratings downgraded the company from stable to negative.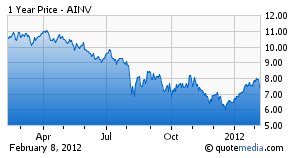 Third, the company announced that it is considering diluting existing shareholders by raising additional capital of $200 million. Fourth, management announced that they will broaden their investment exposure beyond market segments in which the company has niche expertise. Fifth, the company announced an extensive shake up of senior management.
The question is whether those developments warrant the 11% drubbing the market awarded the company Wednesday for its performance? To answer that, you have to step back and consider the fact that like any business development company, AINV is something like a closed-end mutual fund in the sense that what the company is, simply put, is a pile of money that management lends and invests in other companies, passing the net income out to taxpayers.
Because of this mutual fund-like business model, business development companies often tend to trade close to their net asset value, as was the case Wednesday with several of Apollo's competitors. AINV, however, now trades at nearly a 14% discount to NAV as of yesterday's market close, which is unusual for the stock in particular and for business development companies in general.
So does that make AINV a bargain? Not necessarily, and the reason why has to do with the company's surprise announcement that they were considering raising new capital, and the reaction of Fitch Ratings.
Think it through. As a shareholder, would you rather own 2% of a business development company with $1m in assets, or 1% of a business development company with $2m in assets? Considering the mutual fund-like business model of a business development company, a shareholder really ought to be indifferent to dilution, PROVIDED, however, that the company is able to raise new capital without taking a valuation discount on the newly issued shares in the process.
And that's quite likely the reason for the 14% discount to NAV and the 11% plunge that took the company there Wednesday. The market may be pricing in a risk that the company is not in a position to raise new capital on a dollar-for-dollar basis. If not, then existing shareholders would see their percentage stake in the company drop without an equal and offsetting increase in the company's capital base. And that is precisely one of the concerns Fitch articulated in its press release Wednesday as to why they were downgrading their outlook for AINV.
So the question for shareholders is not simply whether an 11% stock price decline is overdone, or even whether a 14% discount to NAV represents a bargain entry point. Instead, it probably makes more sense for an investor to ask whether the market has correctly priced in the likelihood and the extent that AINV's existing shareholders will see their stake in the company sold to new investors at bargain levels.
Disclosure: I am long AINV.