As we wrote in our previous article, Immersion Corporation (NASDAQ:IMMR) recently filed a complaint with the U.S. International Trade Commission ("ITC") against Motorola Mobility (NYSE:MMI), and a patent infringement lawsuit in the U.S. District Court for the District of Delaware.
Thanks to a Scribd contributor, the patent infringement complaint is now available at this link, allowing investors to shed some additional light into Immersion's request for damages, and into the background of this legal action.
In its introduction about haptic feedback technology, Immersion's lawyers resume what the technology is basically about:
Haptic feedback is especially useful in electronic devices containing touchscreens, which tend to have primarily virtual buttons to control the device and very few physical buttons.

Vibrations restore a mechanical feel to electronic devices, immediately reassuring a user that they have successfully engaged a virtual button and improving the interface for consumers.
As we already knew, Immersion believes that Motorola is infringing 6 of its patents, through the sale of several smartphone ranges:
On information and belief, Motorola has infringed and continues to infringe; has induced and continues to induce others to infringe; and/or has committed and continues to commit acts of contributory infringement of, one or more of the claims of the '846 patent.

Motorola's infringing activities in the United States and this District include the development, manufacture, use, importation, sale, and/or offer for sale of products, including but not limited to Motorola Droid Razr, Droid 3, Droid Bionic, Photon, Droid X2, Atrix, Atrix 2, Admiral, and Xprt, and contributing to and inducing others to do the same.
Immersion is asking the court to render a judgment declaring that Motorola has infringed on its patents, and be compensated for the infringement, plus expenses and treble damages, i.e. a recovery of three times the amount of the actual financial losses suffered.
From the same document we also learn that Immersion had already notified Motorola about its intention to proceed legally for the protection of its patent portfolio:
Immersion placed Motorola on notice of its infringing activities on or before August 31, 2011.
Patent lawsuits are extremely complicated and it is certainly not up to us to forecast or determine the potential outcome of the litigation. As we wrote in the past, it is anyway interesting to note that Motorola has developed, like other handset producers, its own patents in this filed, often quoting Immersion's work and existing patents, either granted or pending at the time of its filings.
In more recent times, even Apple (OTC:APPL), whose most recent iOS 5 operating system has introduced some improved haptic effects, has filed patents in this field, as sign of the growing importance, for OEMs, of adding a feedback sensation to touchscreens to improve consumers experience (from Engadget):
A patent application doesn't necessarily mean an actual product is on the way -- but it's always fun to speculate, right? And this latest trio of applications from Apple certainly provides plenty of speculation fodder. The most notable of the lot is an application for a "multi-touch display screen with localized tactile feedback," which Apple seems to be at least considering as a possibility for the iPhone (or iPod touch). Like some similar systems, Apple's application covers a screen that uses a grid of piezoelectric actuators that can be activated at will to provide vibrational feedback when you touch the screen.
Coming back to Motorola, the company has been promoting the importance of haptics in mobile communication devices for quite some time, as proven by this presentation given in October 2008 by Steve Dai, Motorola's engineer responsible for R&D, who contributed to turning the company into an industry leader in R&D of mobile phone haptics, and also author of several patents in this field: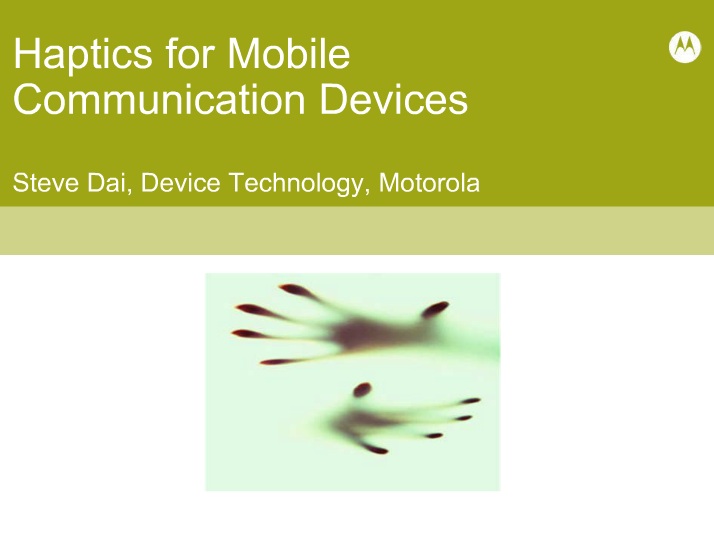 (click to enlarge pictures)
Interestingly enough, most of the examples highlighted in his presentation about haptic applications seem very related to Immersion Corporation, as he mentions gaming peripherals, a sector where Immersion positively settled its lawsuits against Microsoft (NASDAQ:MSFT) and Sony (NYSE:SNE) to protect its IP in rumble effects, the BMW i-drive, licensed from Immersion, and medical training tools as well as 3D design and interaction devices, some of the sectors Immersion has been concentrating its efforts on since inception.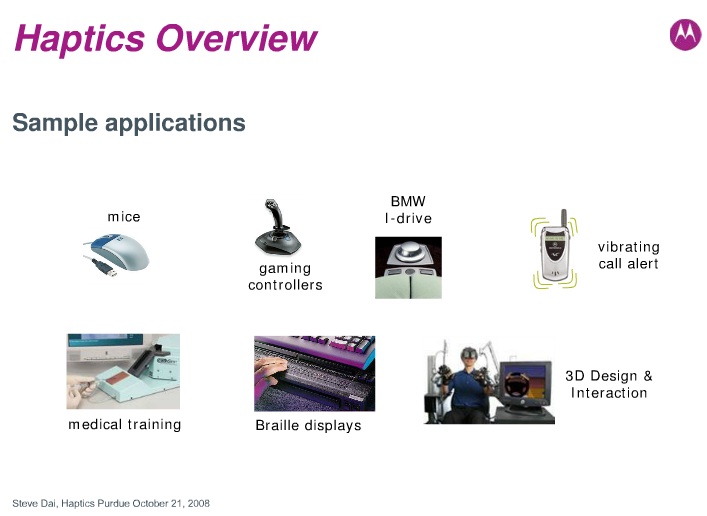 The last picture is actually taken from one of Immersion's first products, the Haptic Workstation.
While this lawsuit might just the beginning of Immersion's attempt to protect its IP in the mobility vertical, it is certainly key to its strategy, for the importance of the customers, in absolute terms and related to its specific work with haptic technology, and even more now that Motorola is due to join the Google (NASDAQ:GOOG) family, whose Android OS is Immersion's most important platform for its advanced haptic technology.
Disclosure: I am long IMMR.