Like any investor, I like seeing the stocks I buy for my portfolio go up. I do get a little nervous, though, when they seem to go too far too fast and that was recently true for the relatively unknown label manufacturer Multi-Color (NASDAQ:LABL).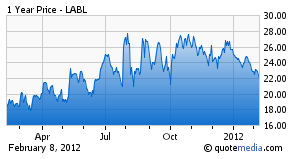 In the last few weeks, investors seem to have realized that expectations were getting a bit too hot for this company and the stock sold off. Matters were likely not helped any by the relatively low sales volumes reported by major consumer goods companies (and LABL customers) like Procter & Gamble (NYSE:PG) and SAB Miller (OTCPK:SBMRY). Top that off with a superficially disappointing quarter, a relatively thin float and little sell-side support and it wasn't too surprising to see the stock pull back on earnings.
Good Outweighed By Bad In The December Quarter
Although Multi-Color did miss analyst estimates for the quarter, there are so few analysts covering the stock that that has to be taken with a grain of salt. Nevertheless, surprisingly good organic growth at LABL of 7% (boosted by 5% volume growth) was subsumed by disappointing contributions from the York acquisition.
York was the theme throughout the rest of the earnings report as well. LABL's core gross margin was fine and relatively consistent, but York's incoming gross margin was about 70% of LABL's pre-deal level. Some of this can be tied to seasonality (York's Chilean wine business), but some of it is simply due to it being a less efficiently-run business. This fed through the operating income line where operating income was up more than 40%, but below expectations.
York Is About Tomorrow, Not Today
The acquisition of York was a significant deal for Multi-Color and it would have been naïve to expect the deal to not have some less-desirable near-term consequences. As LABL management noted, there are a number of operational inefficiencies to address and that is going to take a little time. Still, management also sees no reason why York can't ultimately carry the same margins as the pre-deal Multi-Color.
Multi-Color has thus far kept all of York's customers and maintained that revenue. With that, York has significantly increased the company's revenue base and added some much-needed diversification. To that end, Procter & Gamble is now about 14% of sales and SAB Miller has slipped below 5%.
Appreciate It For What It Is
Multi-Color is not going to be a torrid organic growth company; this quarter's 7% organic growth is about as good as it gets. That said, there's a huge market out there for labels, companies are getting more demanding, and the market is ripe for further consolidation - remember that Multi-Color is one of just seven label makers with more than $200 million in annual revenue in the $9 billion North American market.
Moreover, I suspect that major multinational consumer goods companies like Coca-Cola (NYSE:KO) (with whom Multi-Color has a relationship), PepsiCo (NYSE:PEP) and Colgate-Palmolive (NYSE:CL) are going to increasingly look to consolidate their business with a smaller number of larger, more capable, and more internationally-levered suppliers. That should play in Multi-Color's favor with time, not only in terms of capturing new business, but increasing penetration with existing customers (as it seemed to with Procter & Gamble this quarter).
As Multi-Color grows and integrates additional deals, the company should be able to drive costs out of the acquired businesses and deliver strong incremental operating leverage. As this quarter reminds investors, though, that won't always be a smooth process.
The Bottom Line
I'm revising down my fair value estimate on Multi-Color by about 15%, largely due to pushing out the expected benefits of the York acquisition, but also just to reflect a little extra conservatism for safety's sake. The good news, such as it is, is that even a new target in the low-to-mid-$30s is relatively appealing given the pullback in these shares.
I won't pretend that I'm not concerned about the pullback. Under-followed stocks like Multi-Color can get very cold very quickly and some institutions won't even touch a stock that has fewer than five sell-side analysts following it. I also note that the price has dropped below both the 50-day and 200-day moving averages and needs to hold the $21 level.
Still, I won't let bad short-term technicals chase me out of a good long-term fundamental story. I like Multi-Color as a consolidator in a huge industry that basically hides in plain sight, and I do believe that better margins, profits, and cash flow can come down the line for patient investors.
Disclosure: I am long LABL, OTCPK:SBMRY.