As Ben Graham wrote in The Intelligent Investor:
One of the most persuasive tests of high-quality is an uninterrupted record of dividend payments going back over many years. We think that a record of continuous dividend payments for the last 20 years or more is an important plus factor in the company's quality rating.
This week National Retail Properties, Inc. (NYSE:NNN) announced Q4 2011 and year-end 2011 results. The Orlando-based REIT continues to deliver exceptional earnings, reinforcing the validity and durability of the triple-net sector. The stability and predictability of National Retail's operating cash flows are defined as strategic competitive advantages distinguished by consistency in sustainable profits. The latest results and the essence of National Retail's operating strategies can be summarized as a powerfully sound REIT differentiated by durably attractive dividends.
The highlights of National Retail's results are as follows:
Strong year of FFO performance resulting in a 22nd consecutive year of dividend increases. (There's just around three equity REITs with a better track record for consistent dividend increases. - source David Fish of Seeking Alpha and DRiP Investing Resource Center.)

Improved occupancy, with the latest increase to 97.4% (only 8.3% of leases expiring through year-end 2014)

Eight consecutive years of occupancy at 96% or higher

2011 acquisitions of $772 million, increased from $256 million in 2010

Ended 2011 with lower leverage ratio (started the year with 40% and closed year at 38%).

Grew asset base from around 1,200 properties to 1,422 assets at year-end 2011
National Retail's high-quality portfolio consists of around $3.4 billion of assets; 1,422 properties in 47 states; 300+ tenants with 55% of rent from tenants that are public or have rated debt. In addition, National Retail's long-term leases (15-20 years) generate stable cash flow (with a weighted average lease term of 12 years). National Retail's total returns exceed general equity averages with the REIT's 10-year total return of 14.9% and the average 15-year total return of 11.8%. The current dividend yield is 5.7%. The current share price is $27.49 and the 52-week high was $27.81.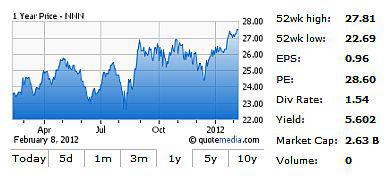 Disclosure: I have no positions in any stocks mentioned, and no plans to initiate any positions within the next 72 hours.