Canadian energy stocks represent a solid investment opportunity due to prolonged low interest rates and signs of an economic turnaround. While their favorable tax advantages disappeared in 2011, Canadian energy stocks continue to offer strong dividends for income investors, while higher energy prices could be on the way, if an economic turnaround takes hold.
Dual Catalysts Drive Potential Returns
The Federal Reserve recently indicated that it intends to keep interest rates at record lows through late 2014. This type of environment encourages investors to seek low-risk alternatives to U.S. Treasury bonds, such as lower risk large cap dividend stocks. This trend can clearly be seen in a 13-year study conducted by Insider Monkey showing a 5.4% outperformance per year.
Click to enlarge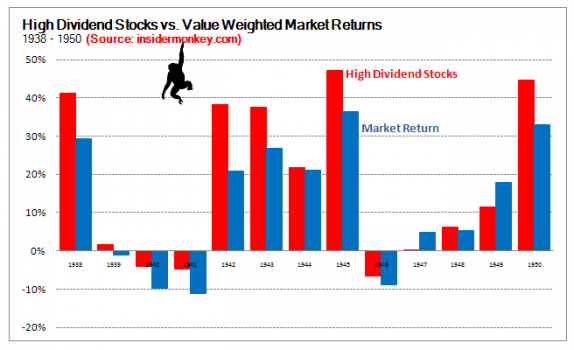 Energy stocks could also benefit from a recovery in the U.S. economy and the global economy as a whole. While a U.S. recovery is debatable, despite a strong jobs report on the surface, there are signs that things are improving for the time being. And many studies have shown a causal relationship between energy consumption and GDP growth.
A Look at Some Canadian Energy Stocks & ETFs
There are many different Canadian energy stocks available and most offer healthy dividends. While the easiest and most diversified play may be the Claymore / SWM Canadian Energy Income ETF (NYSE: ENY, which yields about 2.19%, investors may also want to consider some individual stocks that offer higher yields and capital gains potential.
Here are three popular U.S. listed stocks:
Provident Energy Ltd. (NYSE: PVX - Provident is a midstream liquid natural gas company that has been an extremely strong performer, trading up 68.3% over the past six months and 45.3% over the past year, and pays a healthy 4.45% dividend yield.
Baytex Energy Corporation (NYSE: BTE - Baytex is an oil and gas company that has been a strong performer, trading up 29% over the past six months and 6.3% over the past three months, and pays a healthy 4.66% dividend yield to investors.
Penn West Petroleum Ltd. (NYSE: PWE - Penn West is an oil and gas exploration and production company that is trading up 23.9% over the past six months and 19.8% over the past three months with a strong 4.79% dividend yield.
Those looking on the Toronto exchange can also consider:
Canadian Oil Sands Ltd. (TSE: COS) - Canadian Oil Sands is one of the largest players in the oil sands industry that has been trading up around 5% over the past three and six month periods with a 5.09% dividend yield.
Enerplus Corporation (TSE: ERF - Enerplus is an oil and gas company that offers one of the highest dividends in the industry at over 9%, but has seen its stock price remain relatively anemic over the past few months.
Building a Diversified Portfolio
Canadian energy stocks make great long-term investments, but recent events have made them even more attractive. That said, it's important for investors to keep in mind the beta co-efficient (risk/volatility) and fundamental factors when choosing the right investment.
Disclosure: I have no positions in any stocks mentioned, and no plans to initiate any positions within the next 72 hours.