Despite a stall in its longer-term uptrend in the last quarter of 2011, gold prices have been off to a great start in 2012 as the larger institutions ease their buying of treasuries and dollars in favor of commodities and stocks. Supplementing gold's return above $1700/ounce in recent trading has been the Federal Reserve's dovish stance on monetary policy, set to continue until at least 2014. In Ben Bernanke's own words, "the Committee decided to keep the target range for the federal funds rate in 0 to 1/4 percent and currently anticipates that economic conditions are likely to warrant exceptionally low levels for the federal funds rate at least until late 2014."
This implies that the typical gold bug's case against the greenback will have additional merit for quite some time. The most watched central bank in the world, the Federal Reserve, is essentially reemphasizing its stance of accommodative monetary policy for the sake of economic growth for the next two years. While it doesn't guarantee that a third round of quantitative easing is right around the corner, we can infer that investment gains on US dollars or dollar-denominated bonds will be subpar at best in this environment. It looks increasingly likely that gold will test the highs made in 2011, and perhaps surpass them given a proper catalyst in the markets. As of now gold only needs a 14% rally or so to break $2000/ounce, which could probably trigger fresh speculative attacks based on inflation fears.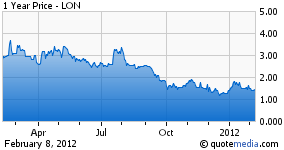 Since gold bullion has become so expensive, extremely undervalued alternatives still exist in gold mining stocks - particularly junior miners. Loncor Resources (NYSEMKT:LON) is a Canadian-based mining company operating in the Democratic Republic of the Congo within two main project locations: Ngayu and North Kivu. Both areas have a history of gold production, and are tremendously undervalued when extrapolating the price of Loncor stock relative to its production potential.
The Makapela prospect located in Ngayu was recently found to have two impressively high grade gold deposits that extend at least 400m below the surface. Using the data observed from the site, we can estimate that there is somewhere close to 1.5 to 2 million ounces of gold at just these two deposits. This is based on two thin veins of gold mineralization that run in the 10 g/t range (which is extremely profitable to mine due to the high concentration). With an estimated potential strike length of 3,000 meters, and the 400 meters already examined multiplied by the estimated 2 - 4 meters of width, the value of Makapela prospect could grow quite large indeed if gold holds its price levels. We are still at least months away from an actual geologist's resource calculation, which will only be an inferred guess when released, but investors have reason to be optimistic given the resemblance between Makapela and other high-grade strands previously found nearby.
In addition, newly released Itali exploration results provide early indications of another million ounces (or more) in Loncor's Itali prospect. This is based on a measured 2.66 g/t of gold measured by the most recent drill results. The Itali mineralization is within the high priority Imva Fold region, a 30 square kilometer area of extensively folded banded iron formation (BIF) that was supported as a high probability gold source by Newmont Mining (NYSE:NEM) BLEG survey results. There is likely more good news on the way given the nature of this kind of formation. Newmont owns 17.8% of Loncor, and thus has a heavy vested interest in helping in its exploration.
The primary concern, of course, remains the consistent political instability of the Democratic Republic of the Congo itself. Despite relatively successful elections in late 2011 which established Joseph Kabila as the country's president, accusations of a rigged election have arisen. Etienne Tshisekedi, the primary opposition and leader of the UDPS (The Union for Democracy and Social Progress) has claimed the office for himself and attempted a march into the presidential office in mid-January 2012 to take the seat for himself. Now under unofficial house arrest, signs of unrest have dampened. Kabila's business-friendly history makes it unlikely that Loncor will encounter serious problems with the DRC. It is simply a matter of having him retain his seat.
Having traded around $3/share following its IPO, it makes sense that we could see that kind of price again soon upon some easing of the political situation and further data on the lucrative deposits in Makapela, Itali, and other prospects. January 26th was the date Loncor released the previously discussed information on its first drilling operation at the Itali Prospect. Apparently, this good news has not really been reflected in the price of the shares yet, which also have yet to price the data from the Makapela prospect mentioned earlier. Cumulatively, we are looking at 2.5-3 ounces worth of newly discovered gold so far in 2012. Nonetheless, share price has been dropping based on uncertainty in the political atmosphere. The intangible influences on shares of Loncor do nothing more than provide buying opportunities for more patient investors since fundamentals are what matter in the long run.
Disclosure: I have no positions in any stocks mentioned, but may initiate a long position in LON over the next 72 hours.