We have hightlighted the risks of owning Chimera Investment Corp. (NYSE:CIM) in previous articles, and we believe that investors should remain extremely cautious about the stock.
In general, we are still bullish on mortgage real estate investment trusts ("mREITs"), particularly agency-focused mREITs like Annaly Capital Management (NYSE:NLY) and American Capital Agency (NASDAQ:AGNC). We think the current economic and interest rate picture is positive for mREITs. A weak economy is actually a good environment for mREITs, which benefit from low interest rates and a steep yield curve (see chart below). See our recent article "High Yield in a Slow-Growth World: Mortgage REITs" for more details.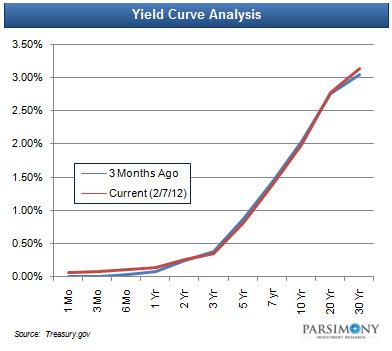 That said, Chimera is a non-agency focused mortgage REIT. As shown in the table below, over 70% of CIM's portfolio is allocated in non-agency RMBS.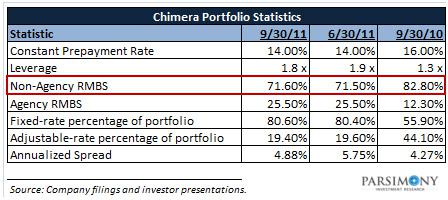 Whereas agency mortgages are guaranteed by government sponsored entities (implying limited credit risk), non-agency securities do not carry a similar implied guarantee. As such, non-agency securities are inherently more risky as they are exposed to the credit risk of the underlying borrowers. In other words, Chimera is really a bet on a housing-led economic recovery...which is the only way these non-agency securities will have a sustainable increase in value.
Unfortunately, data suggests that housing is still a long way from a meaningful recovery. As shown in the chart below, the Case Shiller Composite 20 Index fell for a third straight month in November (reported on January 31, 2012).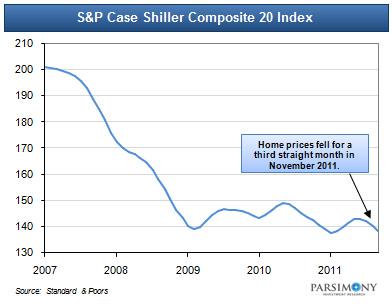 This puts the recent rally in the stock in perspective. The S&P had one of its strongest January performances on record, driven in most part on the "hope" of an economic recovery. Stocks that will benefit the most from a recovery, like cyclicals, have led the way.
In that light, CIM is up over 20% year-to-date.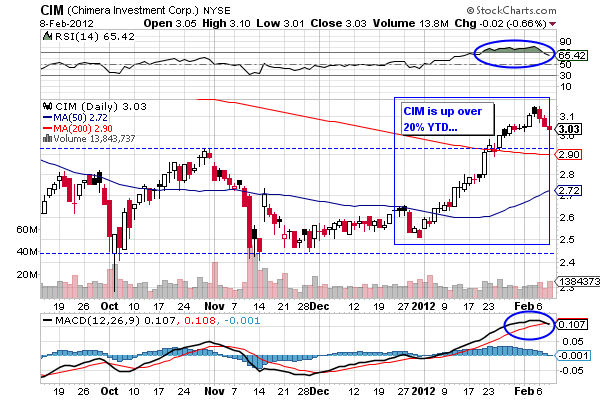 Click to enlarge
As highlighted in the chart above, CIM has been overbought for several weeks and it appears that the stock is gearing for a pullback (notice the bearish MACD crossover at the bottom of the chart).
Tactical Strategy
Chimera will report earnings after the bell tonight and we suggest that investors take their recent profits and run prior to the announcement. The stock will likely retest the low end of its recent trading range ($2.50) over the next several months, a 17% drop from current levels (which is more than a full year's worth of the juicy 14% dividend).
The economy continues to face significant headwinds and now is not the time to let "greed" drive your investment decision making. Take your profits in CIM now and buy it back at a lower price down the road when a true economic recovery becomes a real possibility.