The Coal Mongolia conference opened today with speeches from the Russian Ambassador to Mongolia, Victor Smoilenko, the Chinese Ambassador to Mongolia, Wang Xiaolong, the Canadian Ambassador to Mongolia, Gregory Goldhawk, and the Deputy Chief of Mission at the U.S. Embassy in Mongolia, Kathleen Morenski.
Peabody (BTU)
Ms. Morenski's speech focused on the importance of transparency and stability. She alluded to issues with the government's planned sale of the West Tsankhi deposit of the massive Tavan Tolgoi coal deposit. I previously detailed the problems with this sale. On July 5, 2011, it was announced this deposit would be divided: 40% to China Shenhua (OTCPK:CSUAY), 24% to Peabody, and 36% to a Russian-Mongolian consortium. By August 20, 2011, news outlets were reporting the deal was off; ultimately it was said that the National Security Council of Mongolia declared the deal was not in the best interest of the country. Thus, the West Tsankhi deposit returned to the bidding process as the government still intends to sell it.
Ms. Morenski's speech mentioned that the U.S. was looking for a "signature investment" by Americans in Mongolia. Later in her speech she mentioned Peabody and the high quality standards it could bring to Tavan Tolgoi. She added that an American company invested in and developing Tavan Tolgoi would be "transformative" to the United States' relationship with Mongolia. Ms. Morenski's speech will be available on the U.S. Embassy in Mongolia's website next week.
Goldman Sachs (NYSE:GS)
Randolph Koppa, President of the Trade and Development Bank of Mongolia announced Goldman Sachs was taking a 4.8% stake in the Trade and Development Bank at Coal Mongolia. Trade and Development Bank is a Mongolian company and one of the three largest banks in Mongolia. Trade and Development Bank also recently partnered with Bloomberg Media Group to form Bloomberg TV Mongolia (to be launched in March 2012).
General Electric (NYSE:GE)
General Electric opened its office in Mongolia in May 2011. It opened their local offices in the building of their Mongolian partner, Newcom Group, a privately held Mongolian conglomerate. GE Vice-President Christopher Harris gave a wide ranging presentation at Coal Mongolia on "General Electric in Mongolia and its investment interests." Photos of a number of slides from his presentation are below.
GE and Newcom have partnered in making the first wind park in Mongolia. GE sees opportunities in Mongolia for finance (e.g. mining and infrastructure financing), rail and train, mining, healthcare, water, lighting, and the environment (dust control products).
Here is a photo and a few germane power point slides from Coal Mongolia (click images to enlarge):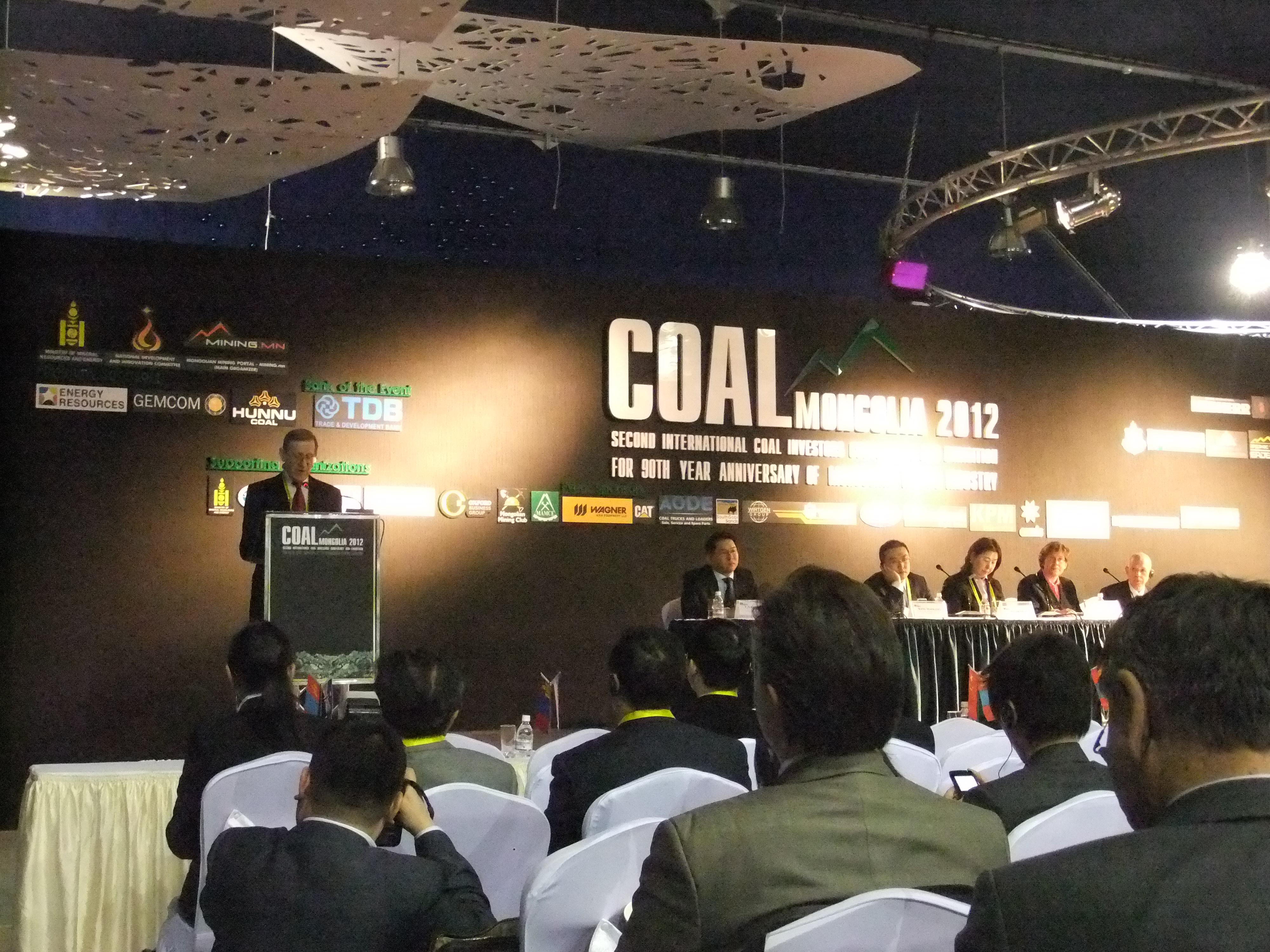 Russian Ambassador Samoilenko kicks off Coal Mongolia with the first speech of the day.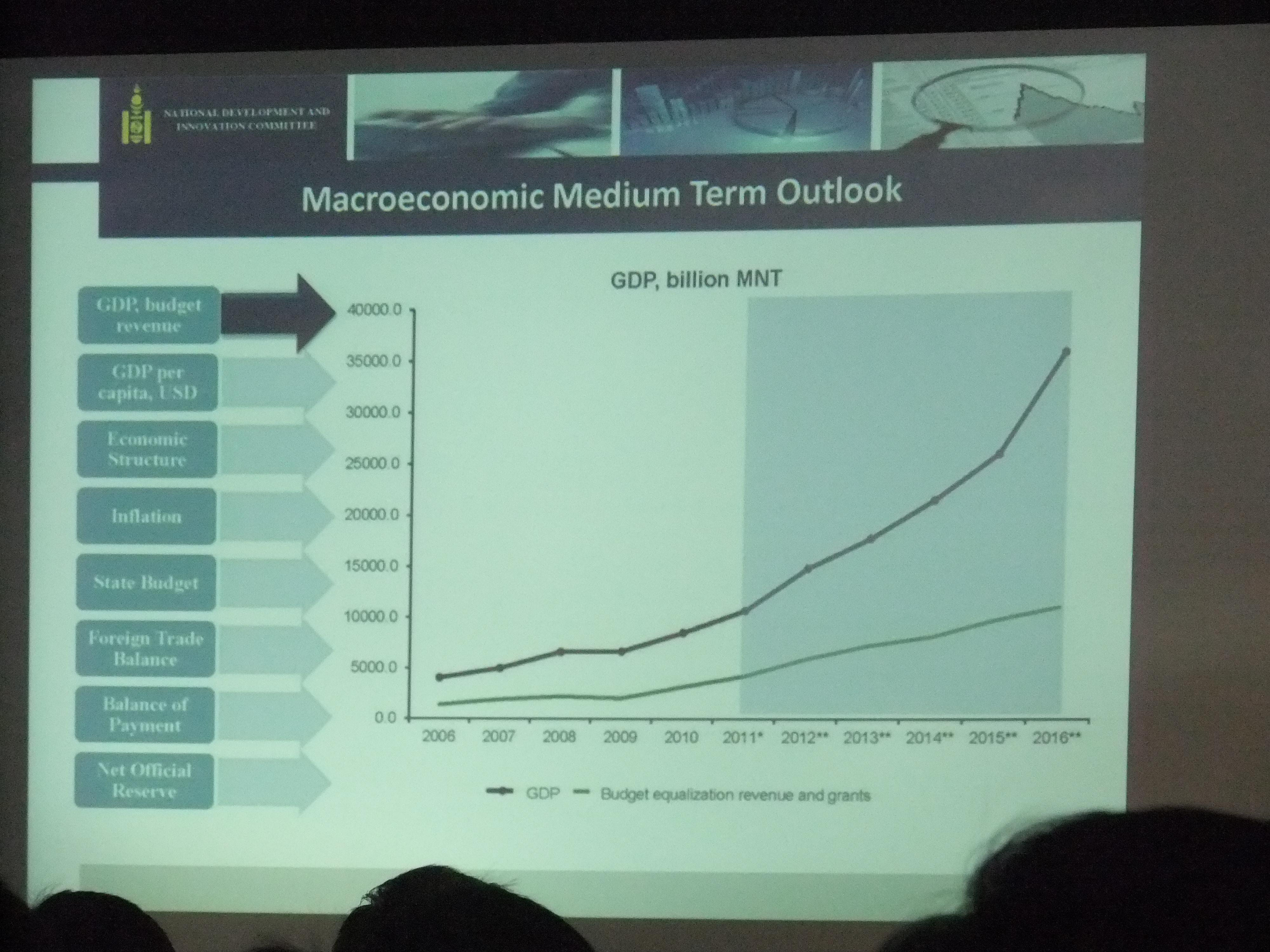 Why are people investing in Mongolia? The local stock exchange has been in the top 5 performing markets in the world for the last two years and GDP is projected to continue robust growth as this chart from the Ch. Khashchuluun, Chairman of the National Development And Innovation Committee indicates.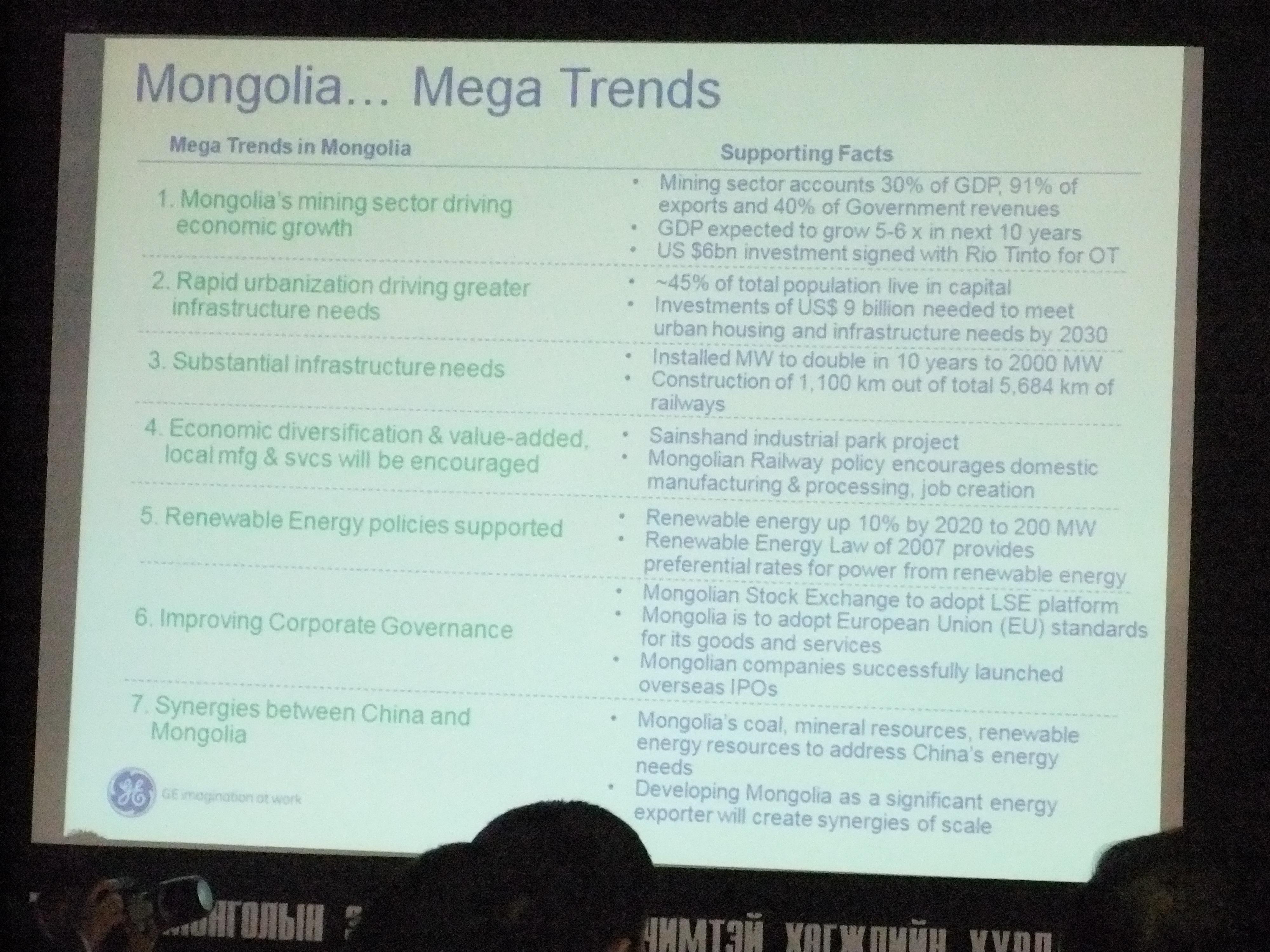 This and the rest of the slides are from GE's presentation at Coal Mongolia. This one is the MegaTrends GE sees in Mongolia.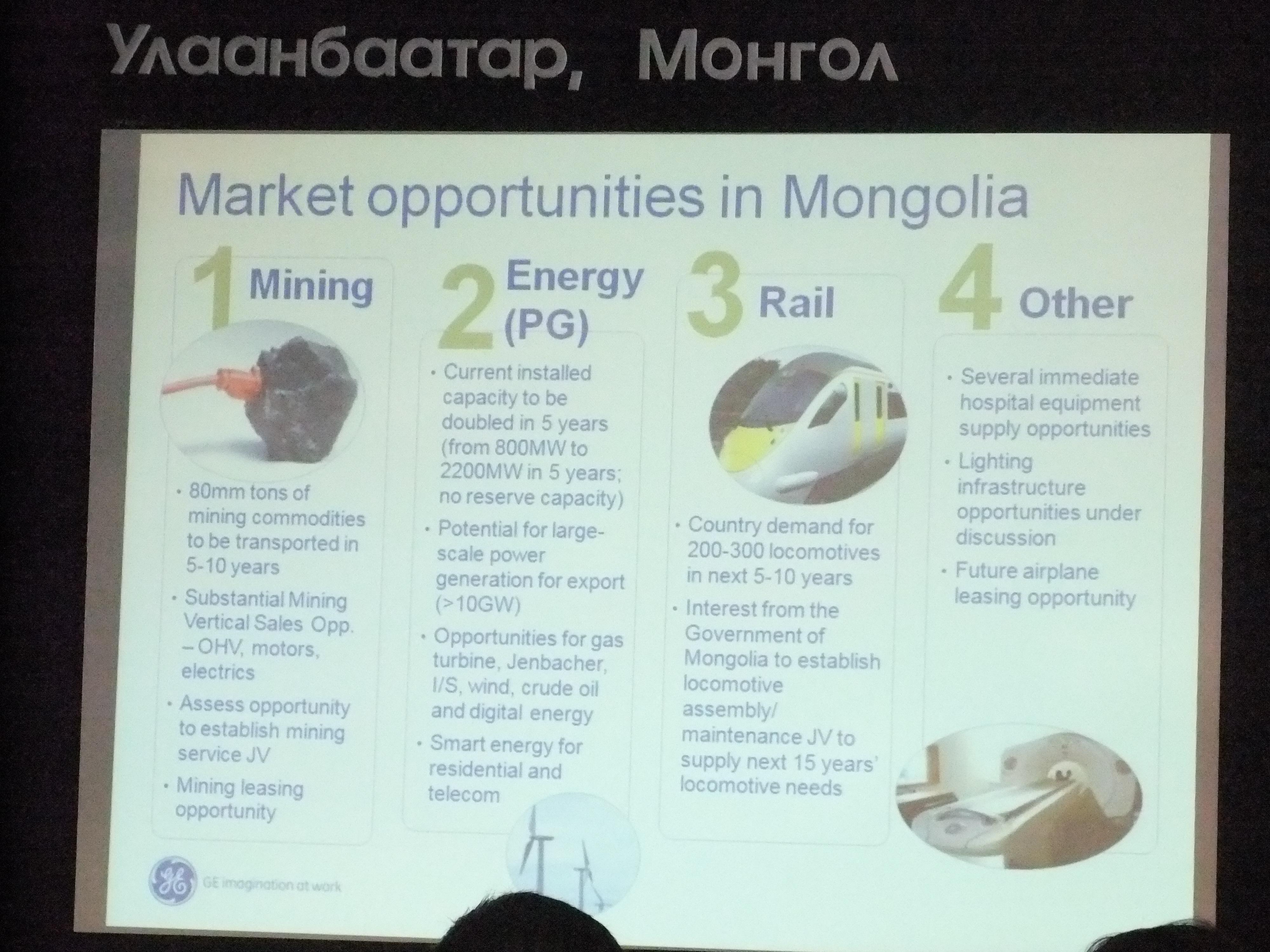 A summary of market opportunities GE sees in Mongolia.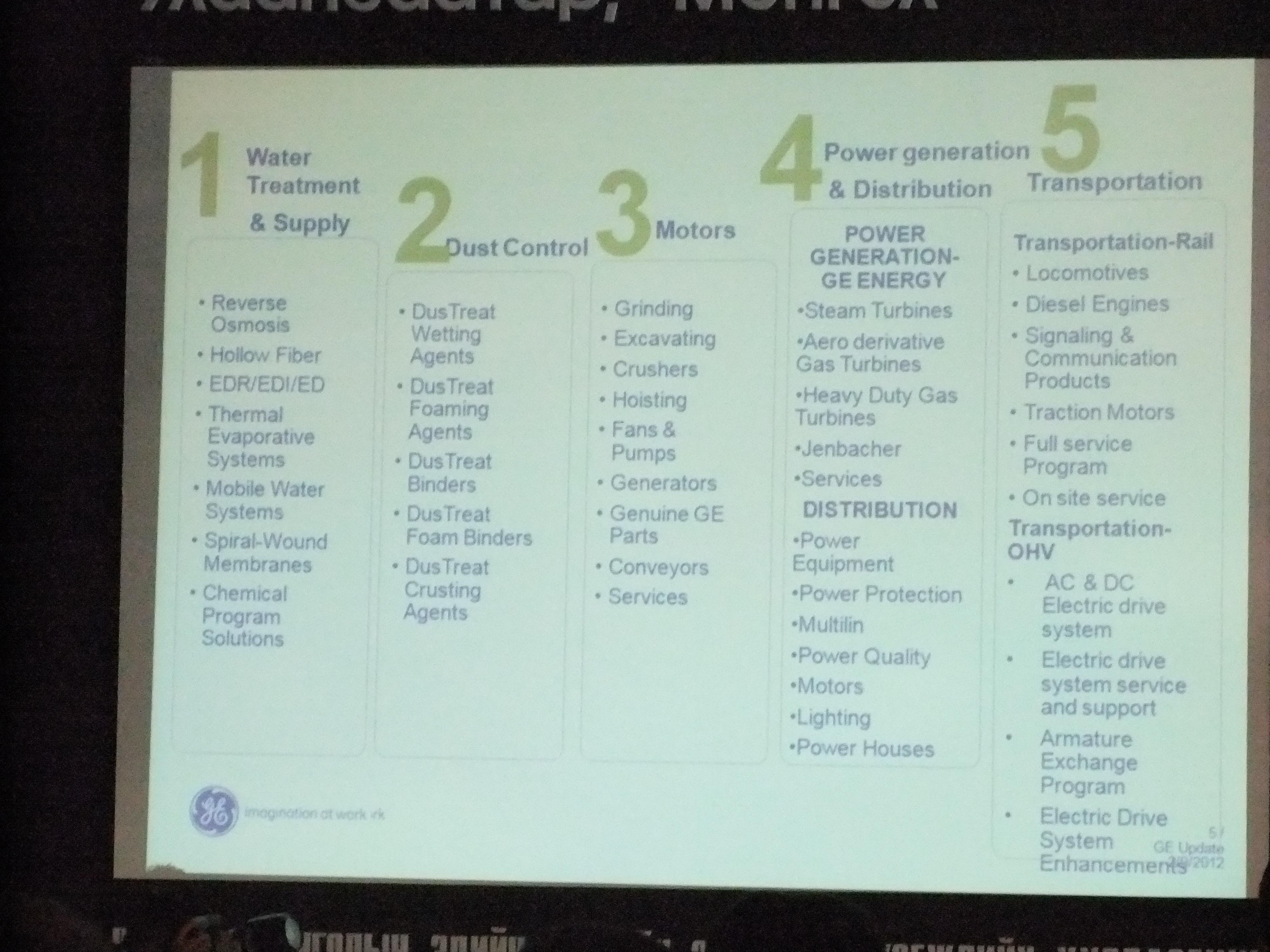 More market opportunities.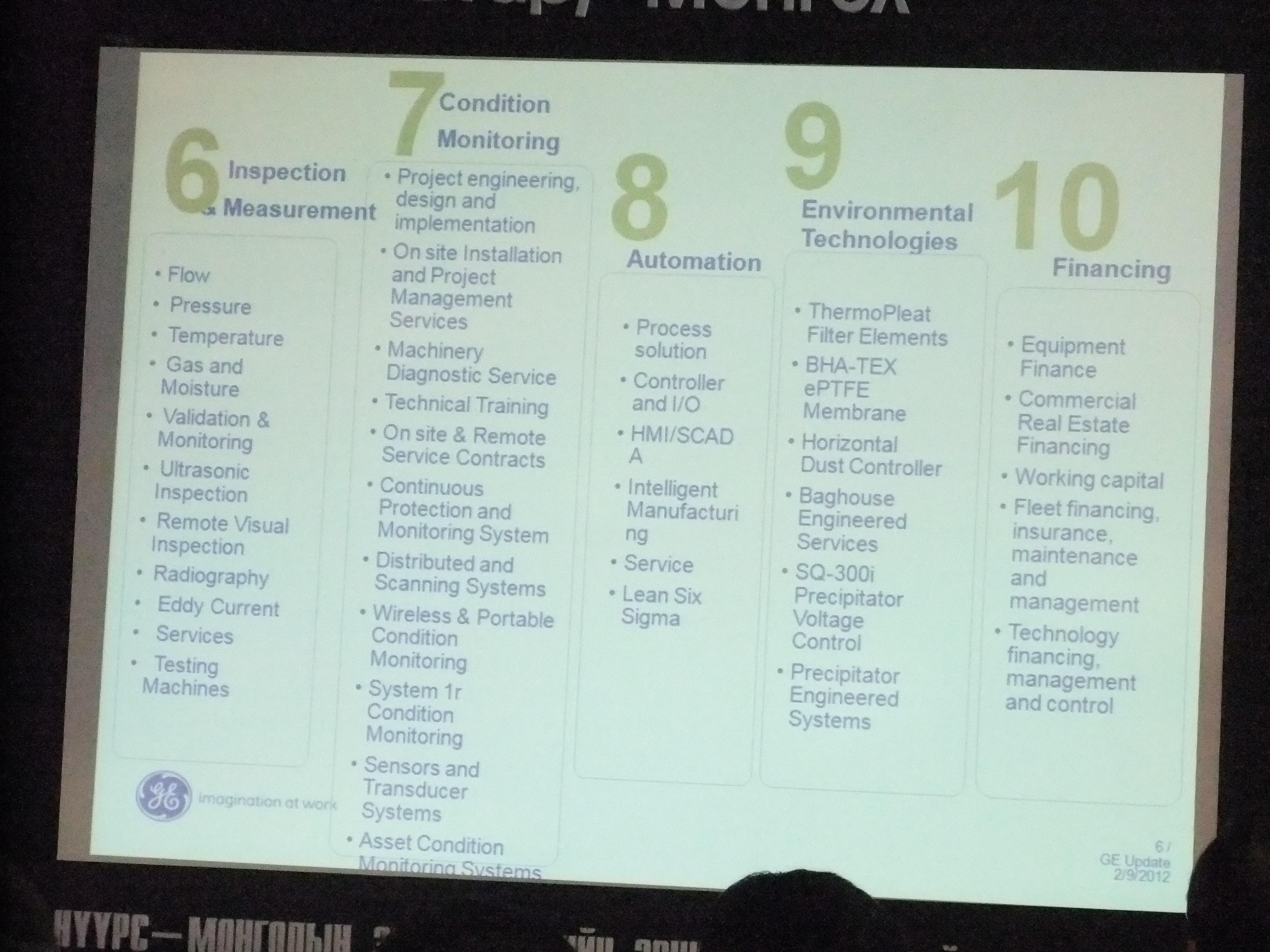 And more.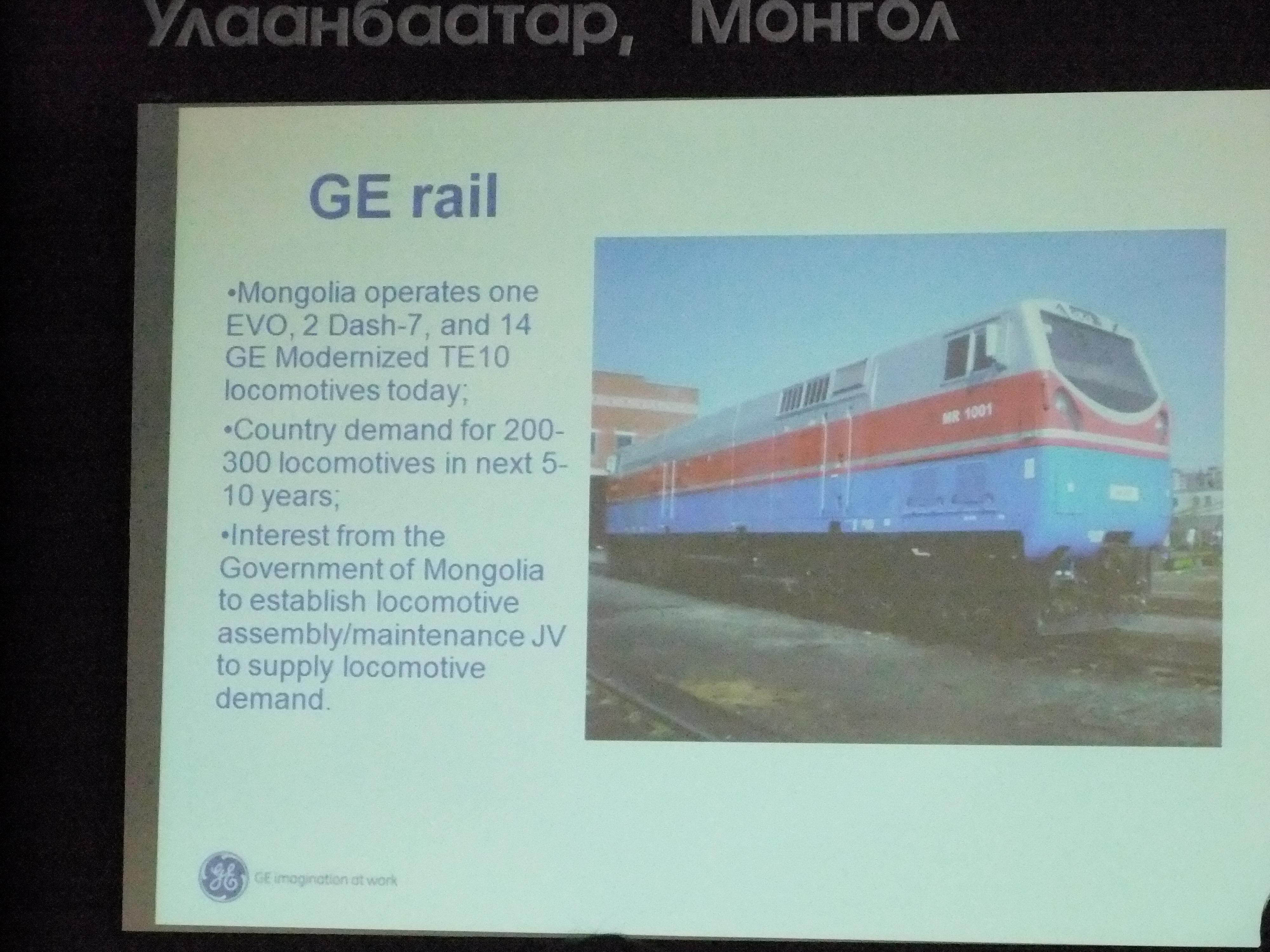 Opportunities to sell GE locomotives.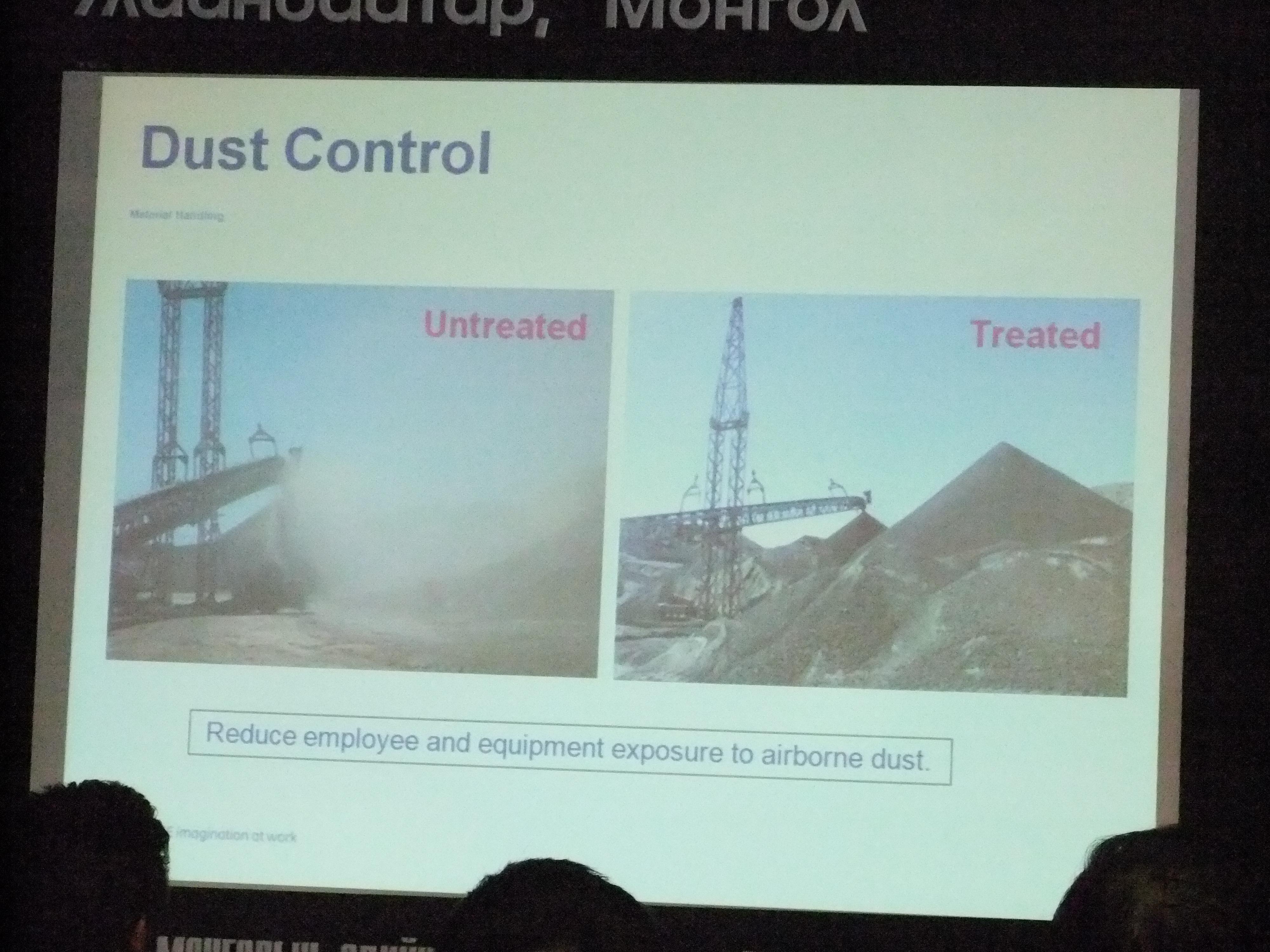 Dust control products, 1 of 2 excellent visual examples.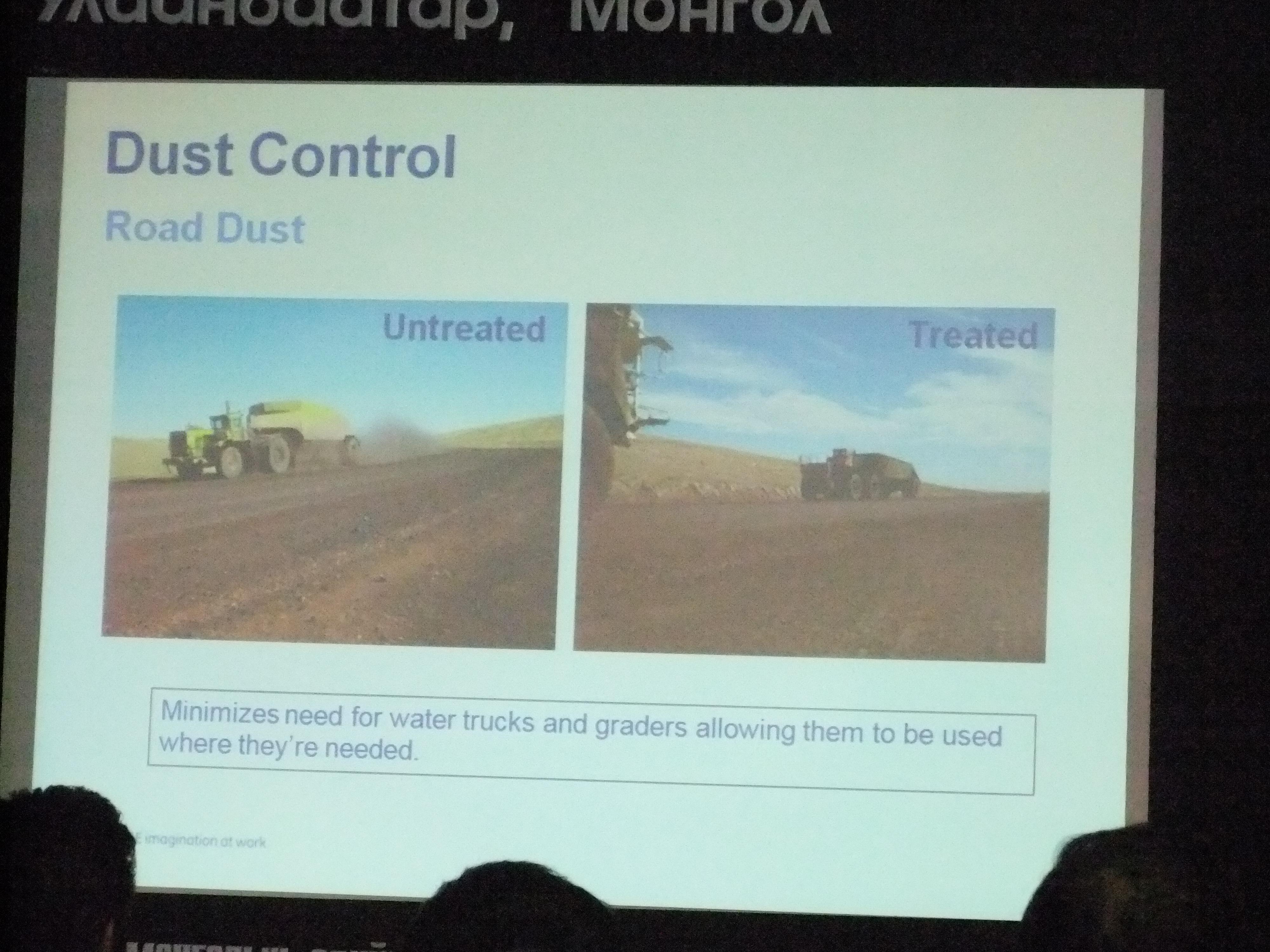 Dust control products, example 2.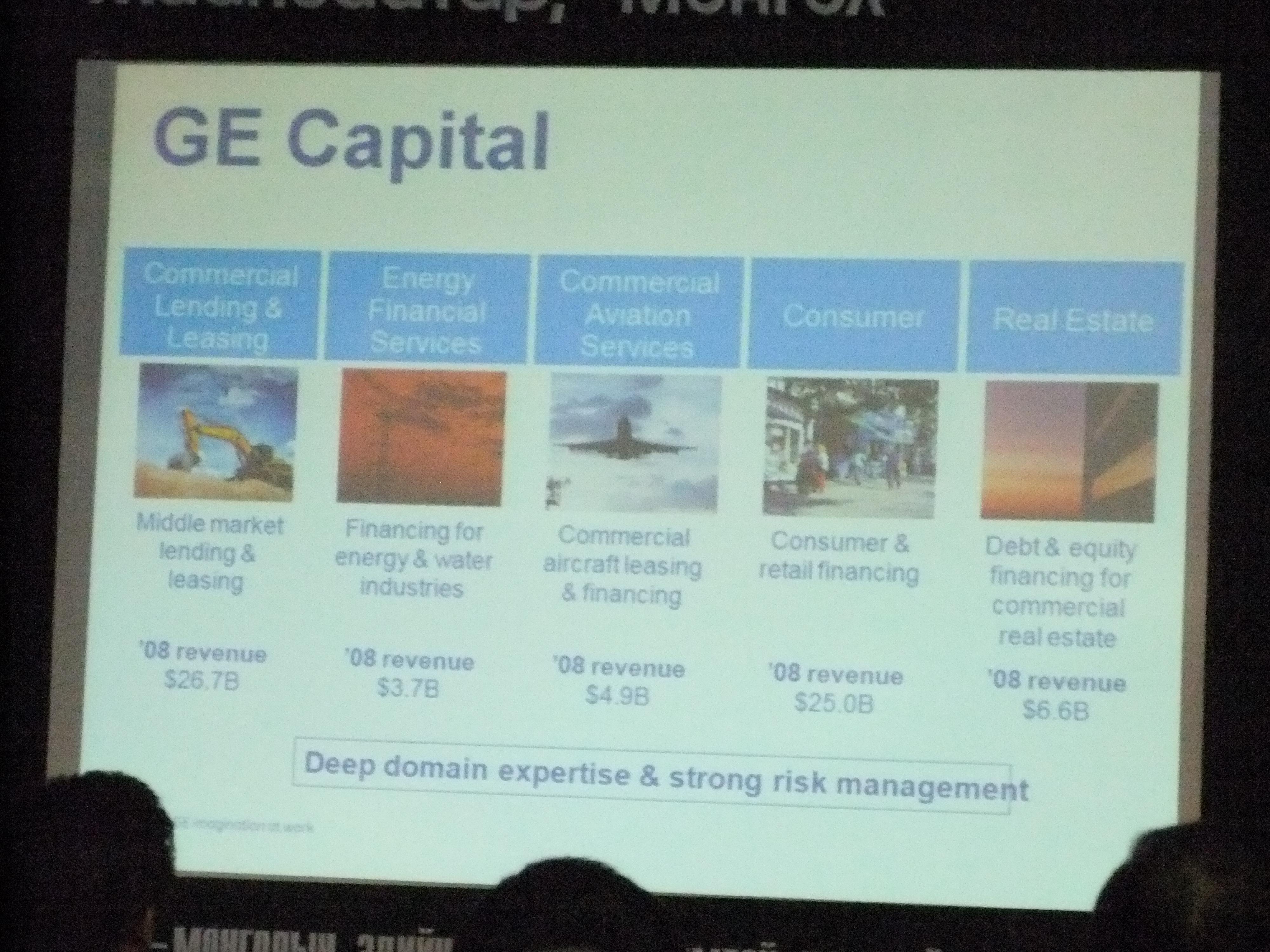 GE Capital opportunities.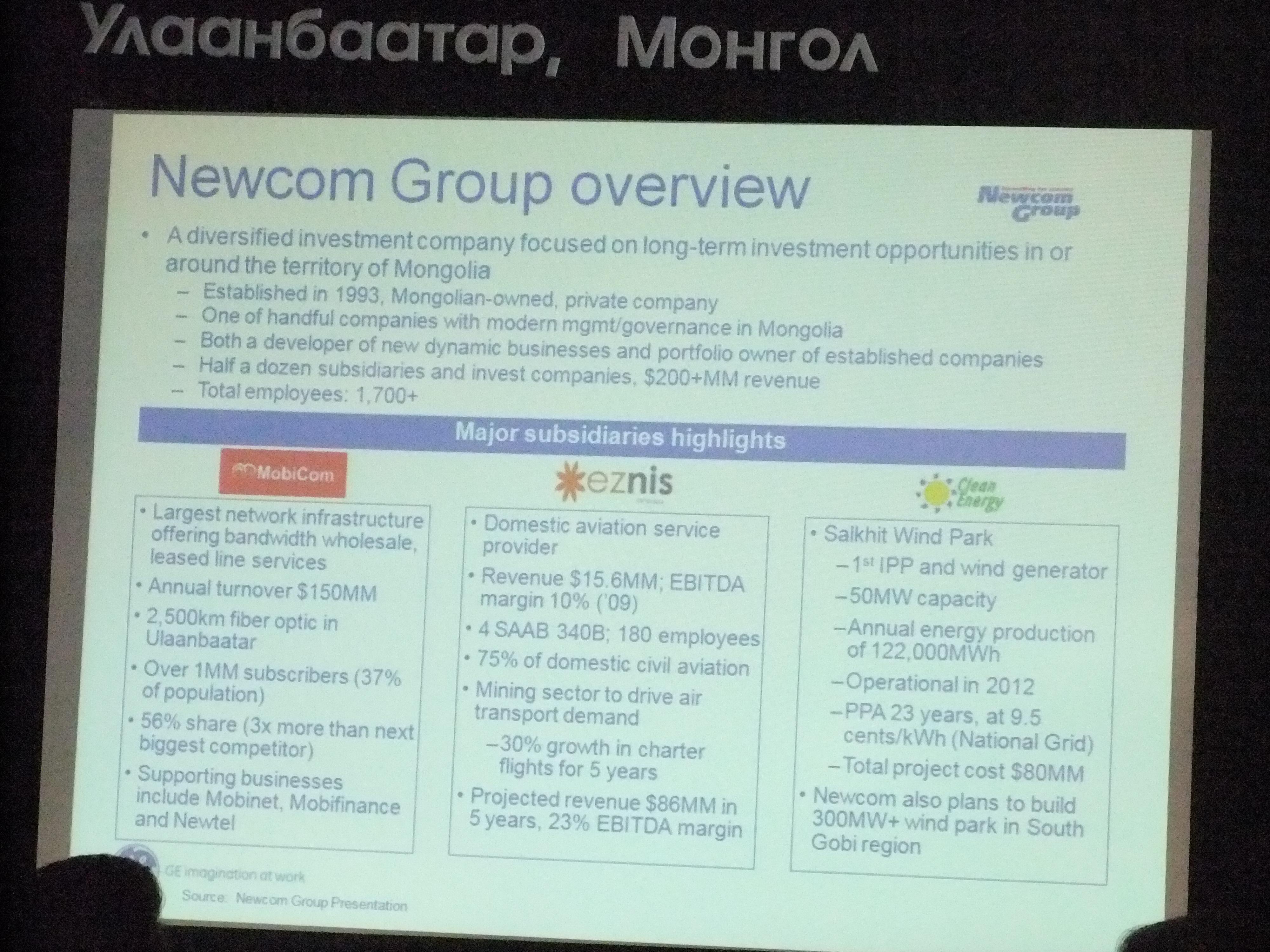 Some detail on GE's local partner Newcom.
Disclosure: I have no positions in any stocks mentioned, and no plans to initiate any positions within the next 72 hours.