There is nothing I despise more among Closed-End Funds (CEFs) than a fund trading at a premium price over its NAV that doesn't deserve it. When I look at the performance since inception of the Alpine Global Dynamic Dividend fund (NYSE:AGD), I wonder who in their right mind would ever buy this fund at a premium again when just about every other equity CEF I follow has had much better NAV performance and yet most still trade at market price discounts well below their NAVs.
AGD is one of two global equity CEFs from the Alpine funds, the Alpine Dynamic Dividend fund (NYSE:AOD) being the other, that use a dividend harvest strategy to generate income that the funds pass on to investors in the form of high distributions and yields. Essentially, a dividend harvest strategy overweights high dividend paying stocks right before they go ex-dividend and then rotates assets to overweight paired stocks before they go ex-dividend. Using this strategy, the funds are able to "harvest" multiple dividend periods resulting in a plethora of 100% investment income which the fund then passes on to investors in the form of tax-qualified distributions.
Sounds great in theory but as most investors know, when a stock goes ex-dividend, the price is reduced by the dividend amount so the position would have to first make up the dividend before it could contribute to growing the fund's NAV. If you have the luxury of time and holding onto the position, that might not be a problem, but in a flat to down market period and the need to rotate funds to the next position, this might not work so well. This has been, more or less, the problem with this strategy, particularly over the past 5 years which have seen the markets essentially churn. Yes, the strategy is great for reaping lots of investment income but at what price to the fund's NAV?
Unlike funds which use a leveraged strategy or an option-income strategy which have proven their effectiveness over the years, the dividend harvest strategy has yet to show such prowess. Since their inceptions at $20 each in 2006 and early 2007, AGD and AOD have had the worst market price and NAV performances of all the high yielding equity based CEFs I follow.
I first wrote about AGD and AOD about a year ago in January, 2011 and compared their historical performance with two other global funds which came public around the same time but with different income strategies. Needless to say, the two other funds had far outperformed AGD and AOD since their inceptions and yet it was the two other funds that traded at wide discounts to their NAVs. You can read the article here.
I even said that maybe the dividend harvest strategy was finally coming into its own but I warned investors early last year not to place too much confidence in these funds. As it turned out, 2011 wasn't any better for AGD and it ended up having the worst NAV performance of all the equity high yielding CEFs I follow, down -17.1% on a total return basis. AGD's market price was even worse, down -19.2% for 2011 and it even went to a discount, however slight and however briefly.
Fast forward to 2012 and here we go again. Only this time, it's AGD that has taken off to an 8% premium while AOD at least languishes at a -7.1% discount. Though AGD is supposed to be more global with its stock portfolio and perhaps have more upside in a global recovery, according to Alpine's fact sheet as of 12/31/2011, both funds have similar geographic weightings at around 49% US exposure, 20% UK exposure and the rest in other countries. In fact, if you overlay AGD and AOD's NAV graphs, they are virtually exactly alike over a 1-year, 2-year and 5-year time frame. Here are the two fund's 1-year NAV performances which are strikingly similar.
click to enlarge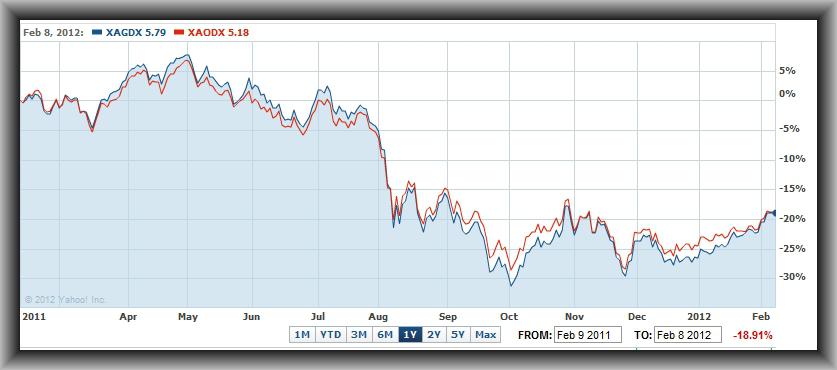 So why does AGD get to trade at such a higher premium than AOD and can quickly rise back to a 9% premium? Good question. AGD is a much smaller fund and uses a bit more leverage at 5% than AOD at 4% but that should hardly explain the valuation difference between the two since they are really in the same boat.
Here are the premium/discount graphs over the past year showing AGD at the higher end of its premium range and AOD at the lower end of its discount range. Keep in mind that AGD's 1-year NAV and market price performance has been abysmal and yet investors again are pushing up AGD's premium in hopes that maybe this time it will be different. If only other equity CEFs could be forgiven so many times!
AGD's 1-year Premium/Discount Graph


AOD's 1-year Premium/Discount Graph


Even if it is different this time, which I doubt, AOD should have as much if not more upside than AGD and not just because of its lower valuation. If Alpine announces any reorganization of their funds, and considering the disastrous performances of both AGD and AOD through the years this might be a possibility, then AOD shareholders would be in a much better position than AGD holders just by virtue of the discount to NAV. Also, AOD offers a much higher market price yield at 13.6%, which is over 200 basis points higher than AGD at 11.5%. Though both funds are overpaying their distributions and will probably have to cut again, it's not like one would cut without the other and I think AGD has a lot further to fall on a cut.
Both funds pay about a 12.5% NAV yield which is very high for any CEF but when the strategy is to reap lots of investment income with lots of Undistributed Net Investment Income (UNII) left over, something has got to give and that something has been the fund's NAV. At some point Alpine is going to have to decide whether these funds are just going to continue to amortize their NAVs or if they want to give these funds the chance to grow their NAVs. So far in 2012, both funds have been able to realize good NAV growth but as I pointed out in my January, 2011 article, how long can these funds get bailed out with strong up moves in the market which may not last. I personally hope Alpine does cut the distributions again as I would feel better about AOD's prospects in an up market if they did.
For aggressive investors, there may be an arbitrage opportunity here to go long AOD at a -7.1% discount and short AGD at an 8% premium. Though being short a monthly pay fund means you would have to pay the distribution, still you could pick up over 200 bps in net yield by being long AOD. Both funds are on the same monthly distribution cycle and will go ex-dividend on February 17th and March 21st before Alpine declares the next 3-month distribution schedule. Again, this is an idea for aggressive investors only as I believe AGD does not deserve to trade at a premium pricing over its sister fund AOD, which has similar NAV upside in a strong market.
Disclosure: I am long AOD and short AGD.