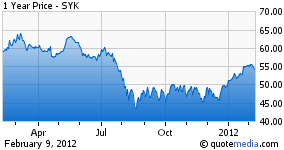 Management matters in every industry, and there's no question that Stryker (NYSE:SYK) has benefited from a long run of quality CEOs. In a fairly shocking announcement Wednesday night, Stryker announced that CEO Stephen MacMillan was resigning (effective immediately) for unspecified family reasons. Not only had MacMillan been a very good CEO for Stryker, but the company now finds itself looking for a new top kick at a time when it is still trying to work itself out of a slump in orthopedics and execute on some reasonably ambitious quality improvement and cost-cutting targets for 2012.
No Smoke, No Fire
There weren't any rumors of dissatisfaction or conflict in MacMillan's performance or strategic direction for Stryker. Talking after the announcement, Stryker representatives indicated that this issue had developed a few months ago and there was no rancor between the parties with respect to MacMilan's departure. To that end, then, this may well fall under the category of "stuff happens" and it's hard to second guess somebody choosing to prioritize their family over work (particularly if they have the financial means to do so).
Who's Next?
Stryker has named former CFO Curt Hartman as interim CEO. Hartman has had a long tenure (22 years) with Stryker, having also once lead the instruments business. Considering that history, he should be quite familiar and comfortable with the culture and strategic direction that Stryker had in place before this transition.
Time will tell if he is the permanent solution. While the company will be conducting a full search, Hartman is a candidate for the job. There aren't a lot of names that immediately leap to mind as a clearly better option, though Johnson & Johnson (NYSE:JNJ) has a deeper roster of management talent than some investors realize.
Considering The Short-Term Risks
In the short run, the biggest risk to Stryker would be a disruption in the quality improvement and cost-cutting plans that the company laid out earlier for investors. These efforts are usually broad-based and include a lot of managers and vice-presidents, so it's a little hard to believe that the CEO's resignation will have a major negative impact on the process though there will almost certainly be some turbulence and readjustment of priorities.
If there is any short-term fallout, it may be that it serves as a distraction during the current American Academy of Orthopedic Surgeons meeting in San Francisco. This meeting often serves as an opportunity for companies to show off and preen, but there may be a fair bit more interest in gossip and speculation around the Stryker booth.
Still, this wasn't going to be a huge meeting for Stryker this year anyway. Stryker was probably looking to stoke some momentum in its hip franchise, but there wasn't a lot in terms of new products. By comparison, Zimmer (ZMH) was displaying some new smart tools and MAKO Surgical (NASDAQ:MAKO) was talking up its opportunities in hip arthroplasty, but Stryker didn't have a lot going
What About The Long-Term?
I have to question the sell-side analysts who claim this transition doesn't change the long-term picture at Stryker. After all, if MacMillan's performance as CEO was one of the positives for the company, his departure has to have some impact. Remember, he had done a good job of not only leading Stryker's legacy businesses, but also pursuing and integrating the acquisition of Boston Scientific's (NYSE:BSX) neurovascular business.
What's more, the orthopedics business is changing. Johnson & Johnson will be closing its deal for Synthes and becoming a bigger force in spine and trauma. Medtronic (NYSE:MDT) has gotten more aggressive in defending its spine franchise, and Zimmer has been on the move lately in hips.
Although I don't believe Stryker was going to be contemplating any large deals in 2012, this transition likely completely tables that idea. Longer term, the biggest risk in my mind is that the company goes with an external candidate who changes the culture and operating philosophy at Stryker. That's an admittedly subjective and intangible concept, but I still think it matters.
The Bottom Line
Even with the risks and uncertainties created by this event, I'd be a buyer of Stryker. The board at Stryker is not inept nor craven and I believe they will hire the right person for the job. What's more, though no business can run itself, the CEO position at Stryker is an attractive job and I believe the company will have good candidates to consider. Although this move arguably increases the risks and uncertainties with this name, I still maintain that it is a good long-term holding within the med-tech sector.
Disclosure: I have no positions in any stocks mentioned, and no plans to initiate any positions within the next 72 hours.