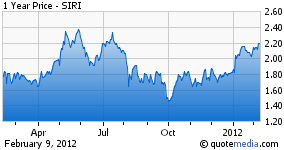 A lot has been said this week about Sirius XM (NASDAQ:SIRI) leading into today's earnings announcement. Considering all of the expectations and the confidence of its shareholders it reminds me of the story "Casey at the bat." I think it's appropriate in this case to keep up with the baseball theme that unfolds during each of the past several earnings calls by Sirius. If you recall the story of Casey, it ended with the mighty slugger striking out. Though I am not yet to proclaim this to have been the result of Sirius' Q4 report, I think for now, let's just say it's strike one for the company - on a swing and a miss.
Among the discussions taking place this week, here are a few points that were made in an article on Monday prior to the announcement:
My concern for the upcoming announcement on Thursday is that the company may not even take the bat off its shoulders and instead takes a free pass to first base. But again, this is far from striking out. My theory is this, the company has a long history of under-promising so it can over-deliver. Clearly this worked well in 2011, but I just don't think that this M.O. will be as effective going forward.
I was lauded recently for making this suggestion but I continue to think that if Sirius wants to become the market darling that many of its investors think it should be, it needs to start giving Wall Street what it wants. Until it shows that it can do that on a regular basis, hitting majestic home runs in "small stadiums" will be perceived on Wall Street as … well … hitting majestic home runs is small stadiums.
In closing, consensus estimate are at 1.5 million net subscribers for 2012 and coming from someone that appreciates both the good and the bad, I am eager to see if the company will low-ball guidance as has been the norm? With several of the auto manufactures - namely Ford (NYSE:F) having reported stellar earnings as well as positive outlooks it will be hard to this time to receive from Sirius guidance that does not align with projected auto sales.
For the stock, I think that any projection at 1.5 or below will likely send the shares lower. But any other nuggets regarding stock buyback, dividends or unknown projects may not only stabilize it, but send it higher. As I've said before, I remain bullish on the company long-term and feel that its prospect for this year is outstanding. But for a stock that rarely trades on fundamentals, I'm deciding to take my gains now - even at the risk of leaving a lot on the table.
Well, I'm not yet to stick my chest out. First and foremost that is not my style and secondly, I don't think the numbers were all that bad. My major concern (as noted several times) was the unknown - or how the market would receive the announcement, one that was very uninspiring. The company reported a quarterly profit in line with expectations, as net subscriber additions jumped 65 percent, but revenue came in slightly below Street estimates.
Sirius announced that Q4 net subscriber additions rose to 542,966 but this news was over one month old and baked into the current stock price. Included in the numbers were revenues of $784 million which were short of estimates of $785.5. Ti also recorded net income of $71 million, or 1 cent a share, compared with a net loss of $81 million, or 2 cents a share, a year ago.
Summary
The disappointing numbers were one thing, but the real disappointment was guidance where the company only projects 1.3 million net subscriber additions for 2012 versus consensus estimates of 1.5 million - keeping with its conservative M.O. of under-projecting to over deliver. But investors have to realize that as much credit as the company is given for it performance, (although sometimes it's justified) hitting major league home runs from in minor league stadiums very seldom gets by Wall Street. The stock may very well dismiss this news and eventually trend up, but as I've said before, investors need understand that there is a reason why Sirius continues to trade where it does and why excuses continues to be made for it.
Disclosure: I have no positions in any stocks mentioned, but may initiate a long position in SIRI over the next 72 hours. Author may also initiate short position at any time