By David Urani
On February 6, Standard Pacific (SPF) reported its fiscal fourth quarter 2011 earnings results. The company recorded revenue of $293.2 million, representing an increase of 38.0% year over year. The result well exceeded the $213.6 million consensus estimate. Home closings were up 26% year over year, while the average price per home sold increased by 10% to $374,000.
On the bottom line, Standard Pacific reported net income of $8.7 million, or $0.04 per share. The result exceeded the $0.01 per share consensus estimate. Adjusted gross margin was down to 19.4% from 22.2% year over year while SG&A expenses came down 290 basis points as a percentage of revenue, largely as a result of the increase in revenue.

Sales Trends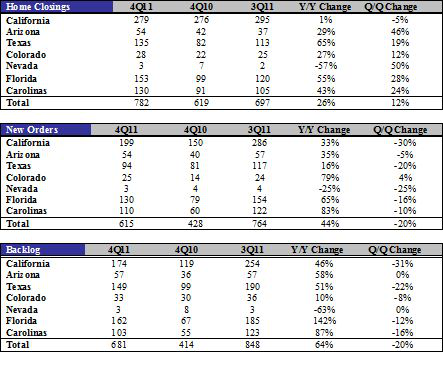 Economic Trends
New home sales in December were down 2.2% at 307k annually, according to the Census Bureau, and were equal to the October reading. We attribute the decline largely to volatility in the data in the South, which had increased by 14.8% in November and fell back 10.1% in December. At the same time, existing home sales were up 5.0% month to month to the highest level since January at 4.6 million annually. Seasonally adjusted home prices as measured by the Case-Shiller index were down 0.7% month to month in November, and represented the lowest level of the cycle indicating prices are as weak as ever.
WSS Opinion and Conclusion
The top line results for Standard Pacific were solid, with a 26% boost in home closings and higher overall selling prices raising revenue by 38%. That result was driven by improvements in overall housing demand as well as a 19% increase in outstanding community count as the company makes an active effort to expand. Beyond that, sales continue to look optimistic for the quarters ahead, with new orders and backlog up 44% and 64%, respectively. In addition, although adjusted gross margin was down from a year ago it improved sequentially by 60 basis points, consistent with other gross margin observations in the industry as home values seemingly firm up.
On the balance sheet, Standard pacific continues to look stable. The company used $12 million cash during the quarter, but that included approximately $23 million of inventory building. It currently holds $406.8 million of cash and equivalents and $1.3 billion of debt. The company seems to be purposely maintaining its credit balance at the current level to finance expansion.
In our November report on the company, we noted that it had strong growth potential in the event of a housing rebound. Now that we have seen some signs of a housing rebound, Standard Pacific's fourth quarter was reflective of our presumption. It is one of the smaller public home builders, but relative to its peers it has a very high sales growth rate and gross margin. Given its latest new order trends, that performance looks set to continue.