Last August I presented a detailed overview of Vical Incorporated's (NASDAQ:VICL) herpes simplex virus type 2 or HSV-2 vaccine. Of the two serotypes identified, HSV-1 and HSV-2, the former is more common in the United States, but the latter is considered more serious. HSV-2 is a sexually transmitted virus which is the leading cause of genital herpes. Approximately 65% of the United States population is seropositive for HSV-1 by the fourth decade of life. According to Medscape, approximately 25% of the United States population is seropositive for HSV-2 by the fourth decade of life, with women being infected more frequently than men. The indirect and direct costs of incident HSV genital infection in the United States are presently approximately $1.8 billion and expected to be greater than $2.7 billion by the year 2015.
Currently, there is no cure for genital herpes. It is a recurrent, lifelong viral infection. But under a grant from the National Institute of Allergy and Infectious Diseases Division of the National Institutes of Health (NIH), the effort mounted by Vical is directed at developing a plasmid DNA-based vaccine to inhibit recurring lesions in patients latently infected with HSV-2. And while still in the preclinical stage, results have shown a reproducible statistically significant reduction in viral lesion occurrence in guinea pigs latently infected with HSV-2.
On yesterday's conference call, in fact, Mr. Vijay Samant, President and Chief Executive Officer, announced that "our Vaxfectin formulated vaccines against HSV-2 provides complete (emphasis added) protection in guinea pigs against both primary and recurrent HSV-2 disease. The vaccines also significantly reduced genital lesion recurrence and viral shedding as well as latent infection in the central nervous system."
He went on to add: "These data were among the best that were seen in a pre-clinical HSV-2 vaccine model. We believe the ability of our vaccine platform technology to induce both antibody and T-cell response is key especially in a therapeutic setting."
Mr. Samant then announced that the company now was sufficiently confident as to proceed toward human testing ... testing in an area where other vaccine approaches had failed. Thus, Vical will soon advance its therapeutic HSV-2 vaccine into the clinic, which is one of the reasons why the corporation recently completed a $50 million follow-on offering that generated net proceeds of $46.6 million. (An additional $2 million in net proceeds was added as a result of underwriters' exercise of a portion of the overallotment.)
Work in the clinic soon will begin with a small Phase 1/2 proof-of-concept study, and, in fact, the company is preparing now to conduct safety/toxicology and biodistribution studies needed to support an investigational new drug, or IND, application. The trial should proceed quickly, according to Mr. Samant, given the large number of people infected with the disease. "The trial would enroll HSV-2 positive individuals with a pattern of recurring genital lesions. We would document the timing and severity of outbreaks and the amount of viral shedding over a defined period of time before vaccination, and then again over a defined period of time after the series of vaccinations was completed. Subjects would thereby serve as their own controls, and we would be able to compare results directly between vaccine and placebo groups."
The Phase 1/2 trial, if successful, would be followed with a large safety and efficacy study.
The company estimates that a therapeutic HSV-2 vaccine could generate as much as a billion dollars in annual sales at its peak.
Technical Analysis
As seen in the daily chart below (courtesy StockCharts.com), VICL dipped on the news that release of Phase 3 data from the company's lead product in the clinic, Allovectin, would be delayed until late 2012. The delay, according to Mr. Samant, resulted from the fact that subjects in the trial continue to live longer than had been assumed on the basis of both the company's Phase II results and historical chemotherapy trial results. This was considered to be good news, but in a market where money seeks opportunity, some traders obviously were ready to move on. That said, the stock still finished down only 3% in an otherwise lackluster market, with the Daily MACD data still positive.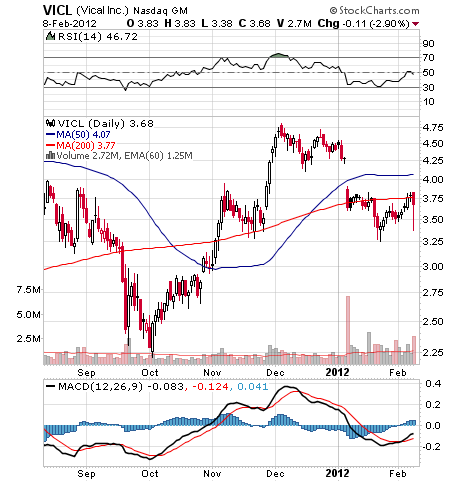 The weekly data suggest that on any downdraft, support should be found just below $3.00. Here, the MACD line is negative.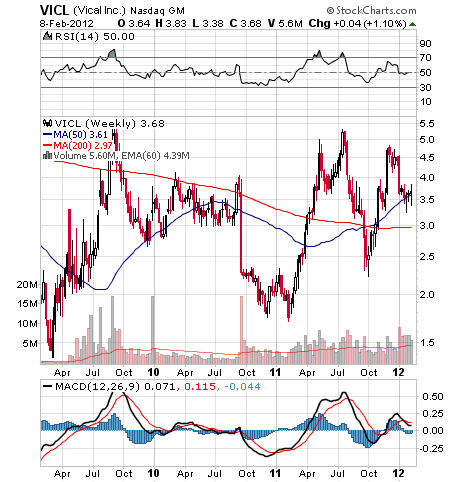 Disclosure: I am long VICL.
Additional disclosure: I am long VICL and will not alter my position within 72 hours of the time of publication of this article. Material presented here is for informational purposes only. Consult your financial adviser before making investment decisions. Investing includes risks, including loss of principal.