(Author's Note: This is the fourth in a series of articles for Seeking Alpha that reviews Sabrient Systems annual "Baker's Dozen," a list of 13 top-ranked stocks that was presented during a live webcast on Jan. 5th, 2012. To date we've reviewed STX, ASCA, URI and KRO.)
The Baker's Dozen continues to prove that it's composed of an array of robust ingredients, continuing to outperform the benchmark S&P 500 Index (SPX). As of Wednesday's market close, the Baker's Dozen (BD) was up 19.2 %, compared with 7.7% for the SPY, which tracks the SPX.
So what are the ingredients that make the Baker's Dozen such a treat?
Well, you won't find that "secret recipe" revealed here, as the particulars are a proprietary blend of Sabrient, a Santa Barbara-based boutique research firm.
What can be shared, however, are some elements of the methodology that went into the selection process.
The final 13 stocks that made the list were primarily chosen by Sabrient's founder and Chief Market Strategist David Brown, and were derived from the firm's quantitative models, with an assist from Gradient, the firm's qualitative division. The stocks were primarily selected from a ranking of three key elements:
Sabrient Outlook Score. The Outlook score is a proprietary Sabrient rank that measures current and projected valuation and the forward earnings outlook of a consensus of Wall Street analysts. It can be considered largely a GARP rank (Growth at a Reasonable Price), and also rewards conservative accounting practices.
Sabrient Value Score. The Value score measures the relationship between a company's stock price and its intrinsic value, as indicated by earnings and balance sheet attributes, with an emphasis on earnings. Also considered are cash flow measures and fundamental valuation ratios. A high value score indicates that the stock may be undervalued, while a low value score indicates it is overvalued.
Sabrient Growth Score. The Growth Score reflects a company's historical and projected earnings growth, revenue and sales growth, projected cash flow, analyst activity, and changes in earnings estimates, each over various time periods. The higher the score, the better the combined performance of these key measures.
The Sabrient 1000 GARP
Below you'll find a comparison of the Baker's Dozen stock's earnings growth rate with the Sabrient 1000 GARP. This is an internal "index" of 1000 top-ranked stocks that have the highest "growth at a reasonable price." The index is updated weekly by ranking 3,000 stocks based on, among other things, their annualized 5-year earnings growth rate, P/E ratio, and projected P/E ratio (PPE). The top 1000 of those stocks become the Sabrient 1000 GARP.
At the end of the first week of January 2012, the Sabrient 1000 GARP had:
An annualized 5-rr. EPS growth rate of 10.2%.
A current P/E ratio of 15.1.
A projected P/E ratio of 11.45
Here are three more of the stocks that made the final cut of the Baker's Dozen cake:
-Coming in at #10 is DXP Enterprises, Inc. (NASDAQ:DXPE), which is engaged in the business of distributing maintenance, repair and operating products, equipment and service to industrial customers. Its product categories include bearings and power transmission, fluid handling and power, and safety and industrial supplies.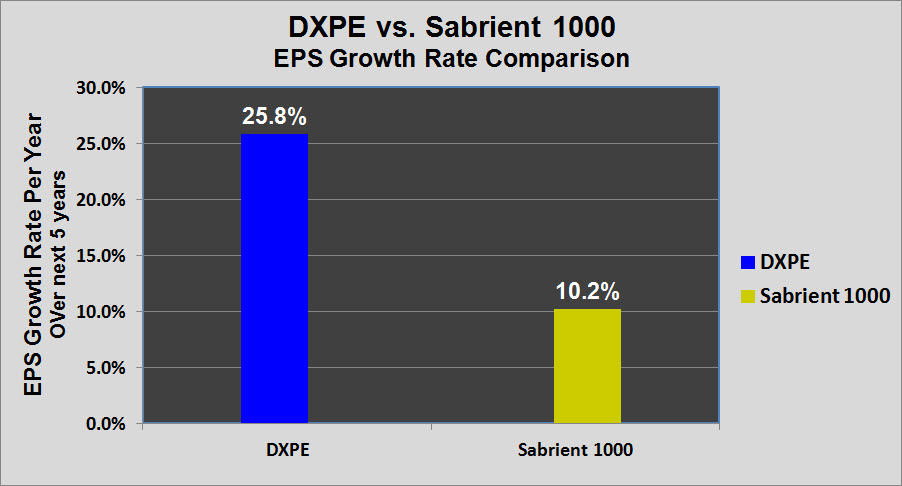 DXPE is expected to grow earnings by 50% this year and over 25% per year during the next five years. It carries a Sabrient Buy rating with an Outlook score of 76 and a Growth score of 71. Its price has been on a tear since October, which is why its projected P/E of 14.97 is the highest among the Baker's Dozen stocks. Nevertheless, DXPE remains extremely well positioned to outperform going forward.
-At #9 is AGCO Corporation (NYSE:AGCO), is a manufacturer and distributor of agricultural equipment and related replacement parts worldwide. The equipment includes tractors, combines, self-propelled sprayers, hay tools, forage equipment and implements, and a line of diesel engines. The products are marketed under a number of brands, including Challenger, Fendt, Massey Ferguson and Valtra.
The company operates in North America, South America, Europe, Africa, the Middle East, Asia, Australia and New Zealand. It appears to be in a strong acquisition mode, acquiring Sparex Holding Ltd in December 2010. On January 2011, it acquired 50% of AGCO-Amity JV, LLC, and in December 2011, it acquired GSI Holdings Corp, a leading global manufacturer in grain storage and production.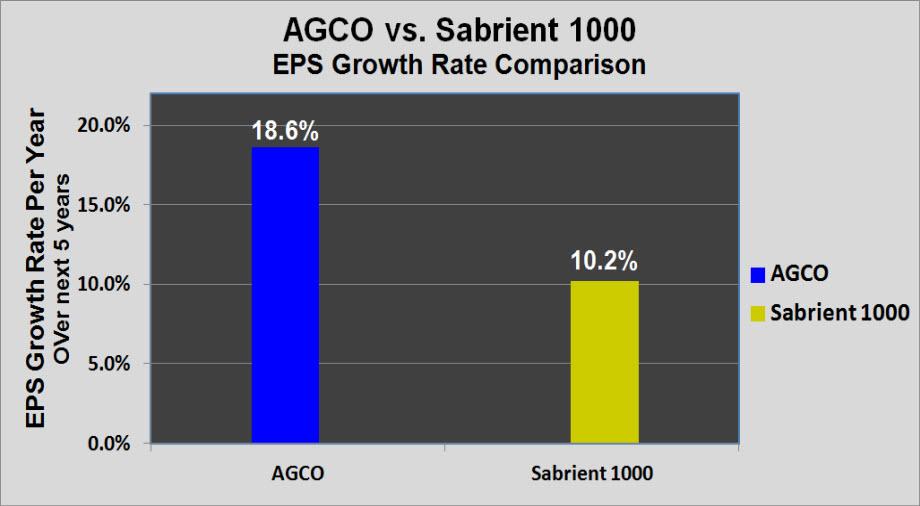 AGCO is growing 50% faster than larger competitor John Deere (NYSE:DE), and yet it trades at a lower valuation. It is rated Buy with an Outlook score of 98, a Value score of 98, and a Growth score of 90. It has $455 million in cash, $8/share in operating cash flow and $3/share in free cash flow. Earnings are expected to grow by 88% this year and nearly 19%/year for the next five years.
-Finally, topping the trio at #8 is Dana Holding Company (NYSE:DAN). Dan is a world leader in the supply of driveline products (axles, drive shafts, and transmissions), power technologies (sealing and thermal-management products), and genuine service parts for light- and heavy-duty vehicle manufacturers. The company's customer base includes nearly every major vehicle manufacturer in the global automotive, commercial vehicle, and off-highway markets.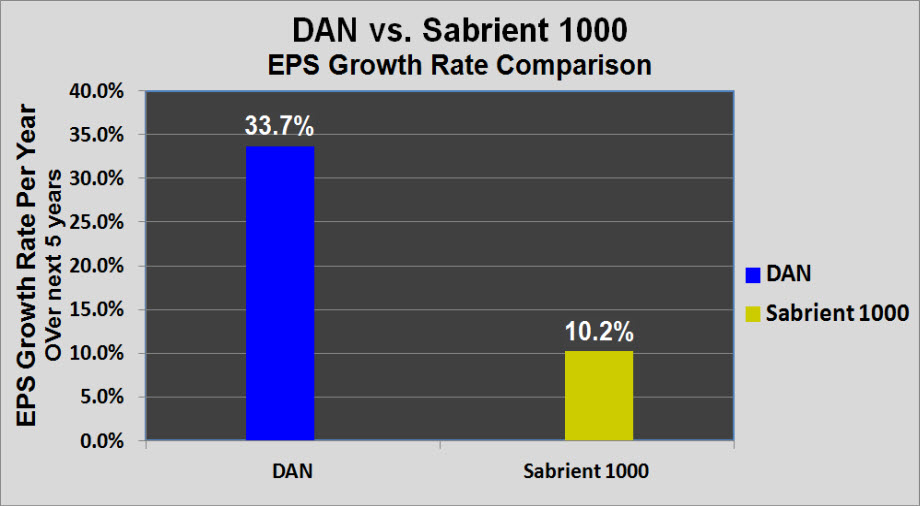 Dana has $900 million in cash, which is about equal to its total debt. It's rated a Buy by Sabrient, with an Outlook score of 95, a Value score of 93, and a Growth score of 80. The firm boasts strong free cash flow, and it is expected to grow earnings by 170% this year and average over 33% per year for the next five years (three times the average of the Sabrient 1000 GARP), and yet it currently trades at a nice, low projected P/E of about 6.0. With about $7 billion in annual revenue, any margin expansion could significantly increase earnings.
Hope this glimpse into the recipe book helped shed a little light on the finished product. Remember to keep on the lookout for the next serving of the Baker's Dozen.
Here is a complete list of the Baker's Dozen.
Sabrient Baker's Dozen for 2012

#

NAME

TICKER

SECTOR: INDUSTRY

1

Seagate Technology

Technology: Data Storage Devices

2

Western Refining

Energy: Oil Refining & Marketing

3

Ocwen Financial Corp

Financials: Banking Services & Mortgages

4

Cloud Peak Energy

Energy: Coal

5

Watson Pharmaceuticals

WPI

Health Care: Biotech Pharmaceuticals

6

United Therapeutics Corp

Health Care: Biotech Pharmaceuticals

7

Globe Specialty Metals

Basic Materials: Mineral Resources

8

Dana Holding Corp

Consumer Cyclicals: Auto & Truck Parts

9

AGCO Corp

Industrials: Equipment Manufacturing

10

DXP Enterprises

Industrials: Equipment Service & Distribution

11

Kronos Worldwide

Basic Materials: Chemical Manufacturing

12

United Rentals

Industrials: Equipment Leasing

13

Ameristar Casinos

Consumer Cyclicals: Casinos & Gaming
Disclosure: I have no positions in any stocks mentioned, and no plans to initiate any positions within the next 72 hours.