Today, iRobot (NASDAQ:IRBT) announced its quarterly earnings in the after hours, and the stock price plunged by 21% to $30.48 after the company gave a lower than expected guidance for 2012. This gave me -and many others- a chance to buy shares of a company I had been wanting to buy for a while. Let's look at iRobot to see why it's a buy at the moment.
The Good
The company beat the earnings estimates for eight quarters in a row. In the last quarter, it earned 38 cents per share compared with earnings estimates of 30 cents per share.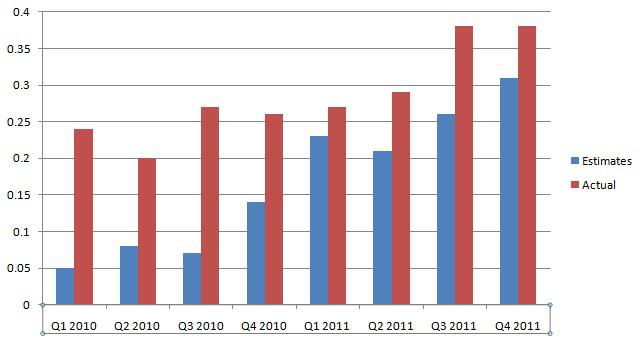 Another piece of good news was the company's revenue hitting an all-time high of $130.8 million. This was an increase of 15% compared with the same period a year ago when the company's revenue was $114 million.
The company's full-year earning was $1.44 per share, up 45% from 2010's 98 cents per share. The company's international earnings increased by 21% and its government earnings increased by 9% year to year.
The company's total cash increased to $166 million. In addition, the company has $17.8 million of short-term investments and $43 million of net accounts receivables. In addition, the company has no debt. This means the company has net cash and short-term investments of $6.80 per share. When this number is excluded, the company has a P/E value of 16 due to today's 21% decrease in its stock price. This is much better than the P/E value the company had yesterday, which is 28. Additionally, at 16 the company is enjoying the lowest P/E ratio of its history.
The Bad
In 2012, the company expects to do well in the consumer side, but not so well in the government side due to budget cuts in the government. The company expects to have revenue of $465 - $485 million and earnings of $0.75 - $0.95 per share in 2012. This is much lower than the company's earnings this year (i.e., $1.44).
Why Not To Worry
It's important to keep in mind that the IRobot almost always beats estimates. For example, in the beginning of 2011, the company announced that it would earn between $0.90 to $1.00 in 2011 but it earned $1.44 per share, which is much better than expected. IRobot tends to be very conservative with its earnings estimates.
I believe that IRobot is on discount at the moment. The company has a gross margin of 40.45% compared with an industry average of 26.05%, an operating margin of 10.21% compared with an industry average of 8.85%, and net profit margin of 8.15% compared with an industry average of 3.19%.
I believe that IRobot is currently on sale and this is the perfect time for anyone who has been waiting for a chance to get in this stock.
Disclosure: I am long IRBT.