I posted an article back in August about the attractiveness of buying low-beta stocks with solid dividends. The stocks profiled -- Merck (NYSE:MRK), Scana Corp (NYSE:SCG) and Lorillard (NYSE:LO) -- all have had nice runs since then. I think Scana is no longer a buy, as it has run up 20% since the article, and seems fairly valued. Merck still has some value but is not as attractive as it was at $31 back in August. Lorillard has gained over 12% since the article and just came out with a stellar earnings report. It still looks like a value at these levels and if anything, is gaining momentum.
Key highlights from Lorillard's earnings report
The company is raising its dividend 19% to $1.55 a share
Earnings increased 26% year over year and sales rose 9% over the same time span
Lorillard increased its domestic retail market share 0.8% to 14%
The company repurchased over $350mm in shares in the recently completed fourth quarter.
"Lorillard, Inc., through its subsidiaries, engages in the manufacture and sale of cigarettes in the United States. The company offers 43 different product offerings under the Newport, Kent, True, Maverick, and Old Gold brand names." (Business Description from Yahoo Finance)
4 reasons LO is still a good buy at $113 a share:
The stock now yields 5.5% and has a very low beta (0.40).
Insiders are hanging tight to their shares, and there has been some small net insider buying over the last six months.
The stock is above its 200 day moving average and should break out on these earnings numbers (see chart):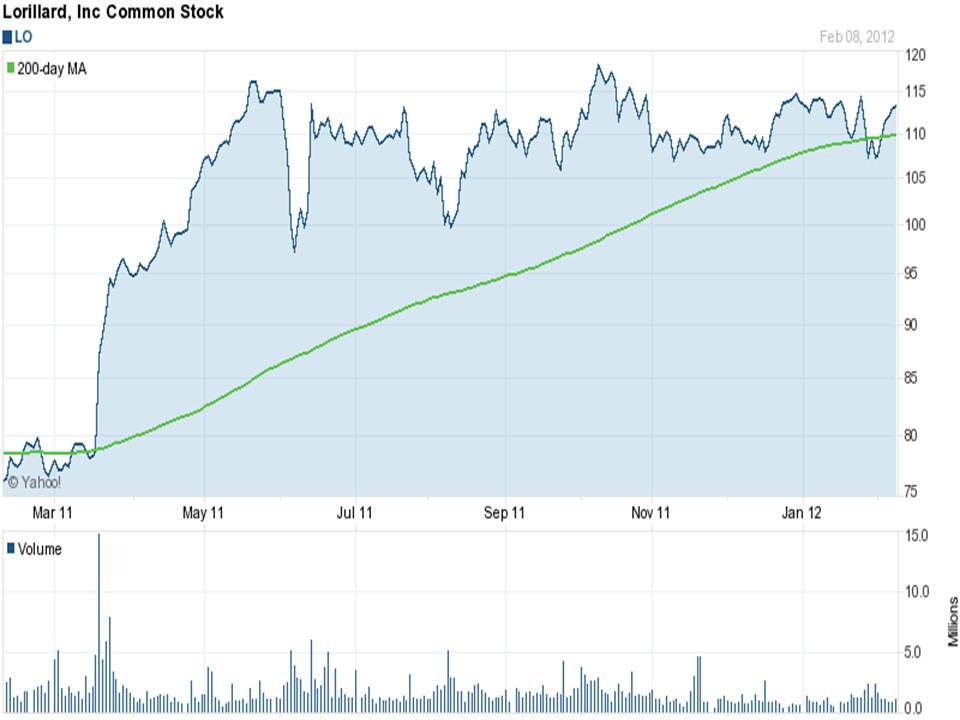 The stock has a forward PE of around 13 and a five year projected PEG of under 1.5 (1.46). These are reasonable numbers given Lorillard's 5.5% yield, market share gains and focus on buying back shares and raising the dividend.
Disclosure: I am long LO, MRK.