Hartford Financial (NYSE:HIG) reported moderately encouraging earnings for the 4th quarter, and provided guidance that suggests a higher share price is in order. But the highlight of the earnings conference call was provided by John Paulson, who made a point of offering management his advice - to spin off the P&C as a way of creating shareholder value.
Paulson cited a report by Goldman Sachs (NYSE:GS) as an authority in support of his point of view. Now the relationship between Goldman Sachs and Paulson can only be described as cozy, since GS colluded with Paulson in the creation of Abacus 2007-AC1, an offense for which the firm ultimately paid a little fine of $550 million.
Apparently Paulson and perhaps others had been raising the topic with management, since a slide on the topic was included in the presentation: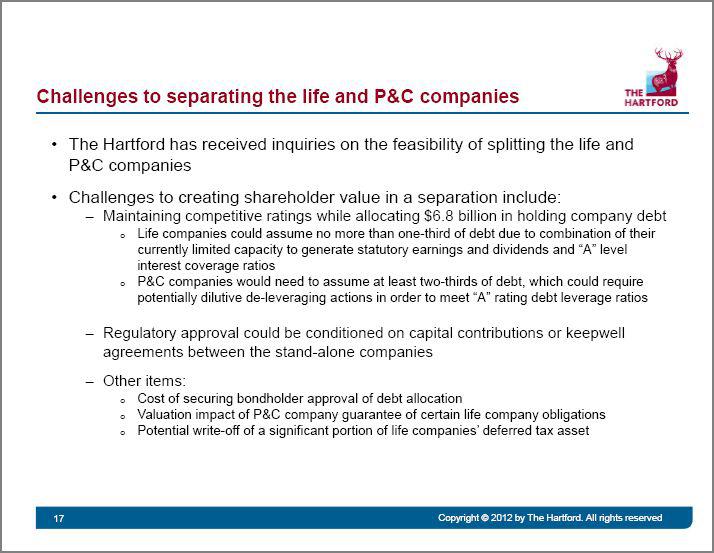 Click to enlarge
(Click to enlarge)
Here is the exchange, from the 4th quarter earnings conference call:
John Alfred Paulson

This is John Paulson speaking. Liam, I want to go back to the Slide 17, talking about the potential separating the Life and P&C business. And the -- I know you're doing a strategic review, but there's no slide talking about what the potential would be, just that there's challenges. Goldman Sachs came out with, I think, a very good analysis a few months ago, where they showed this is -- that they estimate the upside to doing a tax-free spinoff of P&C can be over 70% of what the current stock price is trading at. Now I agree that there's going to be challenges, but isn't your job to really overcome those challenges to achieve the maximum value for shareholders? Now I would say that Hartford needs to do something drastic because the stock is the lowest valuation relative to book value of any major insurance company. Last year, Hartford stock was down 38% while the P&C stocks were up 14% and even declined much more than the Life index, which was down 21%. So what I'd like to see you do is not merely come back and say yes, we're looking at strategic options, but there's challenges to achieving them. But what -- first of all, do you agree that you could create as much as 70% value for your shareholders by spinning off -- separating P&C? And secondly, is [indiscernible] incentive to overcome the challenges that it's going to take to spin this off? And how long is -- how long do we have to wait to hear if there's going to be a positive recommendation to separate these 2 businesses?

Liam E. McGee

Thanks, John, for the question. First of all, the analysis and the intent of the comments was to acknowledge that the challenges are significant, not to say that they could not be overcome. Second of all, our analysis, including the frictional costs, if you will, that are in the third category, would suggest that a split would not create the kind of shareholder value that, that particular report suggested. And third, in addition, I think the -- your sense of urgency about realizing greater value for shareholders is shared by me and by this team. And so I hope I answered your questions succinctly and correctly.

John Alfred Paulson

Partially, Liam. But if it is -- if you share the interest all shareholders have at increasing shareholder value, I'm surprised that as part of the discussion, you don't talk about how much value could be created by separating the P&C business from the Life business and not the only slide you devote to it talking about that there's some obstacles to overcome. I'm talking about the upside and weighing the upside of the separation against what the obstacles are. And better yet, not just listing as obstacles, but what I'd like to see is how you will overcome those obstacles to result at a more -- a fair valuation for Hartford. Not that there's obstacles, but how are you going to overcome those obstacles? That's what I, as a shareholder, look from you as the management to do.

Liam E. McGee

Thank you, John. And I -- that is our mindset. Our purpose in the slide was to identify the hurdles. You can -- if you heard our language, we did not say they were not surmountable, number one. We said there were significant costs to surmount them in a number of areas, so we felt we owed shareholders that disclosure. Number two, we do not believe that splitting them in the current environment for the reasons that we cited will create shareholder value. And third, again I'll reiterate, we have an incredible sense of urgency on looking at all ideas to create a shareholder value.

John Alfred Paulson

Well, I think you need to do a much better job of explaining that because Goldman's report is a very good report on a path to separate the business and create what they estimate is a 70% increase in shareholder value. And then you merely say there's some obstacles and you don't equate what the costs are to the benefit and what value you think could be created. Because right now, with the stock performing as poorly as it has relative to both P&C and Life companies, I think you need a better explanation of what you're going to do to enhance shareholder value, merely that you're working hard and you're committed, but there's obstacles. What we need you to do is overcome the obstacles to enhance the valuation for your shareholders, not merely to point out that there's obstacles.

Liam E. McGee

Hey, John, thank you. I hear you loud and clear.
I wrote Hartford up favorably in July last year, arguing for a higher share price based on the extreme discount to book value, an issue mentioned by Paulson. Included was a spreadsheet that demonstrates the concerns here: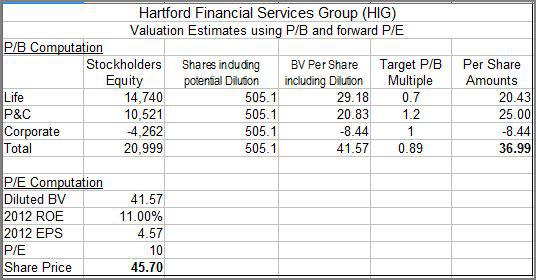 Click to enlarge
(Click to enlarge)
The shareholders equity attributable to the holding company is negative, by $4.2 billion as of the date of this analysis. Here's an item from the 2010 10-K:
In addition, in 2010 The Hartford entered into an intercompany liquidity agreement that allows for short-term advances of funds among the HFSG Holding Company and certain affiliates of up to $2.0 billion for liquidity and other general corporate purposes. The Connecticut Insurance Department granted approval for the Connecticut domiciled insurance companies that are parties to the agreement to treat receivables from a parent, including the HFSG Holding Company, as admitted assets for statutory accounting purposes.
I see a lot of complexity here. Paulson is obviously under pressure due to his horrendous performance, and is grandstanding in an effort to shake some short term gains out of the Hartford undervaluation situation. However, the life company is slowly healing, and in 2013 it will again have the capacity to upstream dividends to its parent. Meanwhile, P&C companies are trading much closer to book value than life companies, but they are not trading at pre-crisis multiples.
To me, Paulson's involvement is inappropriate. He's playing bull in the china shop on an investment that will provide fine long term returns to patient value investors. Diluted book value per share excluding AOCI has increased to $44.86, and with shares trading in the $20 area, there is ample value to be created as management continues the process of rebuilding the franchise. A short term focus on extracting value is not helpful.
Disclosure: I am long HIG. I have no position in GS.