There's something a bit strange about Apple's (AAPL) stock price lately. I know what it is. It's starting to look a lot like Google (GOOG). Google's always been a three-digit stock, but Apple certainly hasn't. And as Apple threatens that "half thousand" mark, it's interesting to see how these stocks compare since 2005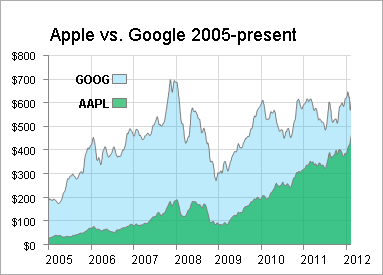 So Apple's also closing in on Google - almost 80% of its share price now.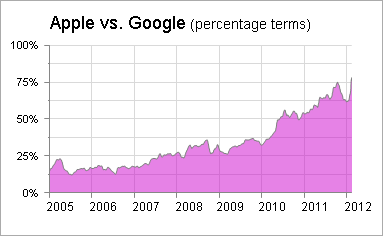 This is meaningless, of course. Either stock could conceivably split (and the chart above does account for Apple's last stock split in 2005). But here's something meaningful that puts this into perspective. According to this chart courtesy of Ycharts.com, Apple's return on invested capital is approaching 50%.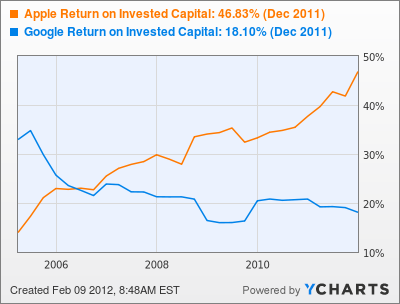 This represents the ratio of net income to shareholder equity plus long term debt. The chart measures trailing 12 months income against the past 5 quarter average of shareholder's equity and debt. (Apple has no long-term debt, of course, but Google does). Essentially this measures how effectively the company uses its money, in Apple's case returning almost 50 cents per dollar invested - more than twice as much as Google's return.
There aren't all that many companies that deliver a 50% return on invested capital. A quick scan shows maybe a two or three dozen companies with a market cap of $1 billion belong to that group (Interestingly, Baidu (BIDU) is among them). Anyway, as I write this, Google is trading at around 611 with Apple at 484. Apple would have to gain another $4 to hit that 80% of Google milestone. And if Apple keeps gapping up every day (which I highly doubt will continue) maybe we'll see Apple and Google at par sometime soon.