Investors looking for long-term dividend growth from the oil companies in their portfolios need to be aware of where the companies' future oil production will come from as the production from their current assets dwindles. One of these sources of future production is Newfoundland's offshore, as companies inch ever closer to the Arctic.
Newfoundland's offshore oil prospects, located off the eastern most tip of North America, jutting out into the chilly North Atlantic, are difficult to access, and after discovery in the early 1980s, it was only the late 90s when production commenced. There are now three producing oil projects, Hibernia, White Rose and Terra Nova, all located in the Jeanne d'arc Basin. However, exploration outside this basin has been picking up in recent years.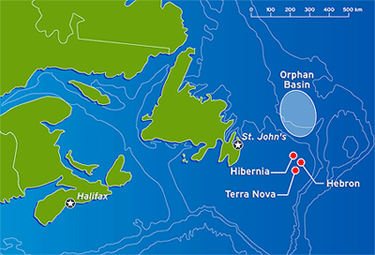 Newfoundland's offshore can be seen as a middle step on the ladder of increasing difficulty, between the already tough North Sea and the extremely challenging frontiers of Greenland and the Arctic Ocean.
New fields in Newfoundland are being pursued by some of the larger publicly traded oil companies, including Statoil (NYSE:STO), Chevron (NYSE:CVX), Repsol (OTCQX:REPYY) and Husky (HUSKF.PK).
Jeanne d'arc Basin
The three active fields currently produce about 260,000 bopd (pdf).
Hebron, the fourth field, is scheduled to come online in 2017. With reserves in the range of 400-700 million barrels of oil, it will be significant new production for the companies involved [ownership stake], ExxonMobil Canada Properties (NYSE:XOM) [36%], Chevron Canada Resources [26.7%], Suncor Energy Inc. (NYSE:SU) [22.7%], Statoil Canada [9.7%] and Nalcor Energy (Newfoundland's Crown energy corporation) [4.9%].
There are a number of untapped finds (pdf) in this basin, and there has been some recent drilling into new prospects by Husky (pdf) and Suncor (pdf). However, the disclosure period is usually two years in Newfoundland, and as such it is difficult to know how successful these recent wells have been.
It is noteworthy that there is a large natural gas resource as well, but to date no plans are under way to produce and transport the resource.
Flemish Pass
This prospect was originally Petro-Canada's, but after a dry hole it was sold to Statoil. With Husky as a partner, Statoil, produced 3,700 bopd in a test at its Mizzen prospect (pdf) in the Flemish pass in 2009. Statoil, again with Husky as a partner, has since drilled a second well (pdf) [results not yet available] and appears to be preparing for further drilling in 2012.
Orphan's Basin
Chevron drilled a dry hole (pdf) in this prospect in 2010, at a water depth of 2,600m, but appears undeterred, as it will resume drilling in 2012, with Repsol and Statoil as partners.
West Coast - Old Harry
To date, there has been no drilling off the west coast of Newfoundland, but the Old Harry prospect has long been identified as a potentially massive oil or natural gas prospect in relatively shallow waters. The Old Harry prospect straddles the sea border with Newfoundland's rival, Quebec, and three other provinces that border on the Gulf of St. Lawrence in which the prospect is located. Corridor Resources (OTC:CDDRF), which owns the rights to the prospect, will have to cool its heals as it works its way through a potentially two-year long "review" currently under way. Quebec and Newfoundland have already signed revenue agreements with the Federal government, so it is unlikely the government will continue to block exploration. (Although, Corridor does not currently have the means to drill the well itself.)
The Bottom Line
There is still plenty of untapped oil off the coast of Newfoundland, and major offshore drillers will reap the benefits of their investments now for decades to come.
Before these companies are ready for the harsh operating climate of Greenland and the Arctic, they will gain valuable experience from offshore Newfoundland.
Disclosure: I have no positions in any stocks mentioned, and no plans to initiate any positions within the next 72 hours.