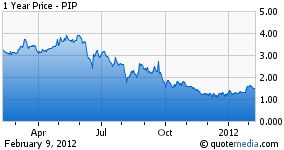 PharmAthene Incorporated (NYSEMKT:PIP) is a biodefense company engaging in the development and commercialization of medical countermeasures against biological and chemical weapons in the United States. The company was founded in 2001 and is headquartered in Annapolis, Maryland.
Let's get right to the pertinent issue here, the lawsuit, which could be very beneficial to PharmAthene in the coming years.
Background:
In 2006, SIGA (NASDAQ:SIGA) ended a proposed merger with PharmAthene, which is developing treatments against biological and chemical threats.
In December 2006, PharmAthene filed a complaint against SIGA in the Delaware Court of Chancery. The complaint alleged, among other things, that PharmAthene had the right to license exclusively development and marketing rights for SIGA's drug candidate, ST-246, pursuant to a merger agreement between the parties that was terminated in October 2006. The complaint also alleged that SIGA failed to negotiate in good faith the terms of such a license pursuant to the terminated merger agreement.
The Plaintiff in the case, PharmAthene, contended they were approached by SIGA for the purpose of licensing their ST-246 small pox anti-viral product. PharmaAthene goes on to contend they negotiated a license agreement term sheet with SIGA and got to a point where both companies were comfortable with the terms of the deal. At a certain point in the negotiations, the focus changed from a license agreement to a merger. Both companies believed a merger would be mutually beneficial.
Subsequently, a merger arrangement was agreed upon between SIGA and PharmAthene. As part of the merger agreement PharmAthene said they agreed to bridge loan 3 million dollars to SIGA for continuing the development of ST-246.
PharmAthene also contended that both the bridge loan and the merger document contained language that said that for any reason the merger did not take place, the asset ST-246 would becomes PharmAthene's - licensed to PharmAthene according to the terms of the license agreement term sheet which was attached to both the bridge loan and the merger document.
The court's decision:
On September 22, 2011, The Delaware Court of Chancery sided with PharmAthene in the case. As a result of the judgment for PharmAthene, the court awarded PharmAthene 50% of the net profits over 10 years from all sales of SIGA's smallpox antiviral therapeutic, ST-246, and related products, after SIGA receives the first $40 million in net profits.
In a prior article of mine, I mentioned SIGA was awarded a base contract from the Biomedical Advanced Research and Development Authority (BARDA) under the Department of Health and Human Services (HHS) for the initial procurement of 1.7 million treatment courses of ST-246. The five-year base contract award is valued at $433 million, of which approximately $412.5 million is for purchase of the product.
On Dec.16th, 2011, The Delaware Chancery Court denied SIGA's motion for reconsideration of certain aspects of the Court's post-trial decision in the litigation brought by PharmAthene, Inc. over rights to ST-246. As previously disclosed, the parties are now obliged to attempt to agree on language that will implement the Court's post-trial decision or, failing such agreement, submit their respective proposals for implementing language to the Court for decision. Once the Court enters a final judgment implementing the post-trial decision, SIGA intends to appeal the decision and judgment to the Delaware Supreme Court.
Basically, the above paragraph means as the September 2011 judgment stands, the two companies must hash out the wording to implement the judgment. When the court receives the agreed upon language between the 2 companies, the post trial judgment is complete. At that time, SIGA intends to appeal the decision to the Delaware Supreme Court.
In my opinion, SIGA will not win in an appeal. This is pretty much standard stuff for SIGA to appeal. My review on this case indicates to me that the court made the right decision. So what does this mean for PharmAthene?
After SIGA receives 40 million in net profit, both companies split the net profits from what remains from the base 5 year contract of the 433 million dollar contract with BARDA. Then for another 5 years, PharmAthene continues to receive 50 percent of the net profits related to ST-246.
This type of revenue stream for PharmAthene will allow them to fully engage in other product development and marketing, which should equate to their business being in very good shape for the future.
Fiscal Year
Fiscal Year Ends:
Dec 31
Most Recent Quarter (mrq):
Sep 30, 2011
Profitability
Profit Margin (TTM):
-83.32%
Operating Margin :
-50.86%
Management Effectiveness
Return on Assets :
-36.57%
Return on Equity :
-1,324.47%
Income Statement
Revenue :
24.88M
Revenue Per Share :
0.55
Qtrly Revenue Growth (yoy):
-15.80%
Gross Profit :
20.99M
EBITDA 6:
-12.04M
Net Income Avl to Common :
-20.73M
Diluted EPS :
-0.46
Qtrly Earnings Growth (yoy):
N/A
Balance Sheet
Total Cash (mrq):
10.41M
Total Cash Per Share (mrq):
0.22
Total Debt (mrq):
0.00
Total Debt/Equity (mrq):
N/A
Current Ratio (mrq):
4.97
Book Value Per Share (mrq):
0.30
The numbers above are going to drastically change to the positive for PharmAthene, in part because of this lawsuit win.
For anyone who wishes to do more due diligence on PharmAthene, check out their website here.
In my opinion, PharmAthene has a bright future ahead of them. Their collaboration with Bristol Myers Squibb (NYSE:BMY) for the development of Valortim is just one example of company progress over the last 2 years. This is a bullish factor for me as Bristol normally does not collaborate with a company unless they believe something good is in it for them.
Valortim is a fully human monoclonal antibody being developed to protect against inhalation anthrax, the most lethal form of illness in humans caused by Bacillus anthracis, otherwise known as Anthrax; a spore forming, gram positive bacterium that has potential use as a weapon of bioterror, which would be particularly devastating if delivered in an aerosol form.
The current PPS range of $1.50 is very attractive. I recommend PharmAthene as a buy and my target PPS is $3.50 for 2012.
Disclosure: I have no positions in any stocks mentioned, and no plans to initiate any positions within the next 72 hours.
Disclaimer: This article is intended for informational and entertainment use only and should not be construed as professional investment advice. Always do you own complete due diligence before buying and selling any stock.