I've always said that if investors pay well enough attention in the market you can easily take the guessing game out of the equation in an effort to make some very important decisions. Patterns and trends (while not always accurate) have a very good way of steering investors in the right direction - if not just placing you (at the very least) in the ball park. Case in point: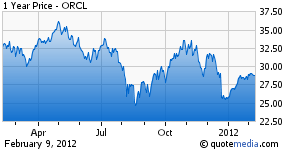 Last October, database giant Oracle (NASDAQ:ORCL) acquired RightNow, the cloud-based customer experience suite designed to help organizations deliver customer experiences across the web and social networks. Initially, I questioned the merits of this deal but then upon studying it a bit closer and realized that for Oracle, it made perfect sense - especially when considering how it was able to successfully leverage its Sun acquisition from a year ago. Upon the announcement, I said this:
By paying $43 per share in the all cash deal for RightNow, Oracle paid only a 20 percent premium above RightNow's closing price as of the announcement - which comes to a deal valued at roughly 1.5 billion. Having considered its current net cash position of $16 billion and its $5 billion of free cash flow, it is hard to assess this transaction as an enormous deal, speaking only on its cash value, not necessarily potential. But more importantly than that, it forced me to consider other M&A possibilities as these things tend to have a domino effect.
Shortly after that deal, IBM (NYSE:IBM) reminded investors that it was still in the game with its purchase of DemandTec, a firm that specializes in retail marketing and software merchandising.
The announced deal is said to be valued at $440 million in cash. But it should serve as a reminder of just how valuable the cloud market is projected to grow, leading me to speculate that in the years to come, the market will eventually consider "the cloud" as its own sector. Leading tech names such as Cisco (NASDAQ:CSCO) which specializes in providing the backbone to the cloud, will stand to benefit a great deal from its expansion.


But opportunistic investors as well as those who might be looking for aggressive growth and willing to take some risks might also consider smaller unknown cloud-based names such as Kenexa, Netsuite or Taleo (NASDAQ:TLEO).
Shortly after Oracle's and IBM's acquisition, another cloud rival SAP (NYSE:SAP), announced that it had acquired SuccessFactors, which is arguably the best software-as-a-service (SAAS) company that deals with HR services. The slew of M&A activity prompted me to tell investors to prepare for the cloud sector as there are some possible future candidates - one of which being the aforementioned Taleo. Today, Oracle (in fact) made it official with its acquisition of Taleo, the human resources software maker for $1.9 billion dollars and is expected to close mid 2012. As noted in the article:
The deal suggests the industry's recent buying streak for Web-based software, commonly referred to as cloud computing, is continuing; however, the mild 18% premium over Wednesday's close raises questions about what tech giants are willing to pay for cloud-based software.
Looking ahead
For parts of last year as the stock trended down, I think Wall Street overlooked the fact that Oracle had already anticipated weakness in certain segments of its business and has positioned itself for the technological shift within the cloud that will allow it to maintain its dominance in the corporate enterprise sector. Yet, it would seem that the market developed a bit of anxiety over its earnings and the likelihood that a rebound in IT spending was less possible in 2012. But for Oracle, other streams of revenue and growth have always been par for the course.
As the cloud continues to consolidate Oracle will remain one of the top players within the space as well as the enterprise. But I can't help but speculate on other possible M&A candidates that are out there - a company such as Kenexa, smaller unknown cloud-based names has to be on the radar and opportunistic investors may look to enter the position in anticipation that a buyer may emerge.
Summary
For Oracle, with the stock now trading just under $29 after having bounced off its low of $24.72 in August of last year, its growth projections currently place a valuation at $35 - this is even on the most conservative assumptions. The bullish case for Oracle is simple, as businesses continue to strive for growth, it will place more demand on IT services. And as IT services get more complicated, it will require the level of expertise that Oracle provides to manage these complications.