Among social networks, Google + (NASDAQ:GOOG) is growing faster than Facebook, just after one year of existence. While it took Facebook nearly a year to reach a million users and more than four years to reach 100 million, it took only Google+ about two weeks to reach 10 million, and less than a year to reach 100 million. Paul Allen, the founder of Ancestry.com, says Google+ could reach 400 million users by the end of the year. At its foundation, Google+ benefits from huge competitive advantages such as solid network effects over Facebook. Around 2004, at the foundation of Facebook, the web site was available only to students. Google+ is getting advertising from the world's largest search engine. Furthermore, the Internet is more widely adopted now.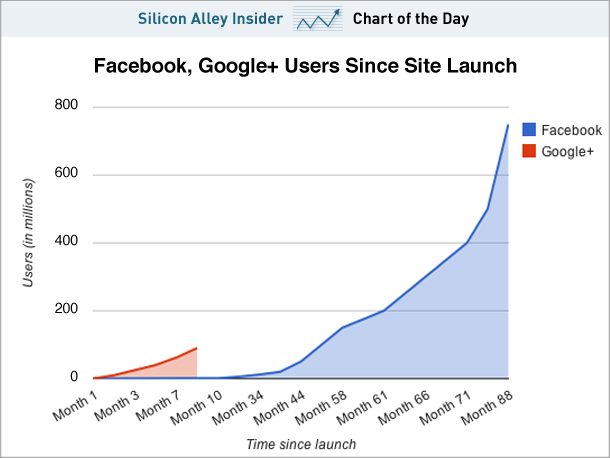 Several technology and financial blogs have announced too soon, the death of Google +. The social network is experiencing strong growth and it represents the third social network in the world after Facebook and Chinese Waebo. It appears that the success of Google + is mainly due to its international success since only 10% of its users are Americans. The efforts of Google to obtain new users seem to pay. The social network is now compatible with the majority of social mobile platforms and can leverage the huge users' base of Android. It benefits also from a native application on the App Store (NASDAQ:AAPL) and Android Market (Google). Integration is also possible with major Google's services such as Gmail, YouTube and Picasa.
Here are the top 7 social networks in the USA.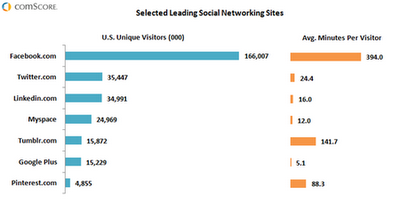 A new comer in the field is the fast growing Pinterest, the online "scrapbook". Surprisingly, MySpace still has an important number of users in the USA. Google + is growing fast internationally, but its average minutes per visitor is still low for now in the USA. It may changes when the social network reaches a critical mass in the USA.
In its prospectus, Facebook admitted that its main competitor is Google +. It is followed by Microsoft, Twitter and some small startups. Furthermore, it appears that Google could leverage its dominance in few markets to exploit a competitive advantage over Facebook. Google is the only infocom group that possesses a social network, a browser (Chrome) and a mobile operating system (Android), which is already dominant on smartphones, and growing quickly on tablets.
For Michael Gartenberg of Gartner, the battle has begun and Google won't stay passive and let Facebook becomes the Internet center of gravity. For Virginie Lazès of investment bank Bryan Garnier: "the real potential of investing in Facebook's IPO resides in its ability to become the king of Internet dominating traffic in 2-3 years, in front of Google … Thus, it needs to execute well in order to reach huge revenues and a higher profitability, due to the potential to monetize more optimally its subscribers' base."
For Lou Kerner of Secondshares.com, Internet search is becoming more social and it will rely more on the social graph: the social network of the customer. Affinity will bring more value to search engines than algorithms only. It appears that some web sites obtain more traffic from Facebook than Google (i.e. Fab.com).
Facebook plans to make an IPO around a value of $75MM to $100MM, around half of the value of Google. However, revenues are actually 10X smaller and net income is 15X smaller than Google. In term of traffic, the differences are smaller: Facebook has 794M unique visitors versus 1.09MM for Google, according to ComScore. Furthermore, social networking can be addictive: Facebook has 299M of minutes of utilization versus 226M for Google.
However, actually the business model of Google can extract more value than Facebook, since search engines bring more advertising revenues than banners. Furthermore, Facebook as a huge mobile customers' base 425M, but has still yet found how to extract money from it. For Kerner, we are in a period where there are two kings of the Internet.
Google + is becoming an important competitor to Facebook with its fast growth. However, the social network has a problem to keep the users on its web site. Minutes of utilization are much lower on Google + than Facebook. Google + could be the first step of Google toward a vast integration of the firm with social networking.
Disclosure: I am long AAPL.