Here are two stocks with solid foundations that look like they are ready to continue moving up. This is worth your time to look at these stocks for possible long term investments.
Vishay Precision Group, Inc. (VPG) designs, manufactures, and markets sensors based on resistive foil technology and sensor-based systems. Its products include sense elements, components, and transducers that convert mechanical inputs into an electronic signal for display, processing, interpretation, or control by the company's instrumentation and systems products, as well as precision sensors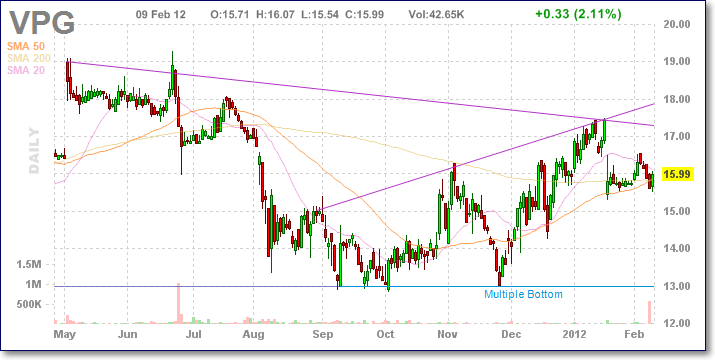 for measurement, resolution, and display of force, weight, pressure, tilt, motion, and acceleration, primarily in the legal-for-trade, commercial, and industrial markets.
VPG has a well defined foundation that it built from August through December of 2012. Since that time it has moved up. VPG Offers First On-Board Overload Monitoring System with Solid-State Axle Deflection Sensors, for High Durability and Accuracy to 3% in Vehicles Over 8.3 Tons Since it is a low weight construction to allow for maximum load, it is expected to be a hit within the industry. This is one of the reasons we believe we are seeing VPG start to claw its way back up.
Look for a move up to $19 before it challenges resistance. This is one worth you watch list, and may be worth your investment.
Waters Corporation, (WAT) an analytical instrument manufacturer, designs, manufactures, sells, and services high performance liquid chromatography, ultra performance liquid chromatography, and mass spectrometry instrument systems and support products primarily in the United States, Europe, Japan, and Asia. Its liquid chromatography systems are used in various industries to detect, identify, monitor, and measure the chemical, physical, and biological composition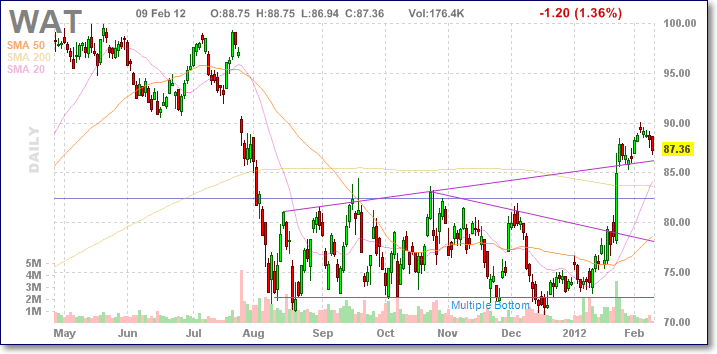 of materials, as well as to purify a range of compounds; and MS instruments are used in drug discovery and development, including clinical trial testing, the analysis of proteins in disease processes, food safety analysis, and environmental testing.
Presently trading at 87.06 it is projected to hit 100 this year. With a very strong foundation already established, it looks ready to move. Net sales and profits were both up 10% last year from the previous year even-though it took a large plunge in August, like many companies. Look for a continued move up, but a little more steady than the recent rise. We suggest putting this stock on your watch list, and if a pullback to $83 takes place, be prepared to get in.