These two companies are very bullish and offer a nice growth potential for 2012. The investor may research a direct purchase of the stock or an option play, or both. We give examples of both types of investments here.
Aceto Corporation (ACET) engages in the sourcing, regulatory support, marketing, and distribution of pharmaceutical intermediates and active ingredients, finished dosage form generics, nutraceutical products, agricultural protection products, and specialty chemicals worldwide. The company operates in three segments: Health Sciences, Specialty Chemicals, and Agricultural Protection Products. The Health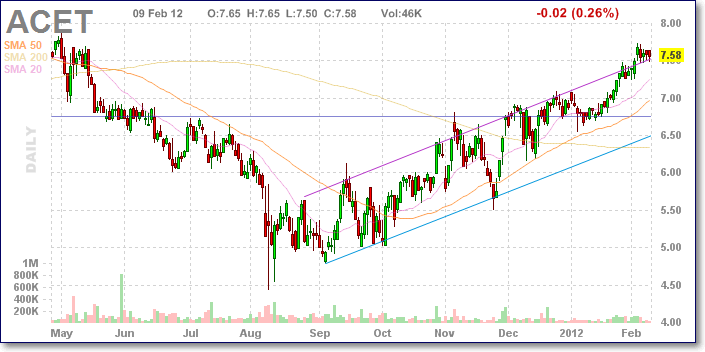 Sciences segment supplies raw materials used in the production of nutritional and packaged dietary supplements, including vitamins, amino acids, iron compounds, and bio chemicals used in pharmaceutical and nutritional preparations.
ACET has grown 35% since September of 2011 and appears to be getting stronger. Each business segment has a core strategy to expand product offerings by partnering with manufacturing sources to distribute products both domestically and internationally. Sales and EPS have both increased year over year for the last three years. Look at the growth:
Sales: (2009- $322.6; 2010- $346.6; 2011- $412.4)
EPS: (2009- $0.35; 2010- $0.39; 2011- $0.47)
With the acquisition of "Rising Pharmaceuticals and its assets in December of 2010, ACET is expected to continue to grow through 2012.
Currently trading at $7.84, it has a growth project to $12.00. If you are interested in long-term growth, this may be a company worth looking at. If you are interested in options, we would suggest a straight options buy, but we would wait first for a pull back since we believe it has risen too quickly. Look for a possibly pull back to about '7' then buy the next option price at leat three months out. We like a resale strategy here.
Constellation Brands, Inc. (STZ) produces and markets alcoholic beverages primarily in the United States, Canada, and New Zealand. It offers wine, spirits, and imported beer. The company's Constellation Wines North America segment produces, markets, and exports wine, as well as sells various wine brands across various categories, including table wine, sparkling wine, and dessert wine. It offers wine under various brands, which include Robert Mondavi Brands, Clos du Bois, Blackstone, Estancia, Arbor Mist, Toasted Head, Simi, Black Box, Ravenswood, Rex Goliath, Kim Crawford, Franciscan Estate, Wild Horse, Ruffino, Nobilo, Mount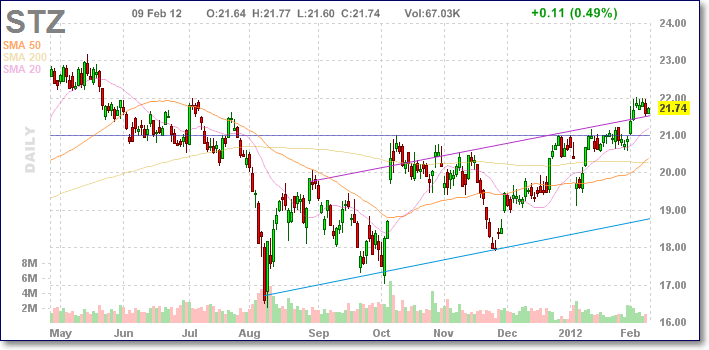 Veeder, Inniskillin, and Jackson-Triggs; and spirits under various brands, including SVEDKA Vodka, Black Velvet Canadian Whisky, and Paul Masson Grande Amber Brandy.
STZ has been bullish and dependably growing since August of 2011. If you look at the chart it continues to look like it is getting stronger as it goes too! We like how it is moving at a nice dependable clip. Constellation has spent the past five years selling brands that don't fit the "premium-category" wines priced from $5 to $20 a bottle, where it wants to cement its lead. During that time, it has reduced its debt from $5.3 billion to $3 billion and cut 5,100 employees to a slimmer payroll of 4,300.
We expect it to continue to grow this year. Currently trading at $21.50, analysts have it projected to grow to $30.00 at its height, so it has plenty of movement left. If you are more interested in options than buying the stock outright, we like a vertical debit spread here for April.
Buy April 2012 22.50 call (presently priced at $0.55)
Sell April 2012 25.00 call (presently priced at $0.10)
Max Risk: Debit- $0.45
Max Reward: (2.50- .45)= $2.05
For a stead stock like STZ this is a low-risk play with a possibly high-profit potential.