An exchange traded fund indexed to the Nasdaq-100 rose to its highest level since 2000 on Thursday with the ETF's gains fueled by largest holding and market bellwether: Apple (NasdaqGS: AAPL).
The tech darling's shares continue to power higher in the wake of Apple's blowout fourth-quarter earnings on brisk sales of iPhones, iPads and its other products.
Apple was up about 4% on Thursday to nearly $500. The stock accounts for 15.9% of the Nasdaq-100 ETF PowerShares QQQ (NasdaqGM: QQQ) due to its huge market capitalization.
The Nasdaq-100 fund is up 11.9% year to date, compared with a 7.6% gain for the S&P 500, thanks to the strength of Apple and the tech sector so far in 2012.
Many investors and traders use the ETF to gain quick, liquid exposure to large-cap tech stocks.
The fund is one of the oldest ETFs and the fifth-most actively traded. It has rallied to its highest point since the dot-come bust.
"QQQ also offers exposure to leading Nasdaq-listed biotech and consumer discretionary firms and tracks the cap-weighted Nasdaq-100 Index, which includes the 100 largest nonfinancial stocks in the Nasdaq Composite Index," says Morningstar analyst Robert Goldsborough in a profile of the fund. "Given its narrow sector focus, this ETF would work best as a satellite holding in a diversified portfolio."
Apple shares were up about 18% so far this year heading into Thursday's action.
PowerShares QQQ - (click to enlarge)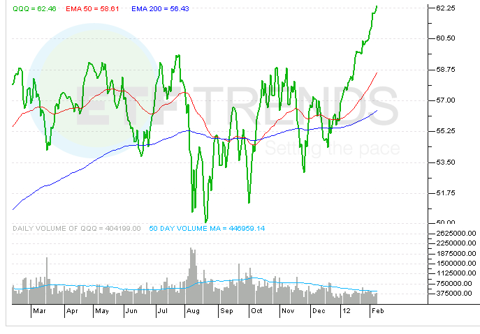 Click to enlarge
Full disclosure: Tom Lydon's clients own AAPL.