On Tuesday the trust managers updated the Whiting USA Trust (NYSE:WHX) remaining reserve calculations and pointed to August 2015 as their best guess at a terminal date for the trust. This essentially amounts to a roughly 10% decline from 2011 levels to mid 2015, at which time the trust will have paid out its reserves and the vehicle will cease to exist. As distributions should be viewed as a combination of both dividend and return of capital as the asset winds down, it is important to take a look at the potential value of what the trust can return between now and the end game. Below please find the 2011 and 2012 quarterly actuals and estimates respectively along with the 2013 through 2015 annual estimates and assumptions.
In a nutshell:
I don't own it now, and I won't own it again until it falls back to a more earthly valuation. The modeling here is fairly simple, and the name has been trading at a high forward yield … at last night's close it yielded 16.7% on my next twelve months estimate. But carrying out the production stream to its conclusion sometime in the second half of 2015 (and this looks likely if historical declines are a guide which they should be) yields a undiscounted stream of distributions totaling only $9.15. This compares to a current price of $17.90 per unit.
I've held the name in the past for significant periods but the future conclusion of the trust was always so far away the name traded more with the high price of crude and the promise of more of that to come. But the trust managers continue to creep the terminal date foward as production holds up a bit better than expected.
Sensitivities:
Applying higher oil prices to the terminal model of course helps the case, but even a price of $150 flat for the 2013 to 2015 period only yields aggregate undiscounted distributions of $12.45. I am accustomed to viewing the name as a rental, but the divergence between potential future cash flows and the current price make me think it's on "borrowed time."
When will it break towards a more reasonable valuation? Tough to say. There is really no spotlight on the issue yet to call investor attention to it ,but it has to be in the backs of holders' minds. WLL holds 16% and mutual funds hold another 3%, which makes me think retail holders are sitting in the name, milking yield until the music stops.
2011 Actuals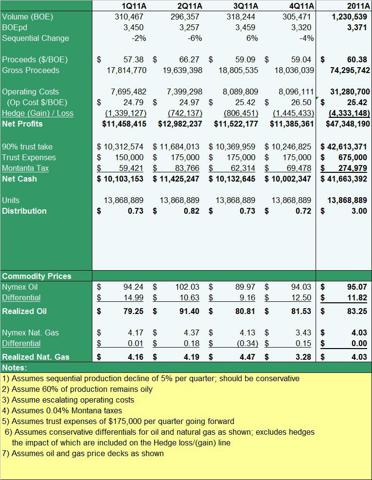 2012 Estimates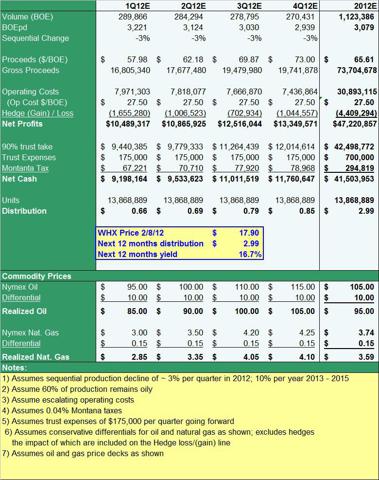 The End Game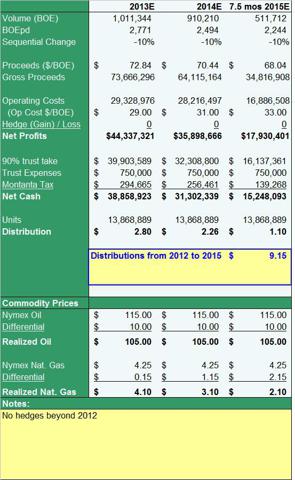 And a few graphs for extra color

Disclosure: I have no positions in any stocks mentioned, but may initiate a short position in WHX over the next 72 hours.