I had to go back to a countless number of articles here at Seeking Alpha and many other websites that, back in December 2011 were heavily advocating to get out of solar. Just right at what could be the most recent bottom in the sector. They were probably some of the worst ill-timed calls I have seen in a long time.
But the purpose of this article is not to bash the people that made such call, because without them we would not be able to determine the right time to be a contrarian and place our bets. Instead, I want to reiterate that it hasn't been confirmed that we are out of the woods just yet. Fundamentals continue to be weak, despite the sudden surge in demand in Q4 2011 and possibly Q1 2012. In the latest announcement from EnergyTrend, it has been confirmed that prices across many PV components continue the be on an upswing, or have just started one.
However, as some downstream solar companies in Europe and elsewhere have begun to report their latest numbers, there doesn't seem to be much optimism just yet. In addition, there's still uncertainty in regards to the resolution and ultimate outcome of the solar panel "dumping" case being reviewed by the Department of Commerce / International Trade Commission, which will announce their resolution in March (after being moved from early February).
Upstream solar companies' Q4 2011 results will be on deck by mid-to-late February. SunPower (NASDAQ:SPWR) and Yingli Green Energy (NYSE:YGE) are expected to be the first to begin the show, followed by First Solar (NASDAQ:FSLR), Trina Solar (NYSE:TSL), Jinko Solar (NYSE:JKS) and JA Solar (NASDAQ:JASO) still in February. In March we will have Renesola (NYSE:SOL), Suntech Power (NYSE:STP), Canadian Solar (NASDAQ:CSIQ), LDK Solar (NYSE:LDK) and Hanwha Solar One (HSOL).
Many of these companies will continue to report big losses, but it's the 2012 outlook that the market will have its hawkish eye on. Regardless, just look at the price performance of most Tier-1 & Tier-2 solar companies from December 1, 2011 until today.
click to enlarge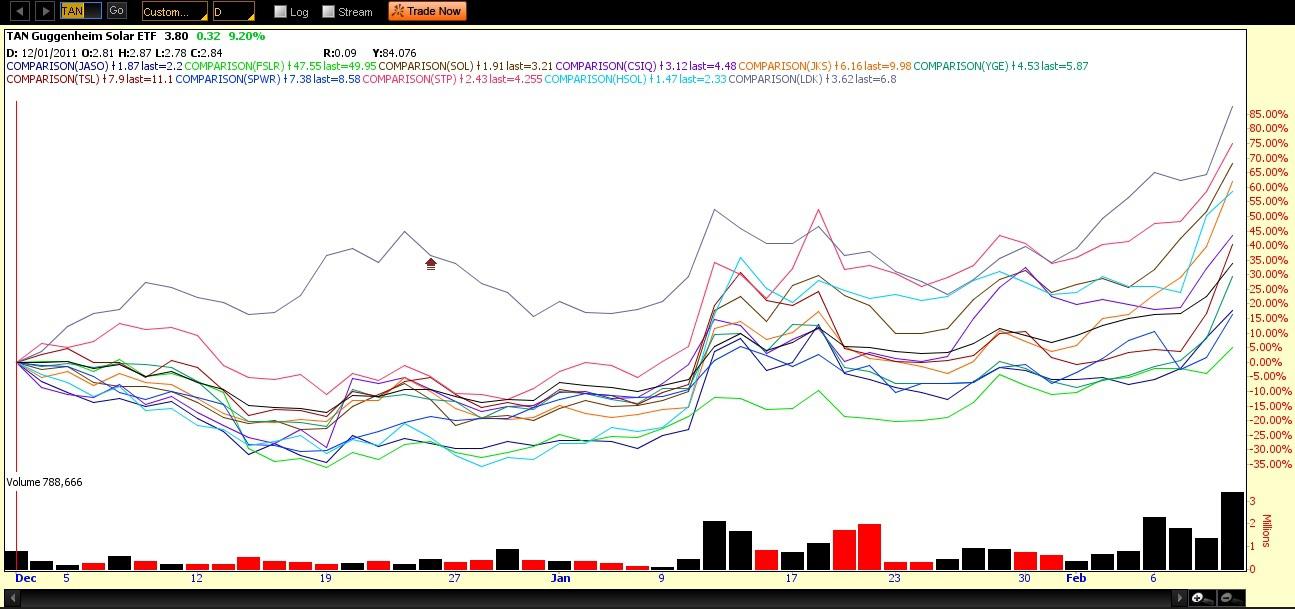 Click to enlarge
Although all of these companies are still way below their 52-week highs by a wide percentage (many are also below their 200-day moving average), just about now might be the perfect time to take some profits off the table, cover some long positions, or both (with the exception of First Solar, JA Solar, and SunPower). After all, this is an industry that has a long future and there will be many more opportunities to load the truck again.
| | | | | | |
| --- | --- | --- | --- | --- | --- |
| | 2/9/2012 | 52-w Low | % 52-W Low | 52-w High | % 52-w High |
| CSIQ | 4.39 | 2.07 | 112.1% | 16.79 | -73.9% |
| FSLR | 49.03 | 29.87 | 64.1% | 175.45 | -72.1% |
| HSOL | 2.33 | 0.91 | 156.0% | 9.65 | -75.9% |
| JASO | 2.2 | 1.21 | 81.8% | 8.57 | -74.3% |
| JKS | 10.07 | 4.55 | 121.3% | 32.21 | -68.7% |
| LDK | 6.7 | 2.55 | 162.7% | 14.97 | -55.2% |
| SOL | 3.17 | 1.45 | 118.6% | 13.25 | -76.1% |
| SPWR | 8.44 | 4.94 | 70.9% | 8.6 | -1.9% |
| STP | 4.18 | 1.70 | 145.9% | 10.83 | -61.4% |
| TAN | 3.76 | 2.42 | 55.4% | 9.16 | -59.0% |
| TSL | 10.95 | 5.28 | 107.4% | 31.08 | -64.8% |
| YGE | 5.9 | 2.75 | 114.5% | 13.59 | -56.6% |
You are entitled to believe that this meteoric rise will continue (helped by massive short covering), but it's at times like these where I constantly remind myself of what I stated in an unrelated article:
"The truth of the matter is that investors are never happy when it comes to selling any stock. If you sell your shares and the stock continues to appreciate, you are going to feel bad because you sold "too early". On the other hand, if you don't sell your shares and the stock drops in value, you are going to feel bad because you didn't sell prior to the drop. To resolve this dilemma an investor should follow the same strategy in selling (scaling out) as in buying (scaling in) the stock.
...

As Baron Rothschild once said "I made my fortune by selling too early." There's absolutely nothing wrong with taking some profits now. The difference between one "feel bad" (selling too early) and the other (not selling before the stock drops) is that in one you at least secure the profits. You can then proceed to feel bad if you want, but only after pocketing some of the gains."
If you are still reluctant, let me then give you a final piece of advice by the words of Barry Ritholtz:
"I am rather frequently -- and on occasion, quite spectacularly -- wrong. But I expect to be. No one really knows what is going to happen in the future, so why pretend otherwise? When you anticipate being wrong, it makes it that much easier to both plan ahead and manage risk."
The sun looks bright (for now).
Disclosure: I am long LDK, JKS, TAN.
Disclaimer: This article is intended to be informative and should not be construed as personalized advice, as it does not take into account your specific situation or objectives.