I have long believed that preferred stocks should be considered for a portion of an income investor's portfolio. I own three preferreds currently, but in all honesty, I haven't thought much about preferreds for awhile. That changed when I recently read an article on Seeking Alpha by contributor ValueMax, entitled "4 Utilities Preferred Stocks To Consider Now."
That set in motion a review process on my part, whereby I had to re-learn some of the basics of evaluating preferreds. That has in turn resulted in this article, where I will share some of my "secrets" regarding preferred stock evaluation, and I will provide the reader with information and links to a couple of very helpful websites to aid in the process.
Preferreds are attractive to me at this point, as I have a high cash position, having taken advantage of the recent rally to take profits. I am reluctant to buy just now, because I believe that most stocks I would consider are over-valued, plus I have a concern that the market is due for a correction. With cash earning effectively nothing, I am faced with a dilemma; what to do? Picking up a couple of additional preferreds might be something to consider. Preferred stocks generally exhibit low volatility, and will not drop as much in a general market decline, so there is less impetus to wait for a better entry price.
Preferreds actually trade more like bonds than stocks, with market prices responding gradually to changes in interest rates. Of course, an exception to the statement that "preferreds are not volatile" is when a company issuing a preferred suddenly has bad news, such that investor's become concerned about the viability of the firm and/or the continuance of preferred dividends. In that case, just as with the firm's common shares, the preferreds will drop significantly right away.
The first step in evaluating a preferred issue is the same as evaluating a common stock as an income investment. The issuing company should have stable, growing earnings, ideally with a protective "moat" implicit in the business model, to fend off competition. Also, the company must not be over-extended, either by bond or bank debt, or by an excessive payout ratio, considering common plus preferred dividends. For purposes of the rest of this article, I will assume this is a "given"; just don't forget about the company evaluation component when looking at preferreds.
While preferreds trade on the exchanges like common stocks, there are a few unique attributes relating to preferreds that an investor should be aware of:
Preferreds are issued with a "face value," similar to a bond, and the issuing company usually (always?) reserves the right to buy back a preferred issue at that price after a call date specified in the prospectus is reached. This is the infamous "call" feature, which for an investor is equivalent to having sold a covered call option against the shares. If the preferred shares are purchased at a price above the call price, a capital loss can theoretically occur at any time once the call date is reached. This will only occur if the preferred dividend is high enough such that the company is willing to expend the capital required to buy back the preferred issue, to avoid paying the high dividend. Many preferreds continue on for years after the call date has been reached.
Preferred dividends might not be eligible for the favorable 15% tax rate on dividends, even when the same firm's common dividends are eligible.
Preferreds frequently provide for dividends to be suspended for months or years, without this being considered an event of default. This provision will be spelled out in the prospectus.
Preferred shareholders are senior to common shareholders in the case of bankruptcy, but subordinate to bond holders. In reality, this is of little value. In a bankruptcy situation, both common and preferred shareholders usually get nothing.
Preferred shareholders cannot vote, except in some cases (this will be spelled out in the prospectus) when preferred dividends have been suspended for a time. I sincerely doubt if anyone considering a preferred cares about this.
Preferreds may be backed by the issuing company in general, or may be backed only by certain assets. A preferred issue may be rated by the rating agencies, and this rating can vary from the rating given to the same firm's bonds.
Several websites which describe preferreds further, touching on some of these same points, are now offered to add further to the backgrounding exercise:
The next question is, how to determine if a company has preferreds? A quick way is to go to Yahoo Finance and enter the common stock symbol with a hyphen and a "p" appended, i.e. for Bank of America (NYSE:BAC) preferreds, enter "BAC-p." Similarly, on the MSN-Money website, enter the symbol with only a hyphen appended, i.e. "BAC-." In both cases, you will see a drop-down list showing the preferreds, if there are any.
Shortcomings of these techniques are that you will not necessarily see all preferreds available, plus you will not see preferreds with ticker symbols that do not begin with the common symbol. In fact, ticker symbols for preferreds vary depending upon what resource you are using to look them up. Just how complicated this can be is explained by QuantumOnline.com, Information for Income Investors, "Preferred Ticker Symbols & Security Names." I will have more to say about this excellent resource as well at the conclusion of this article.
To get a definitive list of a company's preferreds, you must consult the company's website, and in some cases, the annual report. Each company's website is different, and finding the information, if it even exists, can be an exercise in frustration. To illustrate a worst case scenario, consider the steps required to get a list of Bank of America preferreds. You must first go to their website and click on "About Us," then select "Investor Relations" under the heading "Shareholders & Investors." Next, from the menu down the left side of the page, select "Investor Fact Book," and then select the latest "fact book" entry. At that point, a PDF file will download (to read it you must have the Adobe Reader on your computer), and upon scrolling down the table of contents you will find a section entitled "Preferred Stock Information." Finally, there it is - a list of 17 BAC preferreds and 61 BAC Trust Preferred Hybrid Securities. This puzzle required about 30 minutes to solve, and I am an experienced hacker. If all else fails in identifying preferreds yourself, you can always try contacting a company's Investor Relations department, or enlist your brokerage to assist you.
Now, let's take Nextera Energy (NYSE:NEE), which had a preferred that was discussed in the Seeking Alpha article that triggered this investigation, Nextera Energy Capital Holdings 6.60% Series A Enh Jr Debentures (FGC). As you can see from the symbol, this preferred is an example of one that would be missed using the drop-down techniques outlined earlier. To determine if there are other preferreds offered by NEE, we go the company's website and select "Investor Relations," and from there, "Stock Information." A drop-down box is provided that gives the price data for the common and for another selection entitled "Trust Preferred," which doesn't seem to be the FGC preferred we know about. Puzzeled at this point, we next select "Corporate Reports," and download the most recent annual report as a PDF. After trying several searches on "preferred" and other strings, we hit the jackpot with a search on "exchange listing," which displays a section that lists four preferreds with symbols. Thus, it appears that NEE has four preferreds, only one of which we knew about when we started the investigation. Why the quotes provided on the website only gave quotes for one preferred, which at this point cannot be linked with certainty to any of the listed symbols, is a mystery that is beyond my understanding, but at any rate we can now proceed. The identified preferreds are:
FPL Group Capital Trust I, 5.875% Preferred Trust Securities (NEE-C)
Nextera Energy Capital Holdings, 8.75% Series F Jr Sub Debentures (NEE-F)
Nextera Energy Capital Holdings, 6.60% Series A Enh Jr Debentures (FGC)
Nextera Energy Capital holdings, 7.45% Series E jr Sub Debentures (FGE)
For each security, the current market price, ex-dividend date, dividend amount, actual yield, and trading volume can be obtained from any brokerage quote source. But we also want to know the terms for each preferred - specifically, the call date, the rating agency evaluation of the security (if available), whether or not the dividends are considered "qualified" and thus eligible for the 15% rate for tax purposes, the specific type of preferred, the payout suspension terms, and whether the security is backed as a general obligation of the company, or if there are specific assets behind the issue. In an ideal world, we would obtain the prospectus for each issue, read thoroughly, and make a decision. Mercifully, I have found a much quicker and simpler solution, utilizing another section of the aforementioned website "Quantum Online.com," a link to which is provided here. Upon entry of the preferred ticker symbol, all of the desired information is presented in a summary form, and a link to the prospectus is also provided, if further research is desired. Using E-Trade for current quote information, and the Quantum site for information from the prospectus describing the terms, a table has been developed to aid in comparing the four preferreds available from NEE: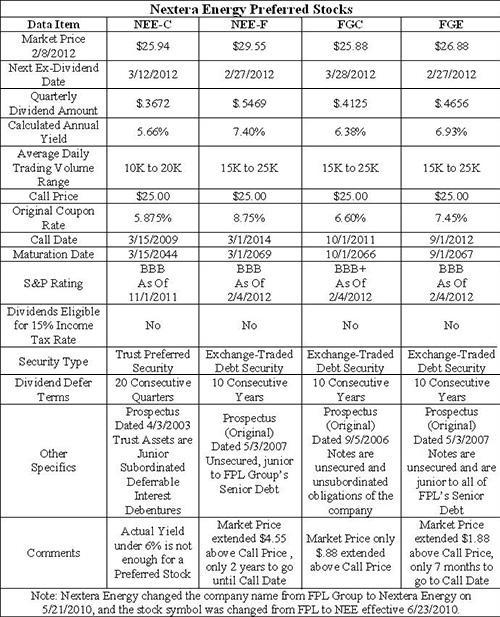 After reviewing the results, I concur with the Seeking Alpha article that FGC is the best choice. FGC has the highest S&P rating (BBB+), the market price is only slightly above the call price, and the actual rate an investor would experience is over 6%. NEE-C yields less than 6% if bought today, which is low for a preferred -- remember, there likely will be little or no price appreciation. NEE-F and FGE are both too far extended above the call price. With the call dates not far away in either case, both represent too much call risk to be worth buying at today's market prices. None of the preferreds stands above the others from the standpoint of the remaining criteria. (For the record, the preferred that the company's website provided quote data for was determined to be NEE-C.)
Before I conclude, I want to award further kudos to two of the websites mentioned earlier, and provide some additional information about them.
Dividend Detective- This website is from Harry Domash, a professional financial journalist featured on MSN-Money and elsewhere, who is also a Seeking Alpha contributor. The Dividend Detective website provides a lot of data of value to an income investor in the "free" section, and access to the "subscriber" section is available at a very reasonable rate. A unique feature of Dividend Detective is that the subscription is on a month-to-month basis, so a subscriber can try it out for a few months without having to commit to a year or more.
QuantumOnline.com- This website provides more data on preferred stocks than I have found anywhere. Note that the site is not exclusively devoted to preferreds - data is available on Business Development Companies (NYSEARCA:BDCS), Master Limited Partnerships (NYSEARCA:MLPS), Closed End Funds (CEFs), and other types of income securities. The site is free, with support being donation-based. Registration is requested, which only takes a couple of minutes. This site can provide a powerful assist to an income investor researching alternatives, particularly preferreds.
If you want to know more about preferreds, the two websites described above should give you an excellent head start in your analysis.
Disclosure: I am long the following preferred stocks: Health Care Reit Inc Pfd Series F 7.625% Cumul (HCN-F), Bank of America Capital Trust I 7.00% Capital Securities (BAC-W), M&T Capital Trust IV Enh Tr Pfd Securities 8.50% (MBT-A). I may initiate a position in the next few days on the Nextera preferred FGC. I have no relationship with the Dividend Detective subscription service. I have been a subscriber in the past, and may restart a subscription in the future.