65 Versus 5
Although the Nasdaq Composite only rose 0.39% on Thursday, to close at 2,927.23, the number of Nasdaq names making new highs was striking compared to the number making new lows: there were 65 new 52-week highs on Thursday, compared to only 5 new 52-week lows. Sorting the list of new highs by share price, two of the ten highest-priced stocks caught my eye, and reminded me of something S&P Equity Research noted a year ago.
Bifurcation in Action
Last year, S&P Equity Research analysts identified ten trends they expected to continue for the duration of the year, one of which was the bifurcation in retail:
We expect continued bifurcation of the retail market with high-end luxury stores benefiting from the wealth effect and low-end stores being aided by value-seeking consumers.
The two stocks on the new high list Thursday that reminded me of that were ones that exemplify this bifurcation: Apple, Inc. (NASDAQ:AAPL) and Dollar Tree Inc. (NASDAQ:DLTR). The table below shows the current costs of hedging Apple, Dollar Tree, and 8 other of the higher-priced stocks that made new highs on Thursday, against greater-than-20% declines over the next several months, using optimal puts.
A Comparison
For comparison purposes, I've added the PowerShares QQQ Trust ETF (NASDAQ:QQQ) to the table. First, a reminder about what optimal puts are, and a note about the 20% decline threshold; then, a screen capture showing the optimal puts to hedge one of the stocks that made new highs Thursday, Dollar Tree, Inc. (DLTR).
About Optimal Puts
Optimal puts are the ones that will give you the level of protection you want at the lowest possible cost. Portfolio Armor uses an algorithm developed by a finance Ph.D. to sort through and analyze all of the available puts for your position, scanning for the optimal ones.
Decline Thresholds
In this context, "threshold" refers to the maximum decline you are willing to risk in the value of your position in a security. You can enter any percentage you like for a decline threshold when scanning for optimal puts (the higher the percentage though, the greater the chance you will find optimal puts for your position). I have used 20% thresholds for each of the securities below.
The Optimal Puts for DLTR
Below is a screen capture showing the optimal put option contract to buy to hedge 100 shares of DLTR against a greater-than-20% drop between now and August 17th. A note about these optimal put options and their cost: to be conservative, Portfolio Armor calculated the cost based on the ask price of the optimal puts. In practice, an investor can often purchase puts for a lower price, i.e., some price between the bid and the ask (the same is true of the other names in the table below).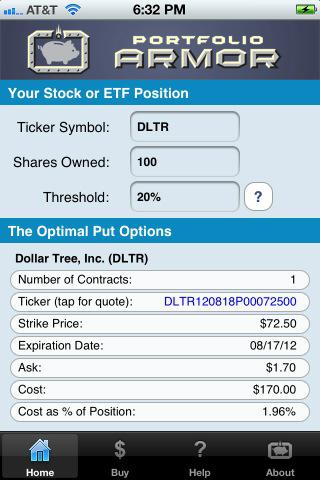 Click to enlarge
Hedging Costs as of Thursday's Close
The hedging costs below are as of Thursday's close, and are presented as percentages of position values. The stocks are listed in order of their share prices as of Thursday's close.
| | | |
| --- | --- | --- |
| Symbol | Name | Hedging Cost |
| AAPL | Apple, Inc. | 1.51%* |
| EQIX | Equinix, Inc. | 6.19%*** |
| UHAL | Amerco | 4.82%* |
| REGN | Regeneron Pharmaceuticals | 14.5%** |
| DLTR | Dollar Tree, Inc. | 1.96%** |
| BWLD | Buffalo Wild Wings, Inc. | 6.38%*** |
| WFM | Whole Foods Market | 4.02%** |
| ULTA | Ulta Salon, Cosmetics | 9.58%*** |
| LULU | Lululemon Athletica, Inc. | 10.6%*** |
| CVLT | CommVault Systems, Inc. | 8.28%* |
| QQQ | PowerShares QQQ Trust | 2.16%*** |
*Based on optimal puts expiring in June
**Based on optimal puts expiring in July
***Based on optimal puts expiring in August
Disclosure: I have no positions in any stocks mentioned, and no plans to initiate any positions within the next 72 hours.