Whole Foods Markets (NASDAQ:WFM), the upscale grocery store operator, reported first-quarter earnings today that blew past consensus expectations and propelled the stock to close up 5%. The results are as follows:
First-quarter income jumped 33%
8.7% rise in comparable-store sales
Operating margin grew to 5.6%
In the first-quarter the company reported profit of $118.3 million, or 65 cents a share compared to $88.7 million, or 51 cents, in last year's fourth quarter.
Sales increase of 13% over the comparable quarter last year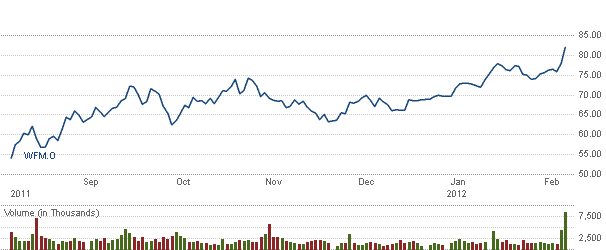 (NASDAQ:CNBC)
These results give tangible evidence of the company's increasing ability to stay ahead of the curve, build profitable stores, grow incremental revenue while building incremental profit projections, and appeal to a 21st century home. WFM has really got it right with its current strategy and initiatives. Burt Flickinger, managing director of Strategic Resource Group, states in an interview with Bloomberg, "[WFM] is doing everything right in terms of helping consumers live better, better food, better quality… Whether it is New England or New Orleans, people will get on their bikes and go to WFM." This type of sentiment is what separates WFM from its competition in the natural and organics marketplace. This ever-growing sector of grocery is being monopolized by WFM and there is little evidence this will stop any time soon. Just be careful the stock price does not get ahead of the company.
Why WFM is performing so well as a company:
Smaller stores=higher profit:
In retail, everything stems from the store. If a company can provide consumers with a great, friendly and warm environment to shop in, it is golden in the eyes of consumers. If a retail company can provide investors with stores that cost less to build and throw off a higher per square footage return than competition, investors are happy. For WFM, both of these attributes have taken center stage this year. A remarkable statistic is this: in 2011, the average store returned 29% more per square footage profit than those stores built in 2010. These stores are 17% smaller, on average, but still bring in hefty sales and are supported through lower operating and building costs. WFM has also made another strategic decision to build stores in less populated and more "fringe" locations that have lower rent structures. The company's co-CEO Walter Robb states,
In many cases, these markets offer less competition, allowing our differentiated store experience to stand out even more in the marketplace than it does in some of the larger more competitive markets.
These words speak to the effectiveness of the strategy WFM has been able to deliver upon. A winning and profitable format is all that is needed for a company to expand and take advantage of its market position. WFM has done this incredibly well this past year and it seems this trend will be continuing.
1,000 Stores:
WFM closed the first-quarter of 2012 with 317 retail locations in the United States, Canada and the United Kingdom. This does not represent a lot of market saturation within the United States or the other two countries the company currently operates in. This bodes extremely well for investors because with a winning format, aforementioned, the prospects of saturating the natural and organic market are becoming better. John Mackey, the company's co-CEO and chairman, states, "We may not get to [the company's goal of] 1,000 stores within this decade… but it's possible it will happen before I hang them up." The company has about 25 stores planned for FY12 and has 69 in the pipeline. This marks an exceptional level of growth. The goal of 1,000 stores is idealistic now, but is possible if the company continues to explore international options as well as saturating the market domestically. What is exceptional about WFM is that it does not need to have 5 stores in a city, it can have one and it will thrive. This model is one that can provide the company with exceptional growth in incremental sales and profit.
A niche retailer with changing demographics:
What is both great and not so great for WFM is that it is considered a niche retailer in the broader food industry. There are no signs of the company ever stealing huge market share from Wal-Mart (NYSE:WMT), Kroger (NYSE:KR) or Safeway (NYSE:SWY). This is because America and much of the world still like Coke and Pepsi, large product size, and great deals. Though this may inhibit astronomical growth or a takeover of the $500 billion industry, WFM has defined itself as the best operator of small, hip, and natural food retailers. This market position is powerful and, more importantly, sustainable. With changing demographics, more people want healthier options and this is especially true in areas with younger demographics. As evidenced by the company's new and smaller format, WFM is taking advantage of this opportunity to capitalize on the growing portion of the world's population looking for the shopping experience WFM provides.
WFM knows how to appeal to its customers and draw them in at any chance possible. A company representative states, "We really focused a lot over the holidays on making sure customers really felt comfortable doing their holiday shopping with us, especially given the economic issues going on." Though WFM will never be the staple for most Americans, WFM is in a position to capitalize on the growing audience looking for the niche Whole Foods occupies.
Reason to be cautious:
Financials:
Forward price/earnings: 31.43. This is a high PE ratio for any company, but especially for a food retailer. WFM is not drastically overvalued now because of the growth prospects the company brings to the table, but stock prices can quickly get out of hand. Though the graphic below shows a leveling off of PE levels, be cautious of the stock's multiples.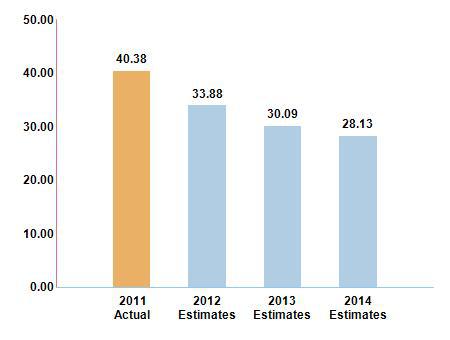 (Nasdaq)
PEG: The company currently has a PEG ratio of 1.99. Though this is higher than its competitors, WFM has "appeal" to its stock because it is "Whole Foods." This is something to be cautious about into the coming years. If the company is on a trajectory to becomes the next Amazon (NASDAQ:AMZN) of Wall Street, trading at over 100 times forward earnings, then WFM may create its own bubble.
Profit Margin: WFM currently has a profit margin of 3.39%. This is incredible due to the fact that most of its competitors are hovering around 1.5%. The way WFM achieves this is by having higher prices, but by building more efficient and cost-maximizing stores. This represents an area of great strength for WFM, but if prices increase in the coming years, this could shrink causing lower earnings.
Debt: The company operates at effectively zero debt, placing the company in a well financed position to grow.
Dividend: The company currently pays a .7% dividend, which makes the stock slightly more attractive from an investor perspective because it couples great growth with income. Though this is an added bonus, it is not the reason anyone is purchasing WFM.
Conclusion: WFM is an incredible company that is poised for a prosperous and growing future as the centerpiece for the rise of the small and hip grocery store. The company has proven itself to be an extraordinary operator and a company that is attentive to the needs of consumers. The question becomes whether the stock is overvalued. Though there is no imminent danger in WFM, the company could experience its stock price leveling out due to unrealistic expectations. Keep an eye on the company's PE ratio, but do not let that in and of itself scare you away from the company. WFM has a bright future ahead.
Disclosure: I have no positions in any stocks mentioned, and no plans to initiate any positions within the next 72 hours.