From my perch, it seems like insider buying activity (which I monitor via my newsletter) is gearing up in the fast casual dining sector. Because trends point strongly to this industry (people looking for value and cost-effective dining experiences), there's a huge opportunity here for the winners.
We know of Chipotle and Panera but now we're seeing turnaround stories at last week's Insiderize pick, COSI. By the way, the past 2 insider trading picks are up 14.54% (NASDAQ:COSI) and 10.91% (NYSE:CFX) since I've written about them.
And now, does Carl Icahn have his sights set on Wendy's?
That's a stretch but Jack Wasserman, who sits on both the Wendy's board of directors as well as on Icahn's board was buying stock this week. His small open market purchase of 2000 shares this week means he's bought over 24,000 shares since 2007.
This week's Insiderize pick: Wendy's
This week saw some interesting buying in Wendy's (NYSE:WEN). Board member Wasserman's buying - along with 5000 shares picked up by General Counsel Scott Toop - was dwarfed by Nelson Peltz's continued investment in the small, underperforming restaurant chain.
Peltz's investment vehicle, Trian Fund Management, added another 1.25M shares this week or over $6 million worth. He now controls over 105M shares or 27% of the company.
Peltz is a key player in the Wendy's story. He was instrumental in merging Arby's with Wendy's - a deal which ultimately was just unwound last summer when Arby's was sold to a private equity firm Roark Capital. The combined entity of Wendy's/Arby's wasn't enough to jump start either firm's sluggish sales. Now independent, Arby's hired some big-gun marketing gurus and is undergoing a rebrand.
Wendy's - Arby's = Better turnaround
What's going on here has everything to do with the future of the Wendy's own brand and experience. Wendy's itself brought in a new CEO, Emil Brolick around the time it sold Arby's to help it reclaim market share from higher-end competition like Five Guys and Smashburger.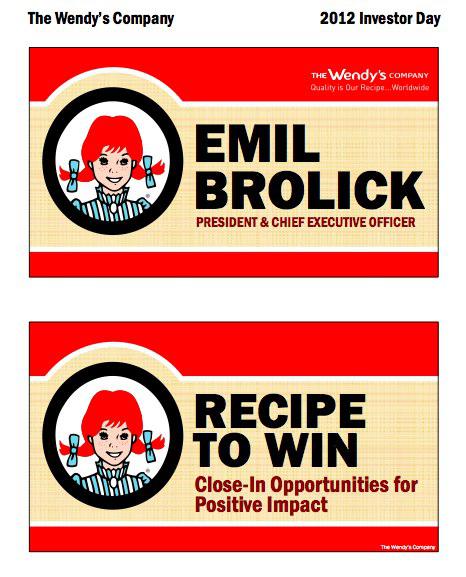 The Wendy's experience has lost customers to competitors of all kinds as in the words of the new CEO, customers have grown weary of "a little bit of overpromising and under-delivering".
Brolick isn't resting on his haunches and he has an impactful plan to turn around the firm once loved for its homey, hokey food and marketing. Remember founder Dave Thomas and the Where's the Beef? Campaign.
The New Wendy's: Turnaround Plan
Brolick -- who ran Taco Bell and worked at Wendy's years ago -- is focusing on a core, back-to-basics turnaround plan focusing on the 3 Ps of Marketing: Pricing, Product, and Promotion.
Pricing:
Brolick's turnaround recipe has to with getting a better pricing strategy. He's going to introduce a better balance between low cost and higher value products on the Wendy's menu.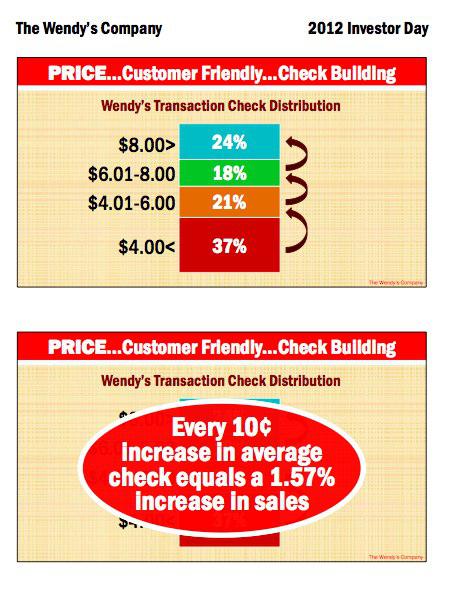 New Products
Wendy's built its business off the hamburger and has every intention of protecting that franchise. But new management wants to expand the product innovation into Chicken and Salads while leveraging unique side items.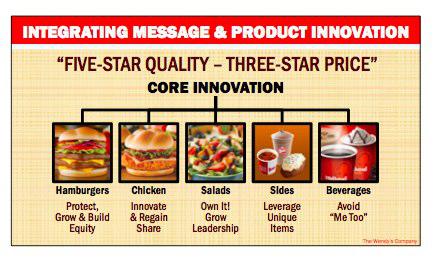 Promotion
On the promotional side, Brolick intends to get on message better with its current audience before it begins to aggressively market to new customers.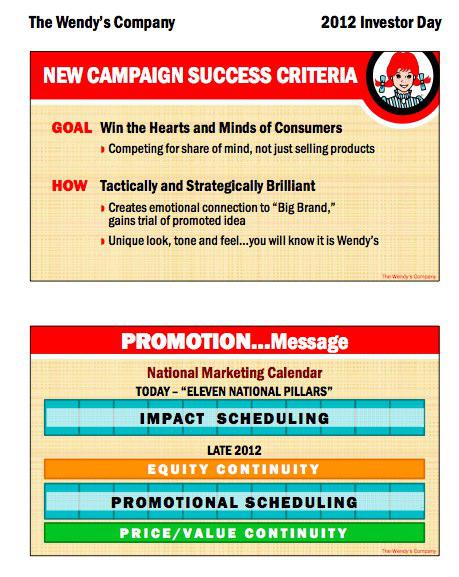 Is the strategy working?
So, the whole plan is about firmly reimaging Wendy's to compete in today's world of competitive fast casual.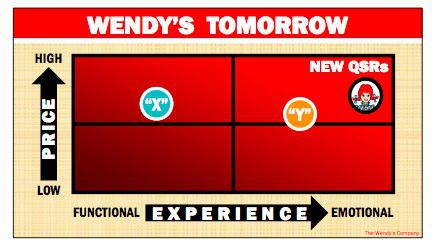 It's early in the turnaround story but it's encouraging to see Peltz buying more and more of the company, as well as other insiders buying the stock. To be successful in this space, Wendy's believes it needs to sit in that upper right quadrant, combining an emotional experience with higher prices. That's how it can distinguish itself from the McDonald's and the Burger Kings and all the newer, trendier burger joints that are so popular now.
It's not a perfect story -- but things are moving in the right direction. This past quarter revenues were up nicely, as sales showed strong growth. Revenues rose 5.6% to $615 million.
But it takes time -- and money -- to effect a turnaround. Wendy's stores look old and outdated when compared to the new facilities being rolled out by McDonald's (NYSE:MCD).
According to the WSJ:
The new remodels bring in flat-screen TVs, Wi-Fi, a clear view of the kitchen and other elements that Wendy's says have given its competitors an advantage with consumers in recent years.

The question isn't whether these changes will help improve the brand's image, but whether Wendy's can pull them off economically.

The remodels cost a minimum of $750,000 to $850,000 each, causing Wendy's expected capital spending to be $225 million this year, a 53% increase over last year.

This includes plans to build 20 new restaurants and remodel 50 company-operated restaurants in North America, all with one of the new designs.
Many have complained that the rollout isn't big enough or isn't happening fast enough. These higher development costs also coincide with rising food prices, so Wendy's (and its competitors) get hit with a double whammy.
But there are signs the turnaround is happening. Same store sales in the 4Q of 2011 (4.4%) were its strongest showing since 2004 and rollout of the Dave's Hot 'N Juicy burger lines seems to get people excited.
Disclosure: I have no positions in any stocks mentioned, and no plans to initiate any positions within the next 72 hours.
Disclaimer: This should not be construed as investment advice. I've tried my best to be as faithful to the story as I could, using sound resources to help describe the insider trading activity at leading companies. But you should definitely do your homework — don't base an investment decision off this information.