As previously discussed, with the market's stellar performance on Wednesday, it is getting a little bit more difficult to make the case that there is no such thing as a "February effect." This time the source of the gains were sparked by upbeat global manufacturing data as well as the progress with Greece as the country appears to be edging closer to the prolonged setback deal with private creditors. There continues to be much optimism in the market even though the economy showed to have slowed in the fourth quarter of 2011.
"Optimism" continues to be the operative word and it is one that I've sensed continues to be the theme of this sustained rally. But another premise for the increased buying is that investors have developed the sense that things are not as bad as they could be. The fact is, though the recent numbers in terms of economic growth have brought about some disappointment, investors are beginning to realize that our economy is only a couple of years removed from discussions that once mentioned "the end of the world." For some perspective, today, the talk is of "slow growth" as opposed to of "slow death" from three years ago.
On Thursday, the Dow gained 6.51 points to close at 12,890.46. While the S&P 500 and Nasdaq edged up 1.99 and 11.37 points respectively. In particular, the S&P 500 has been on an impressive run so far on the year. But it also tells a story of just how differently investors are thinking in 2012 when compared to the end of 2011 in terms of the sector gains.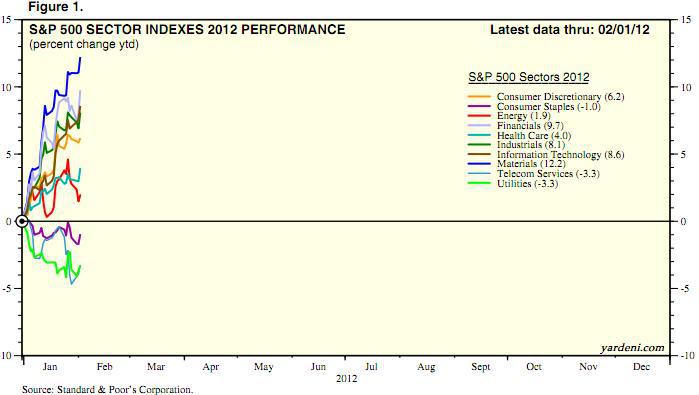 As the chart shows above, both materials and financials are currently leading in terms of gains, while consumer staples and utilities are in the red. The question is why, and what does this say about our investments and where you should be placing your bets in 2012? Let's take a look at some candidates here.
Technology - Up 8.6%
It has been a while since Texas Instruments (NYSE:TXN) was discussed in any meaningful way. But this proud semiconductor giant is once again on a rebound, and I continue to believe that the stock is heading towards $40. Texas Instruments is starting to see some upward movement due to the rise in consumer spending as well as the fact that it is showing investors that it can compete effectively and still maintain its margins - which has to do with the fact that is has state-of-the-art lower-cost manufacturing in place.
The fact of the matter is, when it comes to chips, price competition/margin trade-off is always a source of great concern for investors. But it has convinced the majority of the market well enough that it will be able to execute and what makes the stock more attractive is the fact that it is already trading below its fair market value.
For Microsoft (NASDAQ:MSFT), the term "game changer" can't be used to describe the company with a straight face, but that may soon change. The company plans to introduce its popular motion recognition Kinect device to laptops and more specifically for the release of Windows 8, which is expected to arrive this fall. The goal is to bring support to both gaming and user-interface applications. I have to feel that this may indeed restore some of the company's appeal and alter its perceived lack of innovation qualities.
Microsoft has been in the news quite a bit. In one week, it issued a warning to analysts about slowing PC sales due to last year's floods in Thailand, and then the company (the following week) reported earnings that not only topped analysts' estimates, but did so by a respectable margin. It posted fiscal second quarter earnings excluding items of 78 cents per share, up from 77 cents in the year-earlier period. Net income was $6.62 billion, down slightly from the $6.63 billion a year ago. Revenue was $20.9 billion, a 5% increase from $19.95 billion a year ago, helped by its Office, server software as well as Xbox businesses. This affirms what I have been saying for quite some time, although the company is no longer growing to the extent it was in the late 90s, it still remains a technological power.
For Research in Motion (RIMM), I continue to think that the prudent thing to do is to take profits before the market realizes that its new CEO is not really new. The stock is up 17 percent on the year, and though the company has recently made a leadership change, there is evidence that maintaining the status quo will be its method of operation - a strategy that has yielded neither success nor cause for optimism. Instead, until the company can come to terms with the errors of its ways and forget about its past, the stock becomes highly speculative, its fundamental position in terms of cash notwithstanding.
Amazon (NASDAQ:AMZN) disappointed investors early to possibly surprise them down the road. This is a bet that the company has placed, and one that I think will certainly pay off. On Tuesday, the company reported fourth quarter numbers that included a 57 percent decline in profit. It said net income for the quarter ended in December fell to $177 million or 38 cents a share, from $416 million, or 91 cents a share in the same period a year earlier, while revenue climbed 35 percent to $17.43 billion. The disappointment came as Wall Street analysts were expecting the company to report earnings of 17 cents a share for the quarter and $18.25 billion in revenue. During the conference call, Tom Szkutak, the company's CFO, defended Amazon's perceived lack of fiscal control by suggesting that it must move aggressively to take advantage of new opportunities.
The concern for Amazon seems to be its growing expenses and what appears to be shrinking margins. But I agree with Mr. Szkutak in the company's commitment to tackle new markets and seek growth opportunities. To that end, Amazon has taken on facilities expansion in an effort to provide broader ranges of entertainment delivered over its new Kindle Fire tablet as well as the launching of its movie streaming Prime service to compete with the likes of Netflix (NASDAQ:NFLX). The fact is, Wall Street wants growth and lots of it. But it seems that many analysts as well as investors do not appreciate the fact that such tremendous growth come at tremendous costs.
Energy - Up 1.9%
It is hard to do much better than Exxon Mobil (NYSE:XOM) when it comes to oil and gas. As with Halliburton there is a lot to like with Exxon Mobile. Yet the company often gets overlooked for what appears to be routine success. It often gets taken for granted. It has huge reserves and plenty of capital which often is an appealing quality to conservative investors. Not to mention that it has a well earned reputation - something that many of its competitors are working hard to rebuild.
Investors should keep in mind that Exxon Mobil is still a dominant player even among the big oil companies. It has nearly three times the market cap of even the other oil giants, but it is hardly a lumbering, stumbling giant. The company is still in the mix of all phases of upstream and downstream operations, and its portfolio of exploration and production projects should make it able to continue to weather these lean times.
Healthcare - Up 4.0%
One of the best turnaround stories in the healthcare sector continues to be that of Boston Scientific (NYSE:BSX). The company is one of the leading producers of medical devices that are used in a range of interventional medical specialties. Its main challenge centers on trying to secure better and decent footing in the drug-coated stent market vacated by Johnson & Johnson (NYSE:JNJ). Many analysts became optimistic of the company when JNJ conceded the market, but Boston Scientific have been unable to prove that it can win in the market.
This is a bet that I am willing to place on a stock that is now trading at $6.09, and only percentages away from its 52 week low. The company needs to show that it can execute and reduce some expenses. That is not often an easy request for firms that rely heavily on R&D. Having said that, with the prospects of this sector as well as my willingness to wait it out, I am inclined to add BSX at current levels.